Chocolate Oreo Truffles - A quick and easy recipe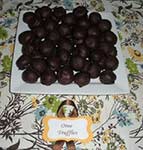 Why are Oreo truffles so good? Come on, it has Oreos in it, how can it not be!
My husband is a huge fan of chocolate truffles.
When I told him I was going to make a truffle out of Oreos, he was a bit skeptical. But he was quickly won over by these little Oreo balls!
I love that this recipe only has 3 ingredients. I've served them at a few parties and they are always a huge hit!
These are just as yummy as cake pops, but you can make them a whole lot faster. A definite plus for any baby shower, girl party, or last minute get together.
Depending on how big you roll the balls, you can make anywhere from 40-60 of them in one batch. They are so rich that you do not need to make them very big to satisfy your guests.
Oreo Truffles Recipe:
1 package of Oreos
1 8oz package cream cheese- softened
2 packages of Bakers chocolate- (8 squares each)
Finely crush Oreos in food processor or blender. Reserve some crumbs on the side for topping (optional). Mix Oreo cookie crumbs with cream cheese and blend well. Shape into small balls. If you are a visual person, image them around a size of a quarter. Place in freezer for about 10-15 minutes then transfer Oreo balls to the refrigerator. Melt the chocolate for dipping.
Using a fork, dip each ball in the chocolate until fully coated. Tap fork a few times to make sure excess chocolate has drained off. Place dipped balls on a cookie sheet covered with wax paper.
Tip: Only take out a few Oreo balls at a time from the refrigerator for dipping. They will fall apart easily in the warm chocolate if they are not cold. Keep them chilled until you are ready for them to keep them from falling apart so quickly.
Sprinkle reserved Oreo crumbs on the finished chocolate truffles. You can also decorate them by drizzling melted chocolate or candy melts on them.
Place finished truffles in the refrigerator until firm. Store any leftovers in an airtight container in the refrigerator. Yummy!
I have frozen Oreo truffles for short periods of time with success. If you do this, make sure to go through the process of refrigerating the truffles before placing in freezer and then returning to the refrigerator to thaw before using. It helps when the chocolate has acclimated to the temperatures in stages. ;)
New!

Comments

Have your say about what you just read! Leave me a comment in the box below.