Owl Baby Shower
by Nisha W.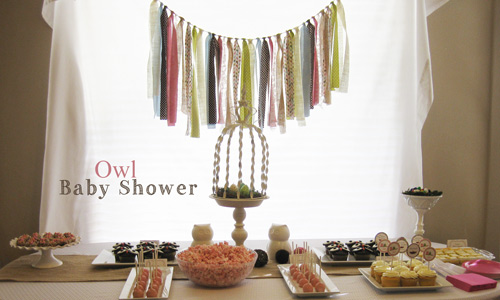 I was asked to help a friend put together a baby shower for her sister-in-law who was having her 3rd baby girl. Her sister-in-law loved owls and wanted the nursery to reflect that theme. We decided it would also be the perfect theme for the party. The colors we used were based off of a baby blanket picture she sent over.
I pulled the colors and ended up making polka dot invitations that used the pink and brown colors of the blanket.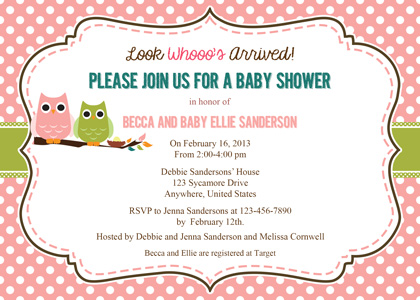 I love the shabby chic look of burlap and lace, so I decided to pull it into the party decorations. I used 3 yards of the dark natural burlap for the whole party. It stretched a lot further than I thought it would. I ended up making 2 table runners, a banner and accents with it to use throughout the party.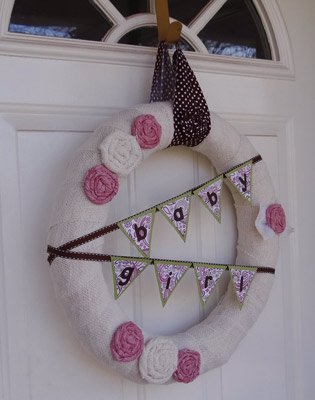 When guests arrived, they were greeted with a burlap wreath that I made for the front door. I love the look of burlap and lace with the fabric roses. The pennant banner was made from coordinating scrapbooking paper and ribbon.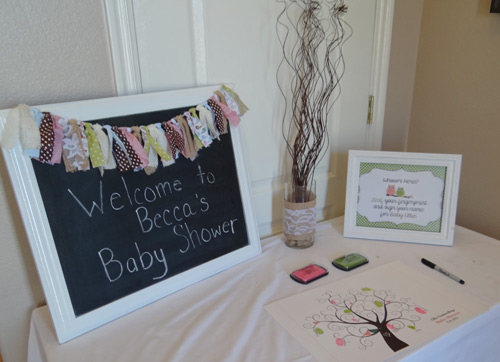 In the entrance, we set up a fingerprint tree as a guest book. Guests were able to choose their stamp color and decorate the tree. I made a small scrap fabric banner in the party colors and hung it on the chalkboard.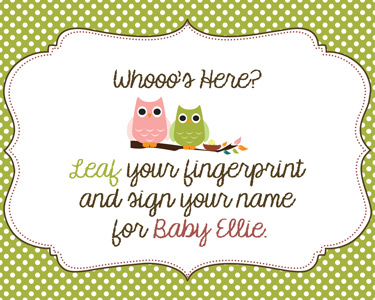 I made this cute sign to give instructions for the guests.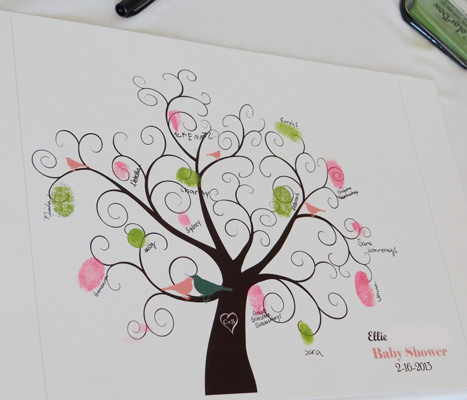 The tree turned out beautiful and can be later framed as a memento to the party. (Last name was blotted out for privacy.) ;)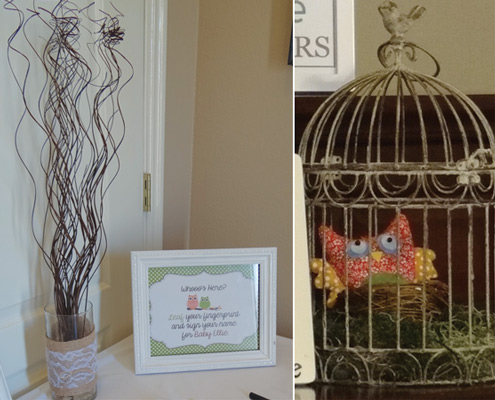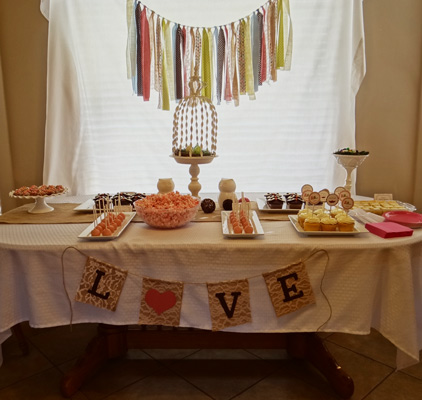 Here is the dessert table we set up. I made a burlap and lace banner that said LOVE on it. It turned out really pretty. Above the table was a larger scrap fabric banner I made with coordinating fabrics.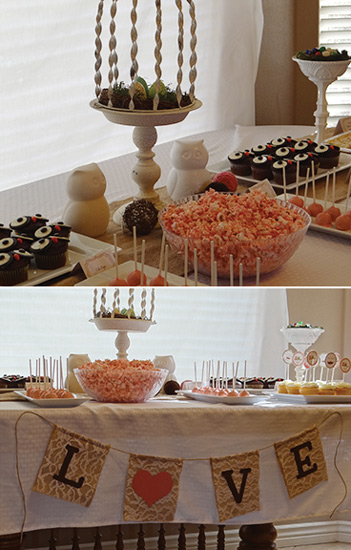 Candy popcorn:
Melt almond bark in microwave in 30 second intervals until completely melted. Use food coloring to tint to the color you desire. Pour over popped popcorn and mix together.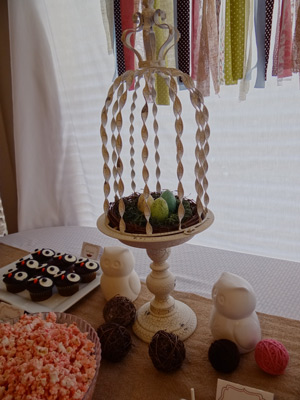 We gathered lots of owls, nests and moss to bring the theme into the decorations. I love this birdcage that I picked up at Michaels with a 40% off coupon. :) I also made yarn balls in the party colors to place around the room.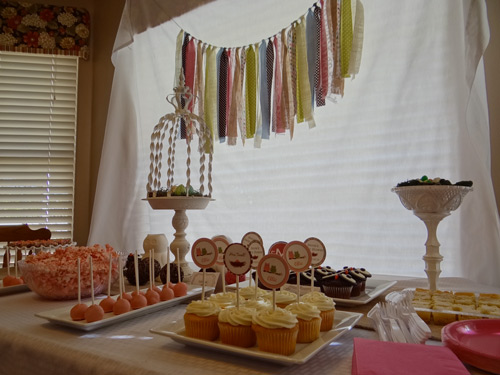 Orange Creamsicle Cupcakes: (recipe coming soon!)This cupcake is one of my new favorites. It starts with an orange cupcake that is filled with marshmallow cream and then topped with an orange zested buttercream. Really good!

Cake pops: A classic recipe. I used chocolate cake and chocolate frosting with pink candy melts. The recipe is located here.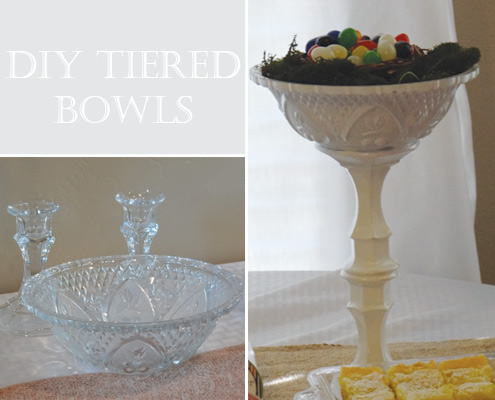 DIY Tiered Bowls:
I added height and interest to the baby shower table by creating a tiered bowl to fill with moss, a bird's nest and jelly bean eggs. It was quite simple. I picked up 2 glass candlesticks and a bowl from Dollar Tree. Then I used craft glue to glue them all together. Once the glue was dry, I spray painted everything white. (I did not spray inside the bowl to make it safe for food, just in case I decided to put food in there in the future.) ;)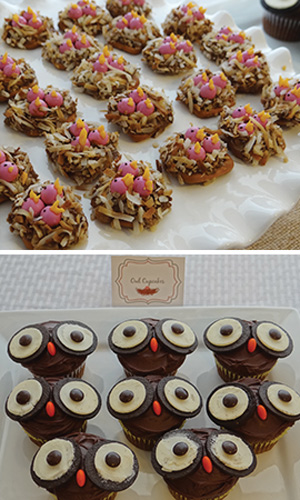 Birds nest pretzels:
The birds nest pretzels is a twist on the turtle pretzels we have in our recipe section. They are a little tedious to make. (I was up until midnight the day before the shower frosting the beaks. Lol!) But they make a big statement and were the talk of the party.

You will need:
Rolos
Waffle pretzels
Coconut
Sixlets
Chocolate chips
Basic buttercream frosting:
1/4 cup of powdered sugar + 2 tablespoons
1 teaspoon of milk
1 tablespoon of butter-softened

Beforehand, toast coconut in oven, stirring every few minutes until lightly browned. Watch carefully because they can burn quickly! Set aside.

Preheat your oven to 350 degrees. Line a cookie sheet with tin foil. Place waffle pretzels on cookie sheet and cover each of them with an unwrapped Rolo. Place in oven for a few minutes until Rolos are softened slightly. Place 3 pink sixlet candies on top of each Rolo and slightly press down to adhere to the chocolate. Press toasted coconut around the sides of the Rolo to make a nest. Allow to fully cool.

Mix powdered sugar, butter and milk to make frosting. Tint the frosting with orange food coloring to make beak color. Place in sandwich bag and snip corner. Using steady pressure create top and bottom beak onto each sixlet candy. Melt chocolate chips in microwave in 30 second increments until fully melted. Add 2 dots onto each sixlet candy with a toothpick to make the baby bird eyes.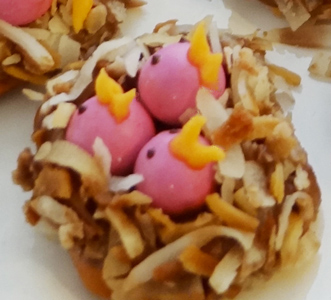 Owl cupcakes:
Frost your favorite cupcakes with chocolate frosting. Open your oreo cookies. Place cookie sides, filling side up on top of your frosting to make the owl eyes. Put 1 brown reeses pieces in the center of each eye. The beaks are orange reeses pieces. Simple to make and really cute!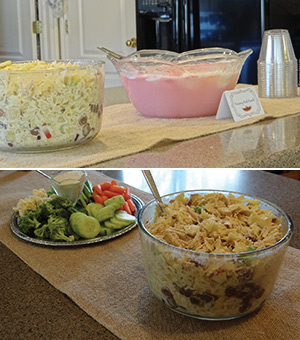 Creamy Pink Punch: Scoop pineapple and pink sherbet with an ice cream scoop and place in punch bowl. Fill with sprite. Refill as needed.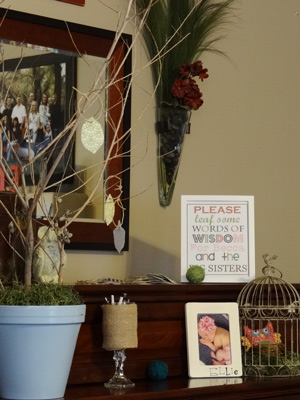 There was a word of wisdom tree for guests to write advice for the mom-to-be and the older sisters.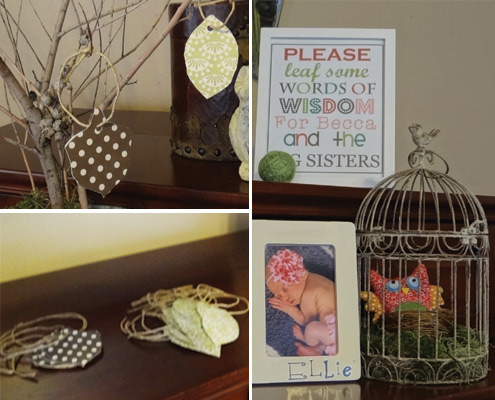 We made leaf and acorn shaped wish templates and covered the back with scrapbooking paper. Then the guests would hang it to the tree after they were done filling them out.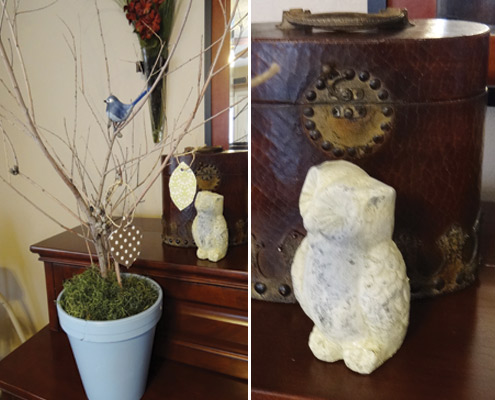 Wishing Tree: I reused a container I already owned and picked fallen branches from outside to make the tree. (Cheap and easy!)We picked up this owl from a local store called Tai Pan. I love how rustic it looks.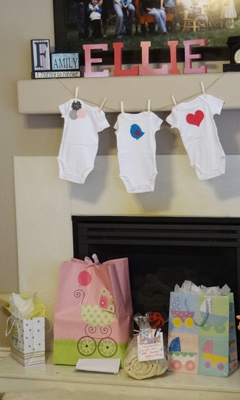 Over the fireplace we placed wooden letters that spelled the baby's name.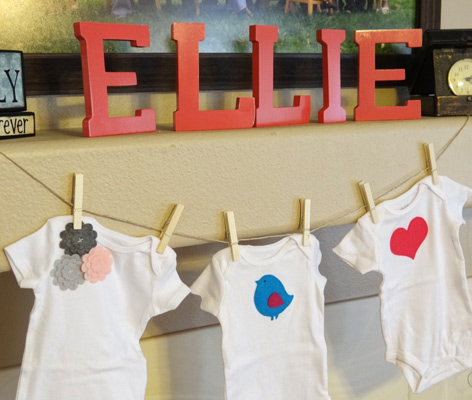 Under it I hung onesies that I had hand appliquéd felt to in matching shapes. We have instructions on how to decorate onesies here.




Owl Nest Favors

Since it was an owl nesting theme, I made chocolate birds nests to give the guests as favors. I filled each of them with 3 mini Cadbury eggs.

Here is the recipe I used:
1 12 oz. bag milk chocolate chips
1 12 oz. bag of butterscotch chips
1 12 oz. bag of chow mein noodles
1-2 tablespoons of butter
1/4 cup peanut butter

Grease a muffin tin with butter. In a large microwave proof bowl, combine milk chocolate and butterscotch chips. Melt chocolate in 30 second increments, mixing in-between, until chocolate is melted and smooth. Once chocolate is melted, stir in peanut butter until smooth. Add chow mein noodles and stir to evenly coat noodles with chocolate mixture. Spoon chocolate/noodle mixture into the muffin tins. Using the back of a spoon, make an indention in the middle of each bird nest. Place muffin tin in the refrigerator for at least an hour to harden chocolate nests. Gently remove nests from the muffin tins. I used a butter knife can help to pop them out. Place 3 Cadberry eggs, jelly beans or candy in the nest for your guest.

Wrap them in cellophane or place in plastic favor bag and tie twine or ribbon around it. Refrigerate until the party to keep the chocolate from softening too much. :-)


It was a lot of work, but fun to see everything come together.


Return To Baby Shower Ideas Home