Personalized Picture Frames For Nursery From Family
by Alisa
(Pea Ridge, AR)
Here are some adorable personalized picture frames that were made as a gift to match the nursery. Our reader Alisa had made them to match a Winnie the Pooh diaper cake she had made. I love the idea that they used to make the picture frames for all of the family members that lived far away, so the baby could see their pictures daily. What a wonderful way to bring family close even though they live far away! Thank you so much for sharing your ideas with us Alisa!

Alisa said:
These are frames to hang in the nursery. Of course we had to make sure there would be ample space in their nursery to hang these first. We used plain wooden 8x10 picture frames which were purchased from Hobby Lobby for each family member who wanted to decorate and personalize one. Also, we have purchased for another family shower some 5x7 plain wooden oval frames that didn't hold a picture from Hobby Lobby to decorate. Sorry no picture)

All the frames were spray painted with a different color of paint that went along with the nursery theme, which in this case was Winnie the Pooh. I am grandma and we are several states away from where our daughter lives so with this idea, the frames could be used for 8x10 pictures of people who lived far away so that hopefully the baby would recognize us when we did see her. After painting, a high gloss sealer was applied.

Small packages of Winnie the Pooh appliques and small ribbon that are used for scrap books were purchased by the hostess and one given to each person. Each person could then purchase other appliques or whatever they wanted to put on their frame to personalize their frame. These were put on with glue.

On the first frames done that were mentioned above, one family member had a degree in Chinese. They painted notes on some of the frame to the baby in Chinese. Another had graduated from University of Texas at Austin so orange ribbon was placed across the frame.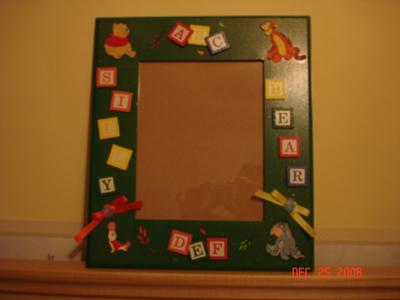 Once all the frames were decorated, each member would write on the back, To: Baby's name, their name, and the date the frame was completed. Once all were complete, they were sprayed with glitter spray and sealed. They turned out great and everyone loved the idea; a great memento or keepsake of the occasion.
Join in and write your own page! It's easy to do. How? Simply click here to return to Baby Shower Crafts.
Return To Baby Shower Ideas Home