A Little Pumpkin Baby Shower Theme!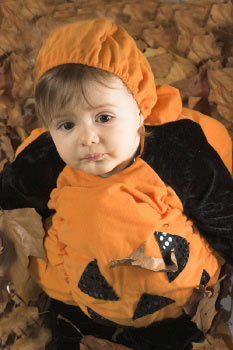 Add fun to your harvest season by hosting a little pumpkin baby shower!
The leaves have turned golden and fall is in the air.
Spice up your baby shower with the warmth of the golden autumn colors.
Invitations:
Cut orange card stock into the shape of a pumpkin and attach green card stock to it for the stem. You can also decorate card stock with Halloween or fall stickers and clip art. Glam it up with orange and green glitter.
Let's Celebrate! (Parent's names)'s little pumpkin coming to their family!
Time, Date, Place, RSVP
Games and Activities :
Pin the stem on the pumpkin- This game is a different version of pin the tail on the donkey. Draw or cut out a large pumpkin on poster board. Cut out a few green stems for guests to use. For this game, blindfold the guests and have them try to pin the stem on the pumpkin.
Pumpkin Trivia- fun pumpkin facts that will stump your guests! You don't even have to do the work!
Bowling- use a pumpkin as the bowling ball and baby bottles as the pins. Fill the bottles with candy corn or other festive candy to weigh it down. (Make sure you cut the stem off so your pumpkin can roll evenly.)
Baby Talk- Split the group into 2 or more teams. Hand out pieces of paper that lists the word pumpkin vertically on the paper. Have each team come up with a witty personalized phrase for the mom or baby using the letters of pumpkin to start out each word. Have the mom choose her favorite.
Decorations:
This baby shower theme goes well with Halloween, Thanksgiving and the harvest season. You can decorate a little differently to go with each holiday or have pumpkins be your theme.
You can also pair a few baby pumpkins with one or two large pumpkins to make a family.
Orange and black streamers would work great for this theme. You can decorate with fake leaves and squash to give the room a harvest look.
If you are looking to add a touch of elegance to the baby shower, local growers in your area might have white and green baby pumpkins available. Decorate the room in all white or white and green for a fun twist on the theme.
Food ideas:
Since pumpkins are your theme, you might as well offer homemade foods to your guests. Some good ideas would be pumpkin flavored bread, cookies, seeds, rolls, cheesecake (my favorite!).
If you would like to serve other things, it might be fun to use a pumpkin cookie cutter and orange food coloring to add a little spice to your food table.
With the season turning a little chilly, you might also want to offer some warm apple cider and candy apples.
Pumpkin Cheesecake Dip:
1 16 ounce container of frozen whipped topping (thawed)
1 can pumpkin puree (15 ounces)
1 large package of vanilla instant pudding
1 teaspoon pumpkin pie spice
Mix together the can of pumpkin, vanilla pudding mix and pumpkin pie spice in a large bowl. Fold in whipped topping. Serve with graham crackers, gingerbread cookies and vanilla wafers.
Centerpiece Ideas:
Flowers- Use a pumpkin as a vase for your flowers. Scoop out the middle, place a vase of water inside and add flowers!
A Lil' Pumpkin Cake- Make an easy cake that people will love! Make a cake in a Bundt cake pan. Then stick an ice cream cone out of the center of the pumpkin cake to look like the stem. Frost it with orange and green frosting. A great cake mix to use would be pumpkin spice mix. ;)
Prizes and Favors:
Some festive prize ideas to use could be candy mellow creme pumpkins, pumpkin spices, candy corn, pumpkin candles, etc.
Make your own creative gifts by using an orange or donut and a chocolate bell candy with the green wrapper (available around the Christmas holiday season)
Wrap a little pumpkin for each guest in clear wrap. Attach a note that says:
Thanks for coming to our baby shower, from (host)(dad)(mom) and our little pumpkin!
New!

Comments

Have your say about what you just read! Leave me a comment in the box below.