Red Flyer Wagon Baby Shower
by Kim
(El segundo, CA)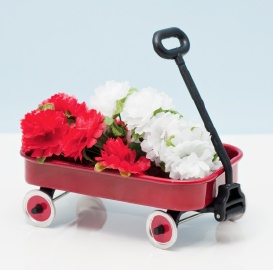 We are having a boy and I found some cute invitations with a red wagon on it. I thought that it would be a fun theme for my shower. It will be a casual but classy shower with about 35-40 people attending (aged 25-60). Just thought I would see if anyone had some cute ideas that went along with our theme.
Thanks!
Our Answer:
Hi Kim,
We have some ideas that were submitted by one of our readers for a
Red Wagon Baby Shower
. She used the combination of red, brown and cream colors. It sounds like it turned out really cute and classy!
If you wanted something a little different from her ideas, you can also turn it into a red wagon/ picnic theme, complete with the red checkered table cloths, teddy bears with cowboy hats and handkerchiefs, bales of hay and a barbeque! It would be really cute if you could get a hold of a full sized red wagon to either put presents in or fill with ice for the drinks. You can also use cute pails in the center of the tables and fill them with red and white flowers.
I love pendant banners and pinwheels, and I think both of those would work perfectly with this baby shower theme. Mason jars would be really cute to use instead of glasses for a vintage feel. I searched online and
here
is the cheapest place I found for the radio flyer wagons to use as centerpieces and on the food table.
We have a
barbeque baby shower theme
and a
western baby shower
theme that you can also get some more ideas from.
Food Ideas to go with a radio flyer baby shower theme:
Lemonade
Hawaiian punch/ or cranberry juice and 7-up
licorice
red velvet cupcakes
potato salad
tortilla pin wheels
chips
stuffed strawberries
strawberry salad
chicken salad sandwiches
For Favors:
Ebay
has a great selection of custom labels you can use for popcorn, water bottles, candy bars, tea or coffee packages and Hershey Kisses. Just check with the seller to see if they can add a picture of a red wagon to the label for you.
Congratulations on the baby and Good Luck planning the baby shower!
Return to baby shower themes
Comments for Red Flyer Wagon Baby Shower

Average Rating
Click here to add your own comments
Return To Baby Shower Ideas Home