Rock Star Baby Shower
by Jennifer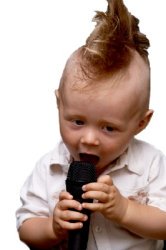 This momma is not one for pink and baby blue. She is expecting a boy and we planned to do a 'cool' baby shower. Not at all typical. A Saturday night, guys and gals, disco ball? etc. Any other ideas would be greatly appreciated as this is not something normal and hard to find some good ideas.
Our Answer:
Hi,
Your rock star baby shower theme sounds really fun. Here are some ideas that I have had to go with it. I am picturing silver and black as decoration colors, you can also blend in gold and red if you would like.
Make it a date that your guests don't want to miss with invitations that look like back stage passes to a rock concert. The "star" of the event is of course the baby on its way!
Decorate the outside with a red carpet and make sure you have some good paparazzi to get their photos as they arrive. Hang silver or gold stars from the ceiling and use a star or beaded curtains in the doorways.
And what rock star party is complete without the strobe lights, a fog machine and some nice black lights. If you choose to play games you can have mini Oscar awards to give to the celebrities at the party. If you can arrange for lots of mirrors (without putting too many holes in the wall) they can add a nice effect to the disco ball and lights in the room.
Add as many glitzy or fun items to the party as possible. White flowers can add an elegant touch and offset the black and silver.
Set out a spread of fun dips, appetizers and finger foods for your guests to enjoy. Provide rock star energy drinks for your guests to enjoy.
I'm not sure if you are planning on having dancing or not with the disco ball, but if you are, you can arrange to have a DJ at the party to help get the party going.
If you do decide to play some games, here are a few printable couple baby shower games that could work at your party.
Baby Onesies-
This can be an activity for your guests or you can use it as a decoration. Use white or black baby Onesies (bodysuits) and rhinestones to create really cute
baby clothing to go with your theme. It can say fun things like, "My mommy rocks!" or "Rock on momma, rock on". Attach the rhinestones to the Onesies to form the words on the outfit.
If this is a decoration and not an activity, you can use string or a rope to make a clothesline and some clothespins to display the baby clothing.
You can even have one onesie set aside for the guests to sign so the baby knows the celebrity rock stars that were at the baby shower.
If you decide to do games, here are some printable games that might be fun to use at a coed party.
Good luck planning the baby shower!
Return to baby shower themes
Return To Baby Shower Ideas Home