Rustic Baby Shower
by Nisha W.


I threw a sip and see baby shower this past week for my sweet sister in law and her new baby boy. There is a 5 year gap between him and his older twin brother and sister, so it has been really exciting waiting for him to arrive.

Scheduling didn't work out to have the party until after he was here (which is okay because babies are so cute anyways!), so we turned it into a sip and see with him as the main attraction. He was simply adorable and definitely the star of the party!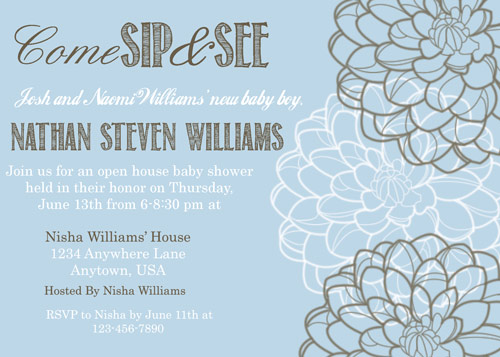 This is the invitation I made to go with the party. I choose a color scheme of brown, blue and white for a shabby chic look.(Names of course changed for privacy.:-))
I made a scrappy burlap wreath to put on the door to greet the guests as they come in. I added lace and ribbon to match the party's colors and pinned a burlap pennant banner to the center.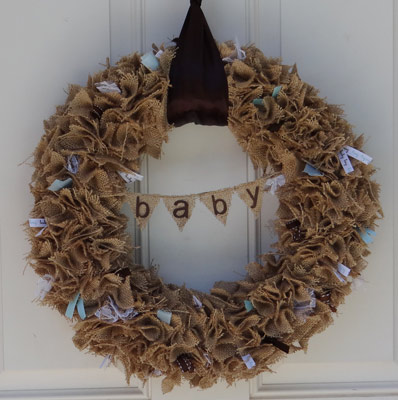 I wanted a rustic look to the party, so I used lots of burlap and lace to decorate. ;) I used one of my favorite poems on the dessert table from the Robert Munsch book,"Love you forever."
We served caramel brownies, orange creamsicle cupcakes and seven layer bars. I had another cupcake I was planning to serve, but it was a new recipe that didn't work out. :(
For the table centerpieces, I painted some square vases brown and wrapped them in burlap and added fun mustaches. On top, I attached napkin flowers for a simple and inexpensive touch. I also attached paper mustaches to striped straws. I served one of my favorite punches at the party.
I made a baby banner with hand appliqued onesies.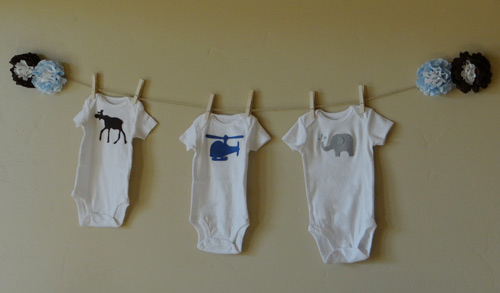 I also made larger paper napkin flowers to hang on the walls.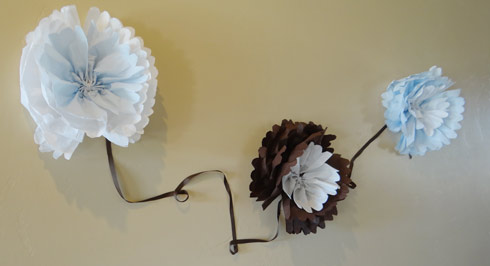 We had a table for guests to write their Love Notes to the new baby.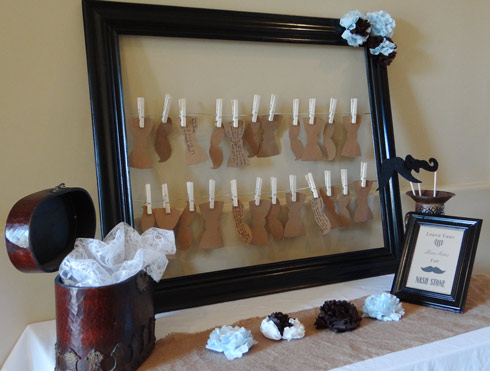 I attached wire to the back of a frame and made bow tie and mustache shapes for them to write on. It was a fun activity to do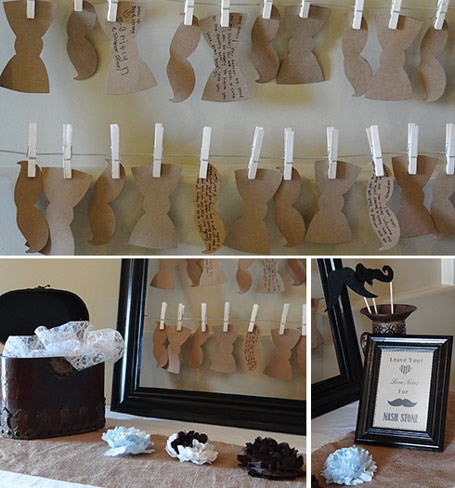 Here is the star of the baby shower! Isn't he cute?! We thought he wore the mustache really well...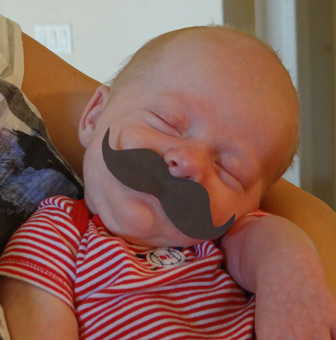 But it could also work well as a bow or unibrow. Haha!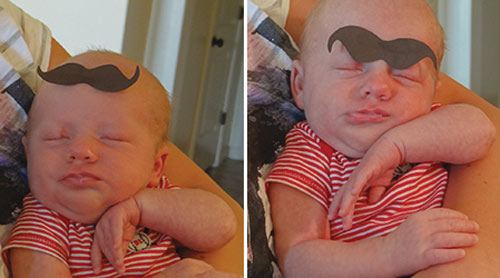 We love mustaches! Here is the beautiful mommy with her sister and mom. (New mommy is on the right)
It was a fun night and I am so glad we got to share it with such an adorable little man!
Join in and write your own page! It's easy to do. How? Simply click here to return to babyshowerpartyideas.
Return To Baby Shower Ideas Home