How to Make a Sock Rose Bouquet Gift
Learn how to create beautiful sock roses that will actually last. That is, until the new mommy needs the socks!
This fun baby shower gift can also double as an attractive table centerpiece.
The tutorial listed on this page is for the open rose design method, not the rosebud method.
You can mix and match style designs to make a creative and beautiful gift.
This baby gift is both easy to make and great to use if you have a limited budget.
To Make This Baby Craft, You Will Need:
Baby socks
Floral tape
Silk leaves
Craft or floral wire (the stronger the better)
Decorative fillers that you can use:
Silk baby's breath
Silk fern leaves
How to Make an Open Sock Rose:
To make your baby rose, start by laying the sock flat in front of you.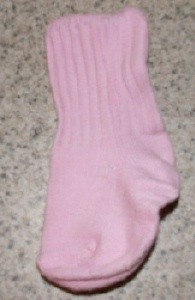 Start rolling the sock starting at the toe and roll up to the heel. Angle the sock slightly to create the inside of your rose.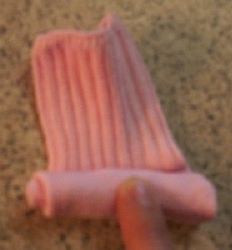 Take the top of the sock and flip downward over the center of the rose. Curl the edges back to make the outside of your open rose. See how cute it looks!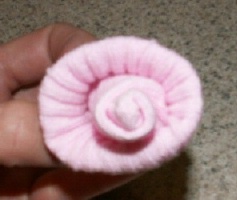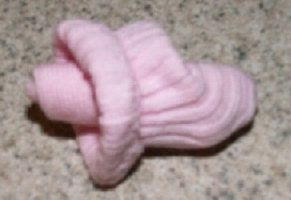 Cut your craft or floral wire to size and thread it up through the hole in the bottom of your rose. Be careful not to poke through the actual sock.

Wrap your floral tape around the sock base to attach it to the wire. Pull on the tape as you go to activate the "stickiness" in the tape.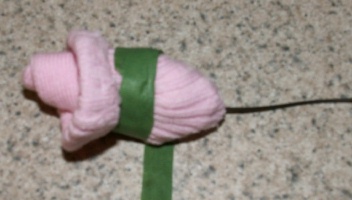 Attach your silk leaves to your rose by wrapping the leaf wire around your wire stem.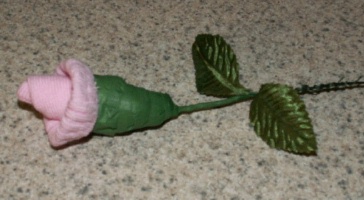 Starting at the base of the rose, continue wrapping the rose stem with floral tape, winding down around the leaves as you go.

Place sock roses in a vase. Add the silk baby's breath and fern leaves as fillers for your bouquet.
Additional Tips and Ideas for Your Project
Use different sock colors to add your own special design and touch to the rose bouquet.
These step by step rose instructions were made with normal thin baby socks, but you could also use socks that have lace for a delicate touch.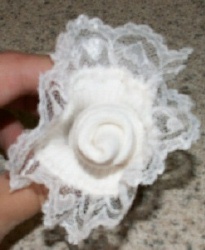 Use thick furry baby socks to give it a softer touch.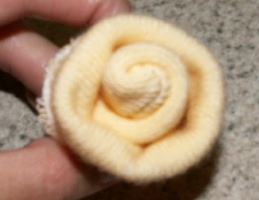 There you have it, a cute adorable baby craft that is easy and fun to make. Enjoy!
New!

Comments

Have your say about what you just read! Leave me a comment in the box below.