A Spa Baby Shower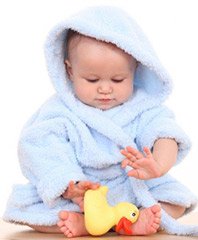 A spa baby shower is the perfect way to help a new mommy relax with friends and family as she gets ready for a new baby.
This is the ultimate pampering mommy party focused on getting her ready for all the stresses involved with becoming a new mom. Here are a few ideas to help you get started.
Spa Baby Shower Invitations:
Create fun spa invitations by using card stock and scrap booking paper in spa colors like lime green, brown, pink and blue. You can also cut it into a face mask or purse to make it more fun.
Here is a sample wording idea that you can use:
It's A Baby Shower!
Please join us for an afternoon of relaxation and fun as we celebrate the upcoming arrival of (mom's name) baby (girl, boy).
Please wear comfortable clothes and come prepared to be pampered!
Or use a great poem that was written for a pampered mommy invitation...
Oh what fun! Oh what a joy!
Susie Smith is expecting a boy!
The nursery's all read and everything is here;
But Susie still needs some pampering, my dears.
We've planned an afternoon just for the girls.
We'll shower Susie with bubble bath, lacy gowns, and pearls.
Lotions and soap and spa inspired treats -
Lots of girly gossip and putting up our feet.
Join us for a special time and plenty of great fun
We're looking forward to it and hope you can come!
Copyright © Suzanne Lowry
Spa Baby Shower Decorations:
To go with your spa theme, you will want to provide the feeling of relaxation with your decorations. Try to engage as much of the 5 senses in your party as possible. Use lots of candles, set up in clusters to decorate. If you have any water or mist fountains, set them up.
Drape white or sheer material around the room. Use soft background music for relaxation. Set up fresh flowers and green plants around the room. Use scented candles or aromatherapy scents to create a feeling of tranquility.
Spa Baby Shower Activities and Games:
Set up a sign for guests to remove their shoes as they enter the door to the baby shower. You can place a pathway of rose petals if you would like for them to walk on. As each guest arrives, give them a water bottle and fresh hand towel (you can heat them up in the dryer just before the guests arrive) to use during the party.
Set up different activity stations around the room for your guests to get pampered. Some station ideas include pedicures, manicures, facials, neck and head massages. You can also contract with a local esthetician or massage therapist to come and demonstrate stress relief techniques, proper ways to take care of your skin, and other subjects of interest.
Spa Baby Shower Food:
Think of food you would eat at a spa. Fresh fruits, light sandwiches and of course a selection of yummy desserts would be perfect. Some great food ideas would be cucumber sandwiches, tortilla pinwheels, meat and cheese trays, fruit and vegetable trays.
Use a variety of dips with your trays to complement them. Our tuxedo and evening gown chocolate covered strawberries would complement this theme perfectly.
Baby Shower Prizes and Favors:
For your prizes, use items that help to pamper such as face scrubs, lotions, body wash, nail polish, etc. You can also use gift certificates to local salons or beauty colleges for spa services.
Create a fabulous homemade party favor for your guests with these step by step homemade bath scrub instructions.
You can also pick up bath salts, bath bombs, natural soaps, bath beads and other beauty products at eBay for great prices.
Spa Theme Favors:
New!

Comments

Have your say about what you just read! Leave me a comment in the box below.