Tori Spelling Baby Shower - A Tupperware Party
The Tori Spelling baby shower was all about becoming a new mom, with Tupperware and all.
When the Tupperware Company found out she was pregnant, they offered to foot the bill for the couples party because they are big fans of her.
The party was held at cozy, chic location of the Elixir Tonic and Tea in West Hollywood in February of 2007.
She was the first celebrity that I know of that had her celebration filmed as part of a reality show.
The Oxygen network was on scene filming the party for the reality show "Tori & Dean: Inn Love".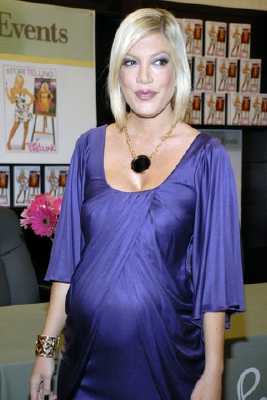 The theme for the party was the colors turquoise blue and brown. They wanted the party to match the colors of the nursery.
Tori looked fabulous in a turquoise blue mini dress with a brown belt. So, what would they have at a Tupperware baby shower
True to the baby theme, they ate grilled cheese sandwiches and tuna melts, pigs in a blanket, mini corn dogs. They also had blue cotton candy and blueberry popsicles. All of the desserts were blue to match the theme. Everything was served on blue etch a sketch trays.
For decorations they had lots of turquoise vases filled with white amaryllis, blue glass lanterns, and hundreds of candles. They also had cute chocolate colored teddy bears to match the decor. They also had hung blue glass lanterns to help set the cozy mood for the shower.
There was a "fake cake" centerpiece made by Tupperware displayed at the shower. It was made by stacking layers of Tupperware to resemble a wedding cake. Talk about both creative and useful!
In the pictures I also caught a glimpse of a turquoise blue and white diaper cake with lots of cute sippy cups on the outside for the baby. :-)
Tori Spelling's Favors:
The couples party ended around 7 p.m. when guests left with an exclusive gift bag produced by The Silver Spoon, including items such as Too Faced Lip Injection, a $600 pearl bracelet from pearlparadise.com and an Inphant Elefant baby blanket.(1)
One funny side note: They actually received so many gifts at the baby shower that they had to hire a cab to follow them home with the rest of their gifts. Wow!
sources-people.com(1),x17online.com
New!

Comments

Have your say about what you just read! Leave me a comment in the box below.