Dress Up Your Baby Shower with Tuxedo Strawberries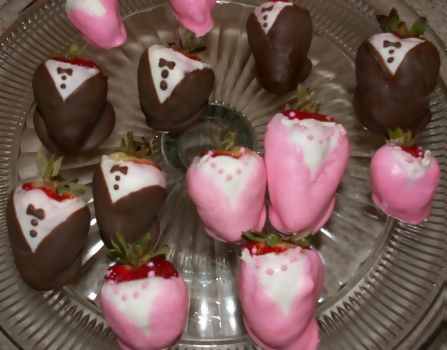 Tuxedo strawberries are can add a great touch to your centerpiece table!
Use the winning combination of both chocolate and strawberries for a classy and unique touch to your baby shower food table.
These are yummy treats could also be used as thank you favors to give your guests.
These instructions will show you how to make tuxedo strawberries.
Also pictured above is my own creation, the evening gown dress strawberries.
You can get instructions on making your own dress strawberries here.
---
To make your tuxedo strawberries, you will need:
Wax paper
Toothpicks
Strawberries
White Almond Bark
Chocolate Almond Bark
Paper towels
Shortening (optional)
Start by washing off your strawberries. Leave the stem on and place your clean strawberries on paper towels and blot dry.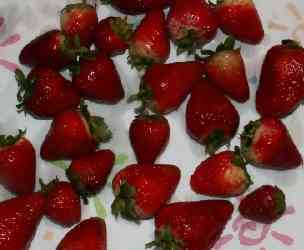 Heat your white chocolate in the microwave, following the instructions on the back of the package. Use a bowl that is deep enough that you are able to dip the strawberry into the chocolate easily.
Lay out a sheet of wax paper on a flat surface. Hold onto the stem of your strawberry with the point of the strawberry facing down. Dip your strawberry into the white chocolate and coat evenly.
Hold over the bowl for a few seconds to let the excess chocolate drain. Place on the wax paper to let dry. Once you have finished covering your chocolate covered strawberries, set it sit for about 10 minutes to fully dry.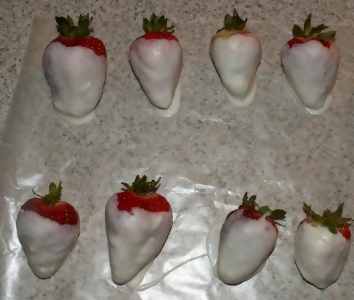 ***Tip*** Your chocolate will need to be smooth. Stir until there are no more lumps in it. If you would like to thin the frosting for the dipping process, add a little shortening and stir. Make sure to only use shortening, no substitutes.
Melt the brown almond bark in the microwave according to the instructions on the back of the package. Once the consistency is what you desire you are ready to create the tuxedo on your strawberry.
Make Your Tuxedo Suit
Holding on to the stems, dip one side at an angle into your chocolate. Turn the strawberry at the opposite angle and dip again.
Hold the strawberry for a few seconds and let the excess chocolate drain off. Place strawberry on the wax paper to dry.
Make the Buttons and Tie
Take a toothpick and dip it into your chocolate. Right above the "v" of the suit, on the white chocolate, make 2 dots in the center. Re-dip toothpick in the chocolate and trace a bow tie with it.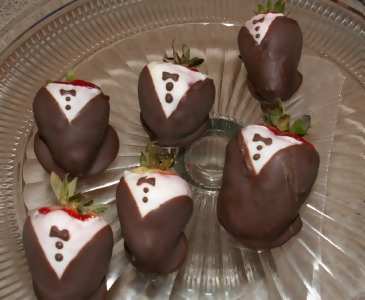 Additional Tips:
You can fix any blemishes by either re-dipping or using a toothpick dipped in chocolate to fill it in.
If your chocolate covering starts to melt while you are dipping your strawberries, your chocolate is too hot. Let it cool down a little before trying it again.
Use different food coloring shades to match the tux or dress to your decorations.
New!

Comments

Have your say about what you just read! Leave me a comment in the box below.