With A Twin Baby Shower Theme, Everything Is Double The Fun!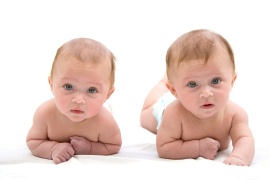 Use a twin baby shower theme when the mommy is expecting twins!
There is just something extra special about having twins.
Whether they are identical or not, they are a gift and need a unique celebration.
Check out the following ideas for your party or customize other theme ideas from our theme section to make your baby shower dynamite.
---
Twin Invitation Ideas:
Cut out green invitations that resemble the shape of double mint gum.
Double the Pleasure, Double the Fun!
It's Twins!
Please join us to celebrate a twins baby shower!
Honoring (Parents' names).
We hope you "Chews" to spend the afternoon with us!
(glue a wrapped stick of gum to the invitation)
Add the hostess info, time, place...etc.
Twin Baby Shower Invitations:
Here are a few fun twin themed invitations from one of our favorite retailers. I picked some of their more original themes, but they have a great selection of twins and triplet invitations.
Twin Baby Shower Theme Activities:
Advice Book- A mother with twins will definitely need advice on taking care of two babies, especially if it is her first pregnancy. Place out a pretty journal for guests to write advice to the mother. This keepsake will be invaluable to the mother as she starts raising her kids.
Diaper Bag Surprise- On a separate table; place a cute diaper bag and items that would fill the bag. Don't say anything about it; just have it placed as a display. A little while later, take away the bag and items. The guests will then be handed a sheet and told to write down everything that they saw on the table. The one that guesses the closest amount of items wins a prize.
Twin Baby Shower Theme Games:
The Distraction Game- For this game you will need a timer, clothes line, phone, doll, baby clothes and clothes pins. Take turns timing each guest on how quickly they can string up a certain amount of clothing on a clothes line.
The trick comes when they have to have a phone on one ear. The bigger and clunkier the phone the better. In the other hand they have to hold a baby doll. This is great practice for the mother to be...since both of her hands will be full with twins.
The Price is Right- With twins on the way, the mom will need to get savvy with comparison pricing to afford to feed 2 kids. In this game, guests will be shown certain baby items and have to write down the price that it sells for. The person with the most items right will get a prize. The items will go to the mother to help stock up on her baby supplies.
Daddy Daycare- Video the dad answering questions on childcare, feeding, bathing, discipline and so forth. During this game you will have the mom guess how she thinks the fathers answered the questions. If she gets it right, they get a baby item. If not, she has to chew a new stick of double mint gum for every question she misses. By the end of the game, she will either have a mouthful to discuss with daddy or gifts for the babies.
Twin Themed Decorations:
Double of Everything!! Decorate with 2 of a kind. Use this with baby dolls, stuffed animals, and balloons. This theme can go a little further with double baby items hanging around the room.
You can use bottles, binkies, blankets, onesies, etc. Tie up the items with curling ribbon to add fullness and interest.
You can also string up the clothes line for the distraction game before the party starts. This way, you have more decorations and the game is ready to start!
Twin Baby Shower Theme Food:
You can make anything double trouble. Double Decker sandwiches, double chocolate cake, double pumpkin cheesecake. Offer two kinds of drink, 2 flavors of ice cream, double up on toppings, or offer twin pops.
Twin Baby Shower Theme Centerpiece:
You can set up a Noah's Ark centerpiece in the middle of the table. Divide the animals in twos and have a trail of animals lining up to go in the ark.
If you do not have an ark for them to enter, there are other creative things to use. Use a wicker basket, flower pot, or other container like item that can be decorated. Use popsicle sticks to make a ramp for the animals to enter their ark.
Twin Theme Gift Ideas:
Pool funds for big items- A mother of twins will need help with the double the costs of a normal baby. Provide an opportunity for people to be included in a group gift on the invitation. Instead of buying a gift, they would pool their funds to the hostess to provide for a bigger ticket item.
Thrift gifts- This gift idea will only be okay to do if you ask the mother's permission first. Some people have a problem with used items, especially if it is a first pregnancy. Encourage guests to see how shopper savvy they are by asking them to purchase their gift at a thrift store or yard sale.
There are also great online databases for local used baby items. This will help the mom with the big stuff she needs for twins without costing the guests that much money.
Twin Theme Favors:
One of our favorite baby shower retailers has a great selection peas in a pod themed tableware and favors. They are the only ones I know of that create tableware for twins, triplets and beyond.
New!

Comments

Have your say about what you just read! Leave me a comment in the box below.