Home
: Types of Baby Showers
Different Types of Baby Showers
- The Complete List
Thinking of a throwing a baby shower?
There are many types of showers used today to help those with specific needs and situations.
Each one is a celebration, but each is adapted to help plan a shower for specific needs.
Since the type of shower is a theme in itself, you can choose if you would want to add an additional theme to it or not.
---
Types of Baby Showers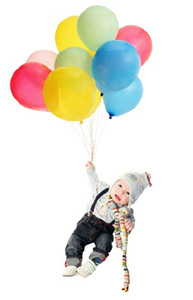 Gender Reveal- Thrown as just a "reveal" or as an actual baby shower, this party gets together loved ones to share with the parents the exciting moment of finding out the baby's gender.
Baby Sprinkle-This party is more of a "sprinkle" of gifts rather than a "full shower" of them. It can be used for a second or third pregnancy to help the mom stock up on needed supplies. It can also be used for the overly prepared mommy who already has the big ticket items for her new addition.
Mommy Party- a mommy party is a "girls only" party used to pamper the new mom to be. The focus is more on getting the mom prepared for the "stresses and demands of motherhood". It can be used for a close group of friends getting together, or to celebrate a mom having a second or third child.
Couples- This type of party is a new popular trend. In this shower, guys are invited to attend and participate in the activities.
Adoption-An adoption shower celebrates the new addition to an adoptive family. It is a little different from the typical celebration due to the complicated adoption process time frame. Visit this page to get great ideas to make it special for everyone.
Long Distance- How do you throw a celebration for a mom that lives far away from her family? A long distance baby shower is a perfect way for family and friends to get together and celebrate the new addition...no matter how far away they are!!Visit this page for some great tips and advice perfect for this situation.
Daddy- This type of shower is thrown specifically for the new dad. It can be thrown by his best guy friends or used for an office party.
Grandma- Becoming a new grandma is very exciting. This type of shower is held in honor of the "grandma to be" by close friends. They shower her with supplies to prepare her for when the baby comes to visit.
Family- A family baby shower is just that, a shower held by the family to celebrate the new baby on its way. Depending on the size of the family, this celebration is typically small and cozy, with family gathering to celebrate the joy of new life.
Office- an office shower is usually thrown during the lunch hour or directly after work in a conference room or a restaurant. Since the lunch hour is typically shorter than a normal shower, fewer games are used. If the dad-to-be works in the office environment; the co-workers can also invite the wife to be included in the celebration.
A New Baby- This is held after the baby is born. It is also known as a "Welcome to the World", "Sip and See" or a "Meet and Greet" party. It can be held like a normal baby shower or an open house for friends and family stopping by to see the new baby.
These types of showers can really help you plan the party correctly, along with your particular etiquette situations. Have an etiquette question? Visit our etiquette section to get help.
Return to Baby Shower Ideas Home
New!

Comments

Have your say about what you just read! Leave me a comment in the box below.