A Perfect Valentine Baby Shower Theme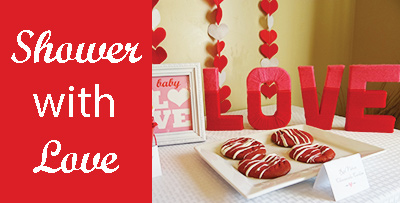 If you are looking to throw a valentine baby shower, a "Shower With Love" party is a perfect way to celebrate.
This theme brings together all of the things you love...family, friends, the new baby, and yes...chocolate!
Valentine Baby Shower Theme Invitation:
Valentines is all about hearts and love, so why not bring that into your invitations. Using a word processing program, print your invitation on a white piece of paper and attach it to red card stock. It would be really cute to make the white section in a shape of a heart.
It's A Baby Shower! Let's Shower (mom to be's name) With Love!
Place, time, rsvp information
Decorate the invitation with heart stickers, paper hearts, heart stamps, or glitter. Sweet heart candies could also be fun to add to the invitation if you are talking about the new "sweet heart" in the wording.
Some fun invitations to go with your theme:
Valentine Baby Shower Activities:
Baby's Night Time Favorites-Invite guests to share their favorite story, song, lullaby, or nursery rhyme with the baby. Provide a tape recorder for them to tape themselves reading, reciting or singing to the baby.
You can also have them introduce themselves and how they know the parents of the baby. The new parents can then play it for their new little one as a nighttime ritual. You might want to have a room set aside for them to sing or read to their heart's content without getting embarrassed.
Count The Kisses- fill a jar or baby bottle with chocolate kisses. Have each guests try to guess how many kisses are in the jar. The person who guesses closest to the actual number wins a prize.
Valentine Games:
Mommy Trivia- quiz your guests to see how well they know the mom-to-be. Ask questions on her favorite food, music, restaurant, color, place, memory, etc.(The winner could get a bag of fire balls for being right on.)
Love Affair Scavenger Hunt- put together a scavenger hunt list for guests to hunt for within the room. Split the group into 2 teams. They can hunt for things that are part of the room or part of the group(as in a purse).
The group to find the most scavenger items on the list wins a prize. (some ideas for them to find would be lipstick, a picture of a couple-(in a magazine), a picture of a baby, and a heart saying that says I love you.)
The Bag Game- hand out paper bags to all of the guests. Tell them to put the bags on their heads. Then instruct them that for this game they must take off one item they do not need. Some people will take off their shoe, an earring, necklace, sock, etc. The person that takes off the bag wins a prize. If no one takes off their bag, explain to them that they could have easily removed the bag.
How Sweet It Is! - split the guests into 2 groups. Give each group a marker, poster board and a selection of candy bars.
Give each team a subject on which to make a story using the candy bar names.
Some subjects could be the trip to the hospital, how they met, the first week of the baby being home, and raising a kid.
Here are some of our favorite printable valentine games for purchase:
Valentine Decorations:
Since your guest of honor is the sweetheart of the afternoon, why not secure some baby pictures of the mom and dad to be and place around the room in frames. Place love sayings on cut out hearts and stick to walls.
Place bowls around the room with the heart saying candies and red hots for guests to enjoy. Decorate with the colors of red, pink, white, silver and gold. Place stuffed animals around the room and place hearts in their arms. Use balloons, crepe paper and confetti hearts to decorate.
Shower With Love Theme Idea:
I created a dessert table to go with the shower with love theme. As a backdrop, I made heart garland. It adds a nice pop of color, and the felt gives it a nice baby touch. :) I used white, hot pink and red felt to make the heart pattern.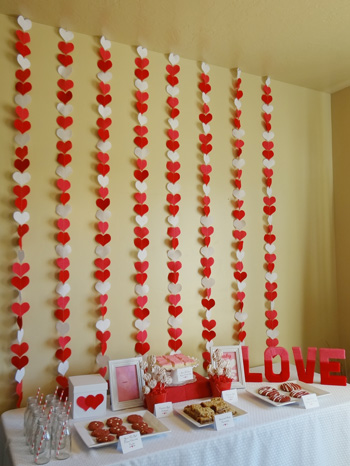 Then I took the colors throughout the table with printables and valentine food to match. One of my favorite elements of the table was the yarn letters spelling LOVE. I matched the pink and red from the garland and created a small ombre melting effect on it. It took a while to make, but turned out beautiful.
For decorations on the table, I took two left over hearts from the garland and attached them with tape to a plain white box. I also made some custom baby signs that brought out the colors and theme of love. The picture frames were purchased from Walmart and then spray painted white. I added a close-up of one of the signs because it is a little hard to see in the picture.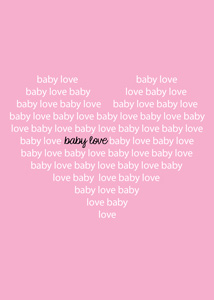 I also had milk glass bottles with white and red striped straws for the drinks. It is a popular trend right now, and it adds a pretty touch for the table.
Valentine Baby Shower Food:
Valentines Day is a day of indulgence of the things we love. Why not indulge your guests with the sweet things of life. Use a chocolate fountain with pretzels, fresh cut fruit, marshmallows, and pound cake for dipping.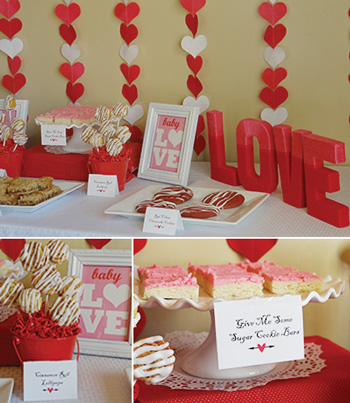 On my valentine table, I made sweet carmelitas, red velvet white chocolate cookies, no fuss sugar cookie bars, cinnamon roll lollipops, and red velvet cheesecake cookies.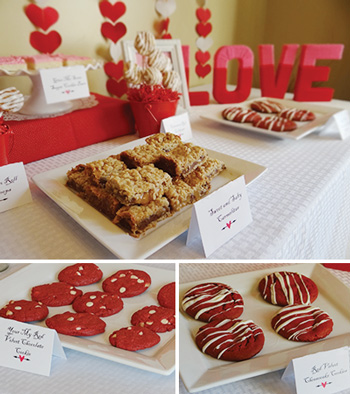 Add some fun to their drinks by serving them in clear plastic champagne glasses or cups and line the top in sugar and a slice of a strawberry. Yum! Offer mini cheesecakes, chocolate covered strawberries, or heart shaped rice crispy treats.
Visit our recipe section to get some great recipes on more delectable dishes to use.
Valentine Centerpiece:
Since the valentine theme revolves around things we love, why not use your food as the centerpiece? Use different levels to display the tantalizing treasures for your guests. If you are using a chocolate or punch fountain, it would be best to use that in the middle as your centerpiece.
Use cake stands and food tier stands to get the different height levels for displaying your foods. Sprinkle the rest of the table with candles, red hots, and confetti.
Or you can create a sock rose bouquet as your centerpiece. Since roses are the symbol of love, it would add a fun touch and give a gift to the new baby at the same time.
Valentine Prizes:
Give your guests useful prizes that will help them with their love life. You can put cute sayings on the items for guests to get a chuckle out of when they read. Breath freshener, gum, mini mirror and comb, lip gloss, deodorant, lotion, chocolates.
Valentine Baby Shower Favors:
Show your guests that you think they are a sweetheart for coming! Make or buy heart shaped sugar cookies. The kind with the thick pink frosting (you know the yummy kind that will go straight to the hips!). Don't worry, they will enjoy every bite. ;)
Place each cookie in a cellophane bag and attach a cute note like:
Thanks for coming to (mom's name) baby shower. You are a sweet heart! Love the hostess, mom, dad and the sweetie on its way!
Place in a basket near the door to double as a decoration and a convenient place to give to guests as they leave.
Valentine Mood Music-
Play fun music that has to do with love or a baby. Some examples could be... All because 2 people fell in love, baby love, and baby baby.
Related Reader Parties:
---
New!

Comments

Have your say about what you just read! Leave me a comment in the box below.