Winnie The Pooh Baby Shower Cake 1
by Brooke F.
(Carrollton, GA)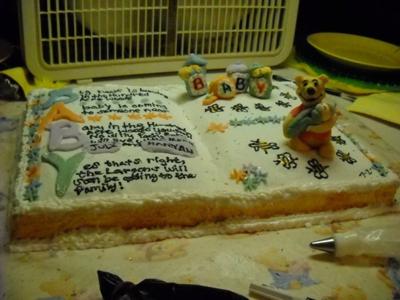 Winnie The Pooh Baby Shower Cake

What a creative and fun idea! I love that Brooke made a storybook Winnie the Pooh cake to go with
the her baby shower. Not only is it adorable, it sounds like it turned out really yummy! The Winnie the Pooh and baby and honey pots are such a fun touch! Thank you so much for sharing your adorable baby shower cake with us Brooke!

Brooke shared:
This cake was for a Winnie the Pooh themed shower. The cake appeared as a story book with Pooh welcoming the baby. I made the cake with a Funfetti mix and baked two rectangular sheet cakes. I placed them side by side, iced them with cream cheese icing and then I covered them with homemade marshmallow fondant (so easy and tastes better than store bought!).

On the left side of the cake, I piped a little Winnie the Pooh and expecting family incorporated riddle and on the right side. I made all of the figures with a rice crispy base and then wrapped them in fondant. The baby honey pots were derived off of typical baby blocks but I wanted to put a Winnie the Pooh spin on them. I created paint with clear vanilla and colored fondant and painted the bees and created the page effect on the side of the cake.
Join in and write your own page! It's easy to do. How? Simply click here to return to Baby Shower Edible Cakes.
Return To Baby Shower Ideas Home