Baby Shower Appetizers
Baby shower appetizers are one of the most popular foods used at baby showers today.
They are easy to serve and are an inexpensive way to keep your guests happy and well fed.
Appetizers are one of the most popular types of food seen at parties because they are so easy to serve.
Most finger foods can be served buffet style with little hassle.
We've provided a wide variety of appetizer recipes for you to choose from.
If you are in a crunch for time, you can whip up some of the following party trays or purchase them at local a grocery store's deli section:
chicken strips and jalapeno poppers
Meat and cheese trays
Cheese and fruit trays
Pickle and olive trays
Mini sandwiches
Deviled eggs
Fresh fruit
---
Baby Shower Appetizers
More Recipe Ideas:
---
Baby Shower Appetizers
OLIVE TAPENADE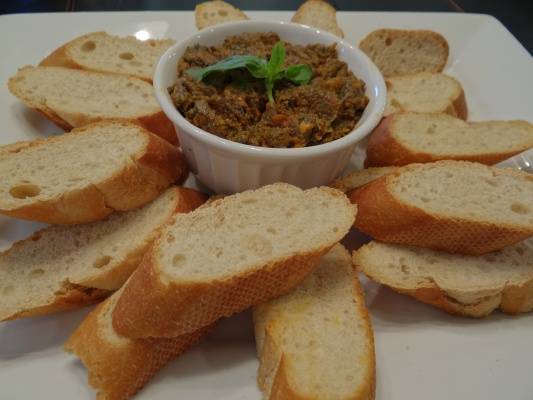 1 pkg. Sun dried Tomatoes
1 can Black Olives
1 jar Capers
4 cloves Garlic
1 cup fresh Basil
1/2 cup Olive Oil
Soak Tomatoes in warm water to soften. Drain. Place all ingredients in food processor. Process until mixture is well combined. Serve on toasted Baguette bread slices.
---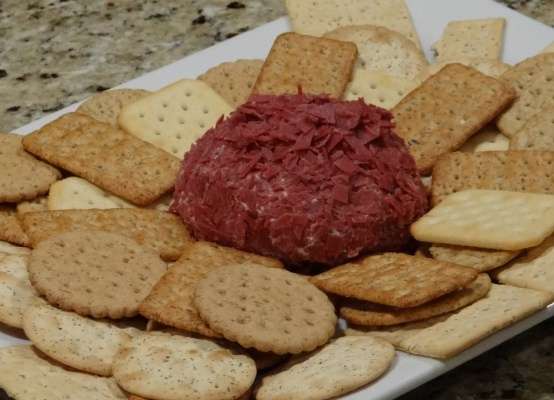 1 or 2 8oz. package(s) cream cheese (soften)
1 jar of dried chipped beef (cut into thin, small strips)
1 bunch of green onions (cut the green parts into small pieces)
Combine cream cheese, Worcestershire sauce, garlic powder and green onions together in a bowl. Mix together. Add about 3/4s of the dried beef to the mixture and mix again. Reserve remaining beef to the side. Place cream cheese mixture in the refrigerator until the mixture is firm enough to round into a ball. After you have formed the ball, roll it in remaining dried beef. Place the "ball" on a platter & chill until you are ready to use. You can serve it will any type of crackers. I use Triscuits, Wheat thins, Ritz, etc. Serve on a nice platter with the white part of the scallions left whole (like a stick) for garnish.
I promise this cheese ball will not be something left over at the end of the day!
---
PINEAPPLE CHEESE BALL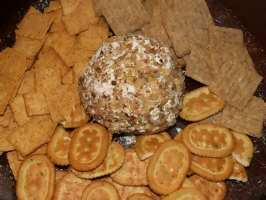 1/2 can crushed pineapple
2 8oz. package(s) cream cheese (softened)
2 green onions, sliced
1 cup nuts (sliced almonds, chopped pecans, or walnuts)
Place all ingredients in mixer. Blend well. Divide in half. Place nuts on wax paper. Mound first half into nuts and roll, coating ball. Repeat with the other half. Serve with assorted crackers.
---
PICKLE ROLL UPS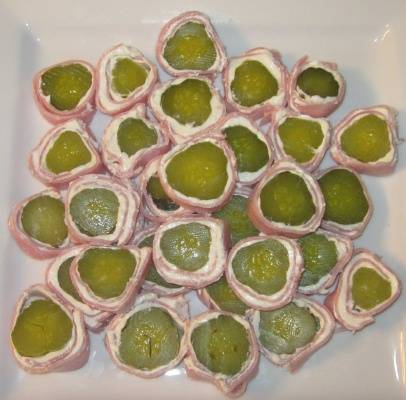 Whole dill pickles-dried with a paper towel
1- 8 oz. package of cream cheese- softened
Sliced ham or corned beef
Lay out a slice of ham/corned beef. Blot dry with a paper towel. Spread a thick cream cheese layer on top. Place the dill pickle on the edge of the ham.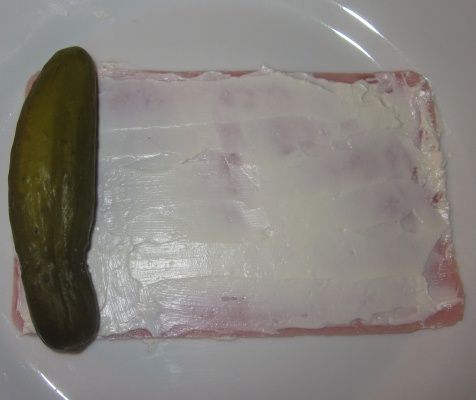 Roll from one end to the other. Refrigerate until ready to serve. Slice in 1 inch sections before serving.
---
WARM BACON DIP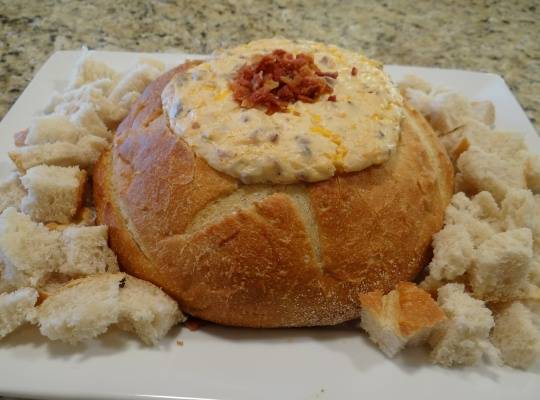 1 round French bread loaf
1 8 oz. package of cream cheese- softened
12 ounces of bacon cooked and crumbled
2 cups of shredded cheddar cheese
2-3 Tablespoon of Worcestershire sauce
1 1/2 cups of sour cream
Preheat oven to 325 degrees. Cut a hole in the center of the top of your round French bread loaf. Scoop out bread in the center to make a bread bowl. In a bowl, mix softened cream cheese with sour cream, cheddar cheese and Worcestershire sauce until smooth. Add bacon and mix well. Place bread bowl on a cookie sheet or oven safe dish. Fill with cream cheese mixture. Bake for 45 mins. Use the leftover bread from the bowl to dip. You can also use chips and crackers.
---
TASTY MEATBALLS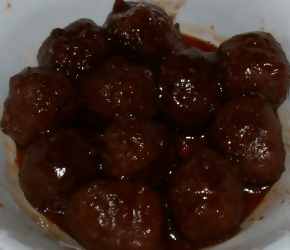 1 jar of chili sauce
10 oz. of grape jelly
2 lbs. of frozen precooked meatballs
2 tablespoons of mustard
Place everything in a crock-pot and place on high until cooked. Turn to low until time to serve. This is so yummy!!
---
4 oz. unsweetened Baking Chocolate
1 cup Whipping Cream
1 cup sugar
1/4 cup creamy Peanut Butter
1-1/2 tsp. Vanilla
Combine chocolate and cream in medium saucepan. Cook over low heat, stirring constantly, until chocolate melts and mixture is smooth. Add sugar and peanut butter. Continue cooking until slightly thickened. Remove from heat; stir in vanilla. Pour into fondue pot or chafing dish. Serve warm with fondue dippers.
Fondue Dipper: Angel food cake; cubed, Strawberries, grapes, pineapple chunks, mandarin orange segments, cherries, apples, etc. Brush sliced fruit with lemon juice.
---
WRAPPED WIENERS (also known as "pigs in a blanket")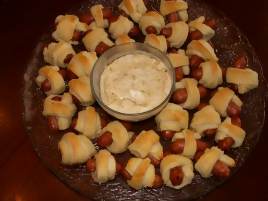 1 package of cocktail wieners
2 packages of crescent rolls
Dijon Mustard
Butter- softened
Unwrap crescent roll triangles. Cut each triangle into 3 even sections lengthwise. Wrap each sausage starting at the wide end and roll, ending with the small end on top. Place on a baking sheet. Bake at 350 degrees for 15 minutes or until lightly browned. Mix butter with mustard for dipping sauce.
---
HOT ARTICHOKE DIP
2 (6.5 oz.) Jars marinated artichoke hearts, drained and coarsely chopped.
10oz. Pkg. frozen chopped Spinach, thawed and drained.
1/2 cup Sour Cream
1/2 cup Mayonnaise
1/2 cup Monterey Jack cheese
1/2 cup Parmesan Cheese
1 clove Garlic- pressed
Preheat oven to 375 degrees. Combine all ingredients and place in small baking dish. Bake 20 to 25 minutes or until heated through and cheese melted. Serve with corn chips or fresh vegetables.
---
BACON WRAPPED CHICKEN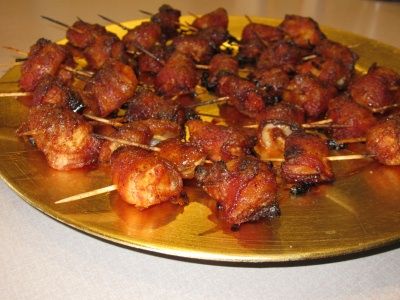 1 pound of bacon
1 1/4 pound of boneless skinless chicken breast
2 tablespoons of chili powder
2/3 cups of brown sugar (firmly packed)
toothpicks
Preheat oven to 350 degrees. Cut chicken breast into 1 inch chunks. Cut bacon strips into thirds. Wrap 1 piece of bacon around 1 piece of chicken. Secure with toothpick. Wrap all your chicken pieces. Set aside. In a bowl, combine chili powder and brown sugar. Mix well.
Spray a broiler pan with nonstick cooking spray. Coat each piece of chicken with sugar mixture and arrange on pan. Place in oven for 30-35 minutes or until bacon is crisp. Note: You might want to double this recipe. It goes fast! Delicious!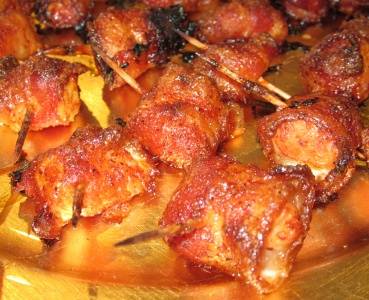 ---
PARTY PINWHEELS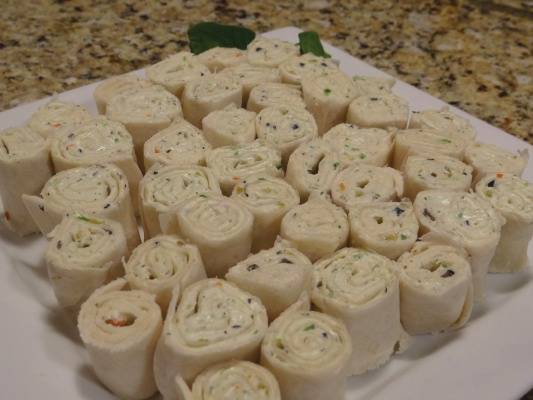 10 large Flour Tortillas
2 boxes Cream Cheese
1 pkg. Ranch Dressing, dry
1 cup Black Olives, finely chopped
2 Tbsp. Pimentos, finely chopped
2 Tbsp. Jalapenos, finely chopped
Set out Cream Cheese several hours to soften. Mix in dry Ranch dressing mix. Add Olives, Pimentos, and Jalapenos. Mix well. Spread evenly over tortilla. Roll tightly. Cover and chill for about an hour. Slice into pinwheels. Use your first cut section to cut all the tortillas the same height.
I usually get 7-8 tortillas filled with this mixture. It depends on how thick you spread it. If you get gaps in the middle of your pinwheels, it is either from not enough mixture or you didn't wrap the tortillas tight enough.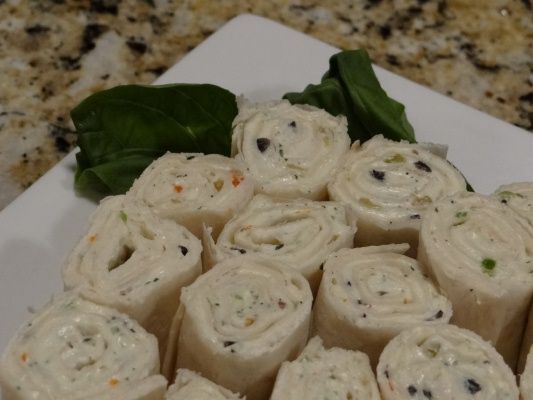 ---
SPINACH DIP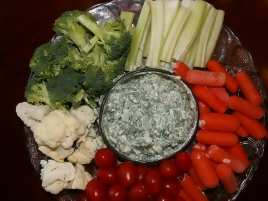 1 package of frozen spinach, thawed and drained
1 can of chopped green chilies
2 cups of sour cream
1/2 cup of mayonnaise
Combine all ingredients in a mixer. Serve with fresh vegetables (carrots, celery, broccoli, cauliflower).
---
GUACAMOLE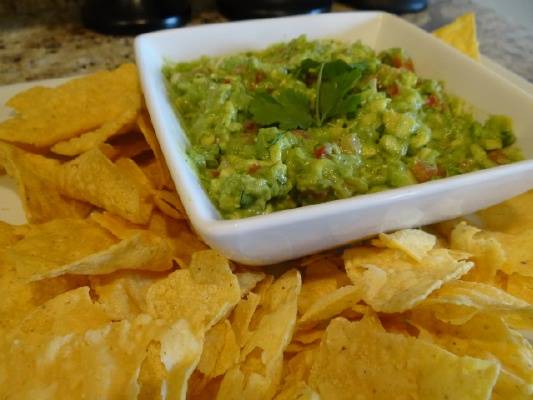 3 very ripe Avocados
3-4 tablespoons of cilantro- chopped
1 teaspoon of salt (or to taste)
3/4 cup of chopped tomatoes
Juice of 1 lime
jalapeno 1-2 tablespoons (seeds removed)
1/2 cup of chopped onions
On a cutting board, combine half of the onions with the salt, jalapeno, and 2 tablespoons of the cilantro. Mince together until it turns into a paste. Transfer to a bowl. Remove avocados from the pits. Scoop out flesh. Chop avocados into small pieces. Mix in bowl with cilantro mixture. Add tomatoes and remaining chopped onions and cilantro. Add lime juice and mix together. Mix together. Add additional salt or garlic powder to taste.
---
SALSA
1 large onion
2 cloves Garlic
2 jalapenos, seeds removed
1/2 cup fresh Cilantro
1 tsp. Cumin
1 tsp. Garlic salt
8 large Tomatoes
Juice of 1 Lime
Place onion, garlic, jalapeno, cilantro, cumin and garlic salt in food processor. Process until finely chopped. Add tomatoes. Pulse until chunky chopped. Don't process too much or it will turn frothy pink. Stir in lime juice. (If salsa it too hot, add chopped cucumber.)
---
CHILI CON QUESO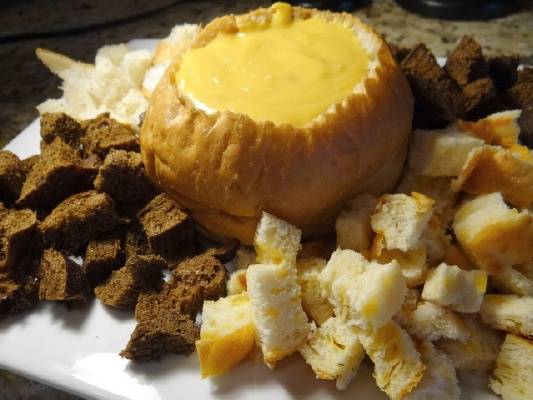 4 cups Water
2 Tbs. Chicken soup base (Watkins)
1 Tsp. Cumin
1/2 tsp. Red Pepper Flakes
32 oz. Velveeta, cubed
1 cup cold Water
1/2 cup Corn Starch
Place first 4 ingredients in large saucepan and bring to boil. Place Velveeta cubes in pan and use wire whisk to help dissolve cheese. Stir constantly until cheese is dissolved. Dissolve corn starch in cold water. Pour into hot cheese mixture. Stir constantly until mixture thickens.
Optional: add salsa. Serve with tortilla chips, with Nachos, or over burritos. (I used French bread, pumpernickel bread and cheese bread in the picture above.)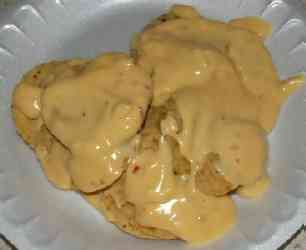 ---
SAUSAGE BALLS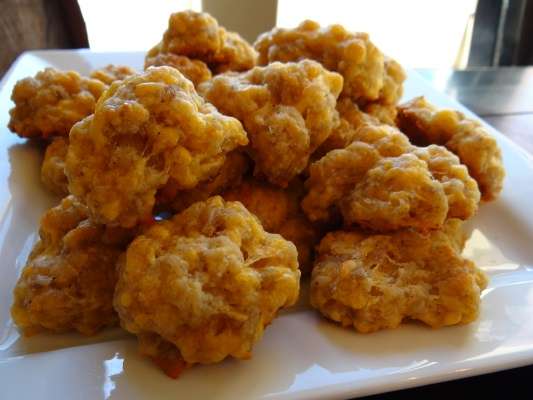 1 lb. hot or mild Sausage
2 cups Bisquick Mix
10 oz. Sharp Cheddar Cheese, grated
Combine all ingredients. Roll into small balls. Bake at 375 degrees for 10-15 minutes or until lightly browned. You may add more cheese, if desired.
---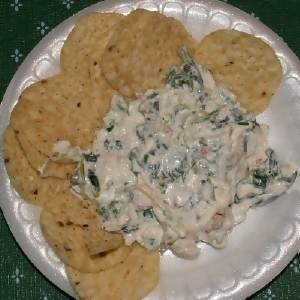 1 package of frozen chopped spinach
1 cup of mayonnaise
1 can of real crab meat
1 container (16oz. sour cream)
1 can of water chestnuts-drained and chopped (optional)
Knorr vegetable soup mix
3 chopped green onions
Combine all ingredients except the crab meat. Chill 2 hours. Add the crab meat and stir again. Chill another hour. Everyone goes nuts over this recipe. Enjoy!
---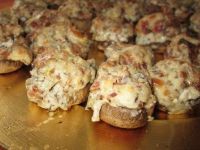 1 lb. of fresh mushrooms
1 (8oz) cream cheese
Bacon, cooked and crumbled
Green onions, sliced
Clean mushrooms. Remove stems and chop up. Combine the rest of the ingredients with the stems and stuff back into mushrooms. Back at 350 degrees for 20 minutes.
---
BUFFALO CHICKEN WINGS
24 Chicken wings (about 4 pounds)
1/2 cube of butter
1/2 cup of Louisiana sauce
1 tablespoon of white vinegar
1/4 cup soy sauce
3 teaspoons of chili powder
1 teaspoon of garlic powder
Cut off and discard wingtips. Cut wings in half at the joint. Spread wings in a single layer on a baking sheet. Bake at 350 degrees for 45 minutes or until no longer pink in the middle. Melt butter in sauce pan. Add the rest of the ingredients. Cook until reduced to a thicker sauce. Dip chicken wings into sauce pan and coat well. Serve with ranch dressing.
---
JALAPENO POPPER DIP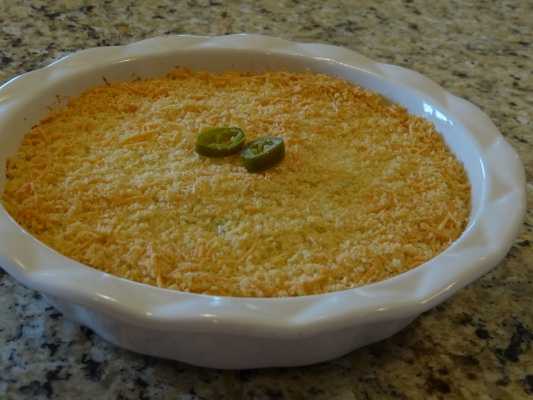 2 (8 ounce) packages of cream cheese
1 cup mayonnaise
1 (4 ounce) can of chopped green chilies- drained
1 (4 ounce) can of chopped jalapenos- drained
1/2 cup of Mexican cheese
1/2 cup Mozzarella cheese
1 cup Panko bread crumbs
1/2 cup grated Parmesan cheese
Preheat oven to 350 degrees. Spray an oven safe dish with non-stick cooking spray. In a mixing bowl, blend cream cheese and mayonnaise until smooth. Add green chilies, jalapeno peppers, Mexican cheese and Mozzarella cheese and mix again. Spoon mixture into your prepared dish. In a bowl, mix the panko bread crumbs with the parmesan cheese. Sprinkle evenly over the cream cheese mixture. Bake for 25-30 minutes or until mixture is hot and the topping is lightly browned.
---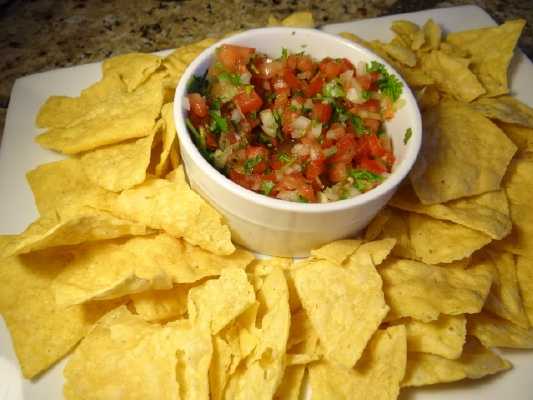 This recipe is designed to be made to your specific tastes. Add more or less of an ingredient to get your final flavor.
Tomatoes
1 jalapeno- use the amount you want to add a spicy kick
Lemon juice
Lime juice
1 onion
Garlic salt
Cilantro- chopped
Chop tomatoes a little smaller than bite size. Chop onions into very small pieces. You will not want to use too many onions in your Pico de Gallo. It can take over the salsa very easily. Add chopped cilantro to mixture.
Use chopped jalapeno to add the amount of spiciness you desire. The jalapeno will get hotter the closer to the stem that you cut. (Remove jalapeno seeds). Add lemon and lime juice to flavor. Add garlic salt for final taste.Serve with chips.
---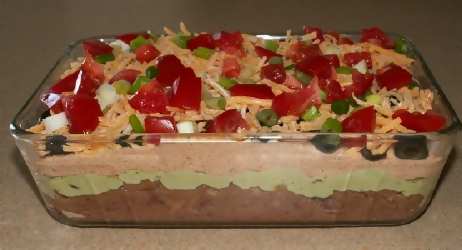 You will need:
Refried beans
1 tub of guacamole
Diced olives
Shredded cheese
Diced tomatoes
Diced green onions
1 cup of sour cream
1/2 cup of mayonnaise
1 packet of taco seasoning
Layer the following ingredients in a 9x9 pan.
1st layer- refried beans
2nd layer- 1 tub of guacamole
3rd layer-combine 1 cup of sour cream, 1/2 cup of mayonnaise and packet of taco seasoning
4th layer-shredded cheddar cheese
5th layer-diced olives
6th layer-diced tomatoes
7th layer-diced green onions

---
BAKED CRAB RANGOON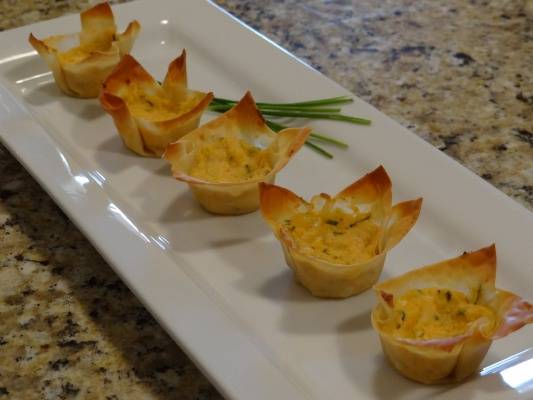 1 can crab meat (6 ounces)
4 ounces of cream cheese- softened
2 tablespoons mayonnaise
1/2 teaspoon Sriracha
2 teaspoons finely chopped chives
12 won ton wrappers
Preheat oven to 350 degrees. Spray 12 spots in a mini muffin tin with non-stick spray. In a bowl, mix together crab meat, cream cheese, mayonnaise, Sriracha, and chives. Continue to mix until fully combined. Place 1 won ton wrapper in each mini muffin cup. Fill each won ton with cream cheese mixture. Bake 15-20 minutes or until won ton edges are golden brown and cream cheese filling heated through. Garnish with extra chives.
---
SOFT PRETZELS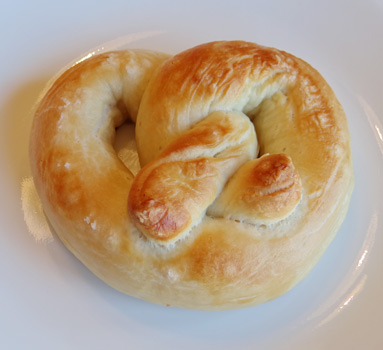 Ingredients:
1 1/2 cups warm water
1 tablespoon sugar
2 teaspoons kosher salt
2 1/4 teaspoons instant yeast
4 1/2 cups flour
4 tablespoons unsalted butter, melted
Before Baking:
Cooking spray
10 cups water
2/3 cup baking soda
1 egg yolk beaten with 1 tbsp. water
Pretzel (or kosher) salt
Combine the water, sugar, salt and yeast in the bowl of a mixer with a paddle attachment. Mix on low speed until yeast is dissolved. Add in the flour and melted butter and mix just until the dough comes together. Switch to a dough hook and knead on medium speed until the dough is smooth and clears the sides of the bowl, about 5 minutes. Place dough in a bowl that has been lightly greased with vegetable oil, turning once to coat. Cover with plastic wrap and let rise in a warm place, about until doubled (about an hour).
Preheat the oven to 450° F. Line two baking sheets with parchment paper and spray lightly with cooking spray. Bring the water and baking soda to a boil in a large saucepan or stockpot. Divide the dough into 8 equal pieces. Roll each section into a 24-inch long rope. Make a U-shape with the rope. Hold both ends of the rope and cross them over each other and place onto the bottom of the U-shape to form the shape of a pretzel. Place onto the parchment lined baking sheet. Repeat with the remaining rope sections.
Place the pretzels into the boiling water, 1 or 2 at a time, for 30 seconds. Remove from the water with a slotted skimmer and return to the baking sheet. Once all the pretzels have been boiled, brush the tops with the egg wash and sprinkle lightly with salt. Bake in the preheated oven until dark golden brown, about 12-14 minutes. Transfer to a cooling rack for at least 5 minutes before serving.
---
NUTELLA CHEESECAKE DIP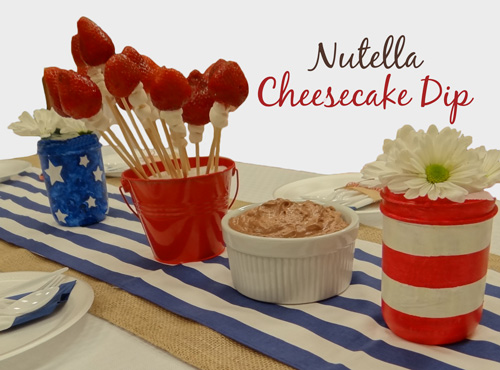 Ingredients:
3/4 cup nutella hazelnut spread
8 oz. cream cheese
1 cup heavy whipping cream
3 tablespoons powdered sugar
In a medium sized bowl, mix cream cheese with nutella hazelnut spread until smooth and creamy. In a separate bowl, use a hand mixer to mix heavy whipping cream until stiff peaks form. Softly fold whipping cream into nutella mixture until combined.
Serve with strawberries, marshmallows, graham crackers or other cookies. Yum!
---
ORANGE CREAMSICLE DIP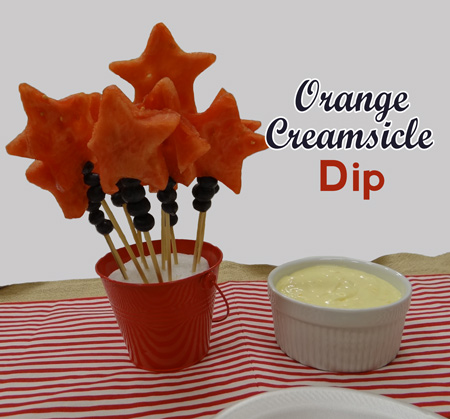 This dip is amazing with fresh fruit. I love it with strawberries!
Ingredients:
8 oz. softened cream cheese
7 oz. marshmallow fluff
1/4 cup orange juice
1 tablespoon orange zest
1/4 teaspoon vanilla
. In a medium sized bowl, combine cream cheese with marshmallow fluff and mix until smooth. Add orange juice, orange zest and vanilla and mix again. It's that easy! Chill until ready to serve.
Serve with strawberries, marshmallow, apple slices, pineapple, watermelon and other fresh fruit.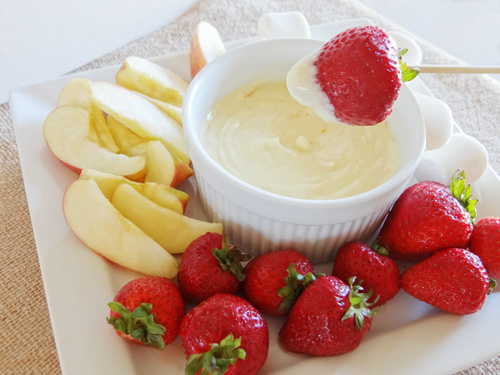 ---