Our Baby Shower Cakes
Photos and Ideas To Help With Your Baby Shower
Looking for a great "edible" centerpiece? Try a baby shower cake! There are so many beautiful and easy designs that you can use to say congratulations!
Check out our photo gallery below...full of how to tips and ideas for you to make a fabulous cake of your own! If you end up making a cake, be sure to share it with us so we can continue to make this a fun and free resource for others!
"I threw my first baby shower last weekend for my best friend. I received so many compliments. People would not believe it was my first time hosting. Thank you!"
---
Categories Of Cakes
You Are Here: Home » Edible Cake Index


Animal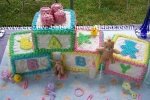 Baby Block
---
Having a good cake recipe is essential for an enjoyable party or get-together. My mom is known for her cakes, so I asked her to share one of her favorite quick recipes that gets rave reviews. She said this recipe is her favorite, hands down. It is quick to make and she always gets tons of compliments.

Fruit Cocktail Cake

My mom sent this over with the recipe...This is the cake I make for funerals and showers. The funeral director says it's the best cake he's ever eaten! And he's eaten a lot of cake! ~ Love Mom


For the cake:
1 pkg. yellow cake mix
17 oz. can fruit cocktail, un-drained
3 eggs


For the topping:
2/3 cup sugar
1/2 canned milk
1 stick butter
1-1/2 cup coconut
1 cup chopped pecans


Beat first 3 ingredients until fruit is in smaller pieces. Bake in a greased and floured cooking sheet at 350 degrees for 15 minutes.

Topping: Bring first 3 ingredients to boil. Remove from heat and add coconut and nuts. Mix well and spoon over hot cake.

I also share some of my favorite "knock your sock off" recipes in our baby shower desserts section.

If you are looking for something a little more "bite sized" and portable, cupcakes are a great alternative to serve. Check out our best baby shower cupcakes section to get our best cupcake recipes.