Home
: Baby Shower Decorations
How To Choose The Perfect Baby Shower Decorations
Your baby shower decorations will help create the perfect mood and feeling for your party guests.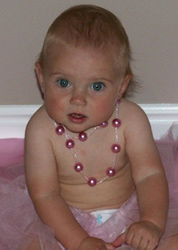 Want To Be A Decorating Diva?
Whether you are looking at an enchanting backdrop for a classy party or simple elegance for a fun get-together, it is important to look at a few things to determine how you will decorate...
Theme- What is your theme? Think of your guests and their tastes. What mood would you like to create?
Location- Where will the celebration be held? Some restaurants might have decorating restrictions, or maybe their decorations already work well with your party theme.
Budget- There is lots of inexpensive and classy ways to decorate with any type of budget. The key is to know your budget upfront. Use your budget to create an elegant and fun backdrop for your event!
Have a great decorating idea? Click here to share your favorite decoration ideas with our website.
---
Ideas For Baby Shower Decorations :
Here is a list of decoration ideas that could work with almost any theme.
Mix and match your favorites to come up with your own fabulous design!
Tulle- Hang tulle around the room as a decoration to give a soft, elegant look. You can create swags or drape around the gift or food tables.
Christmas lights- always add a touch of elegance to any occasion. Use them with tulle, around candles, or mirrors for a soft reflecting glow.
Scrap fabric banner- hang a fabric banner behind the food table or on a chalkboard to greet your guests.
Cloth diapers can be used as place mats or napkins.
Baby car keys or pacifiers add a nice touch as a napkin rings.
Use baby bottles as cups- Just remove the nipple and add a straw for each guest. It works well to give a child like feel to the occasion and it gives the mom-to-be supplies.

Make a burlap wreath- to hang on the door to welcome your party guests.
Fresh flowers- add a touch of beauty and a great smell to the room. Some great varieties to try are roses, tulips, gerbera daisies, and lilacs. Sprinkle rose petals down the table for a special touch.
Candles- are perfect to use if you would like to add a little ambiance to the occasion. Candles are a simple and effective way to add a little more decoration to the room.
Balloons- you cannot go wrong with some good balloons. Use them around the room to decorate. You can also use them at the food table by tying them to your main centerpiece.
Baby clothesline- this is a simple yet great way to both decorate and give cute gifts to the mom-to-be. Hang a clothes line as a decoration and string up cute baby clothing items like onesies, baby booties, socks, and outfits.

After the shower they can be given to the mom as a gift for the baby.

Confetti-sprinkle confetti on the table as a simple and cute decoration. You can find baby themed confetti at party stores.
Display gifts in a crib or stroller instead of using a gift table. Decorate a crib or stroller to hold the gifts for the mom to open.
Create a paper rosette backdrop- to add drama and pops of color to your party room.
Use baby food jars to hold glass beads and a tea light candle for a simple and elegant look.

Display a rocking chair for mothers to be's chair- give your guest of honor a special seat for her party. Use a rocking chair and decorate it to match the rest of the decor.
String stars from ceiling, add glitter to make them more dramatic.
Use clear plastic bubbles from the craft store to match a bath theme. These can also be suspended from the ceiling.
Tissue Paper Flowers- add a soft, whimsical feel to the party. Tissue pom poms are a great decoration to use if you have a limited budget.
Paper cut outs can be purchased or made in various baby themed shapes.
Baby banner- create a banner or sign and hang up as a decoration.

Use a Christmas tree or baby tree- to decorate with the occasion. If it is Christmas time, get a tabletop Christmas tree and decorate with baby items and lights. During summer you can get a branch, stick it in a vase and tie baby items to it for decoration. Another nice touch would be to spray paint the branch with a soft color like blue, pink, white or silver.
Make ruffled streamers- out of crepe paper to hang as a backdrop or part of the decor.
Satin and Organza can be used on the table to add a touch of elegance.
Hang an umbrella from the ceiling- Open an umbrella and hang from the ceiling near the gift table. Use streamers and balloons to decorate the umbrella.
Streamers can create a festive feel to any party. String them around the room and even try them in a crisscross weave pattern on the table for a fun look.
Tableware-Plates, napkins, and cups can be purchased in solid colors or various themes to match your baby shower.
Tablecloth- use a solid table cloth to give your food items more attention, or use a lace table cloth to add a touch of elegance.
Make paper flowers- for an inexpensive and beautiful touch to the shower.

---

Get some more ideas for decorations in our table centerpiece section.

Decoration Ideas

Good Luck With Your Baby Shower Decorations!

New!

Comments

Have your say about what you just read! Leave me a comment in the box below.