Hot Chocolate On a Stick -
A Fun Baby Shower Favor for Your Guests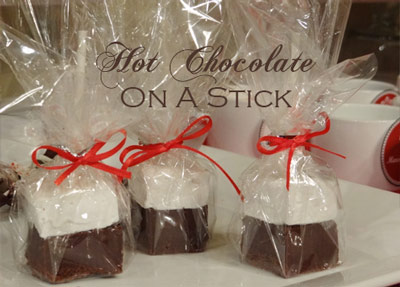 Want a fun and inexpensive winter favor for your party guests? Give them hot chocolate on a stick! Homemade chocolate ganache blocks paired up with homemade marshmallows...the idea is pure genius! We had them at a hot chocolate bar recently, and the guests were so excited about them that some of them nibbled on them before we could even get the warm milk to them to dip it in!
There are two steps to making these; first I will give instructions for the marshmallows and then instructions for the chocolate blocks. They do take a little drying time, so plan ahead of time if you want to use this idea. The marshmallows can be made 2-3 weeks ahead of time, but you will want to make the hot chocolate blocks within a few days of the party so it is still fresh and pretty looking. Ready? Let's get started!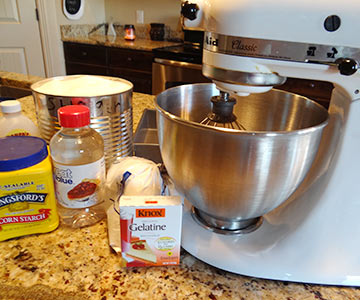 Homemade Marshmallows:
You will need:
3 packages of unflavored gelatin
1 cup of ice cold water, divided
1 cup of corn syrup
1 1/2 cups of sugar
2 teaspoons of vanilla
1/4 teaspoon of salt
1/4 cup of cornstarch
1/4 cup of confectioners' sugar
Nonstick cooking spray
In a stand mixer set up with the whisk attachment, place unflavored gelatin and a 1/2 cup of the cold water. Meanwhile, in a small pan, mix the granulated sugar, remaining 1/2 cup of water, corn syrup and salt. Cover and place on medium high heat. Cook for 3-4 minutes. Attach candy thermometer to pan and continue to cook until the temperature reaches 240 degrees fahrenheit. (Note: The recipe said it would take 7-8 minutes to reach the temperature, but it took a little longer for me.)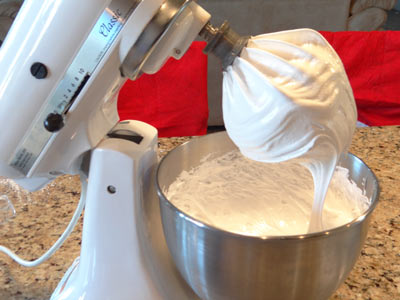 Turn the stand mixer to low speed and slowly pour heated syrup down the side of the bowl. Once all the syrup has been added, increase speed to high. Continue to whip until the mixture becomes very thick and is lukewarm. It should take around 12-15 minutes. Add the vanilla in the last few minutes of mixing. In a bowl, combine the confectioners' sugar and cornstarch. Lightly spray a 9x13 metal pan with nonstick cooking spray. Add powdered sugar/constarch mixture to pan and move around to fully coat. Return remaining mixture into bowl.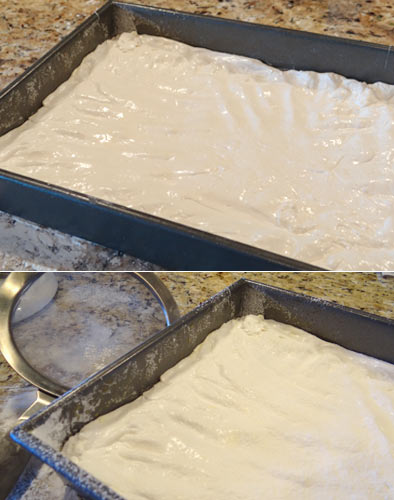 Pour mixture into pan. It will be very sticky. Spread with lightly oiled spatula. I also sprayed my fingers to help press it into the pan. (If you use your fingers, make sure to smooth it out again so it doesn't look ripply on the top like mine did. ;) ) Dust powdered sugar/cornstarch mixture lightly on top. Let marshmallows sit uncovered for at least 4 hours.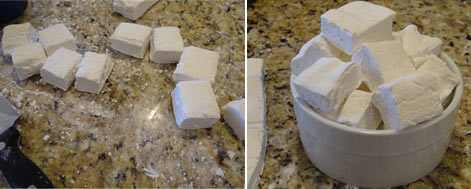 When ready, flip pan onto cutting board and cut mixture into 1 inch squares using a knife dusted with confectioners' sugar mixture. Once marshmallows have been cut, lightly dust all sides of each marshmallow with the powdered sugar mixture and store in airtight container. It can be stores for up to 3 weeks.
Solid Hot Chocolate:
You will need:
1/2 cup heavy whipping cream
1 14 ounce can of sweetened condensed milk
3 cups of semi-sweet chocolate chips or or chopped chocolate ( I used 1 cup milk chocolate chips, and 2 cups of semi-sweet chocolate chips
1 4 ounce bar of unsweetened chocolate-chopped into small pieces(I used ghiradelli)
lollipop sticks
8x8 square pan
parchment paper or aluminum foil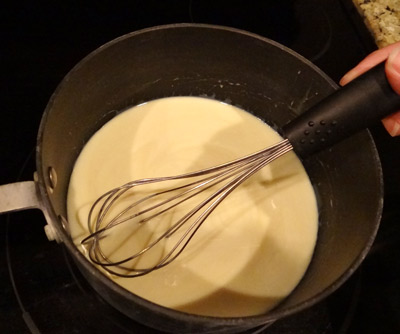 Combine heavy whipping cream and sweetened condensed milk in a pan over medium heat until it starts steaming (but not boiling).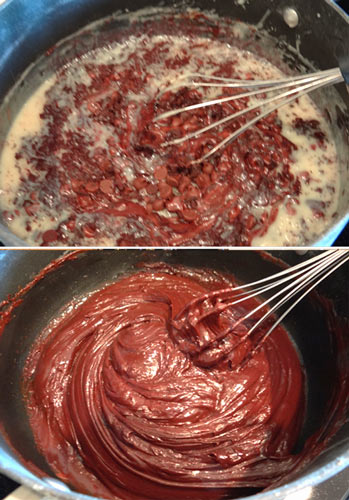 Remove from heat and add 3 cups of chocolate and the 4 oz bar of chocolate. Let sit 3 minutes until the chocolate chips to start to melt into mixture. Return pan to stove and return heat to medium, stiring until chocolate is completely melted in and shiny.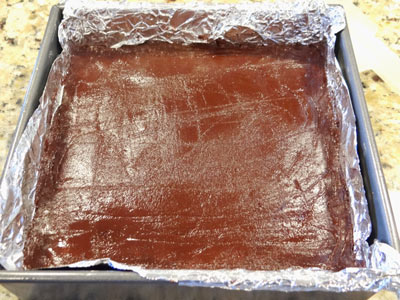 Cover 8x8 pan with parchment paper or aluminum foil. Pour chocolate into pan and spread mixture as smooth as possible. Cover and let sit 12 hours or overnight.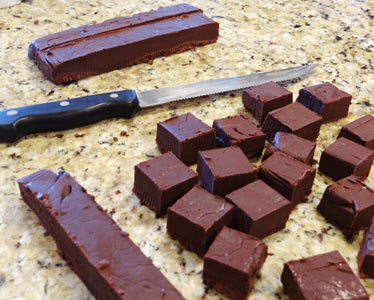 When ready to cut, turn pan over on top of cutting board to remove chocolate. You are going to be dividing the chocolate into 6 sections each way for a total of 36 pieces of chocolate that are around 1 inch each. Run a long serrated knife under warm water and wipe dry with a towel. Make a few cuts and run knife under warm water and dry with towel again.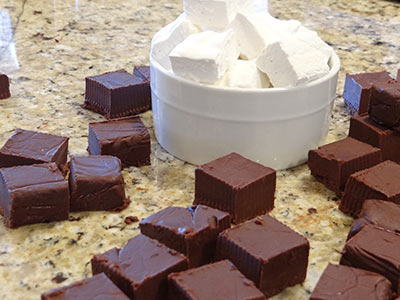 Repeat process until all 36 pieces have been cut.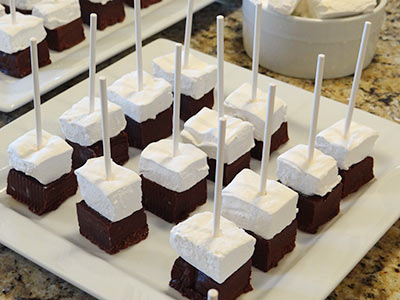 To make hot chocolate on a stick, lay one marshmallow on each piece of chocolate and push lollipop stick through both layers. Viola!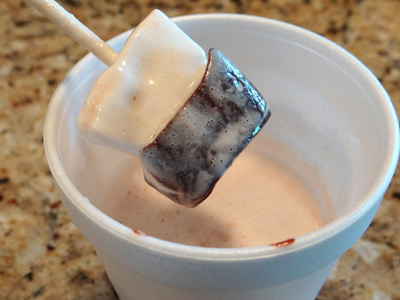 Yum! The result? Totally delicious hot chocolate!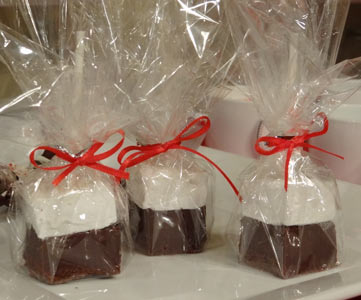 Package everything up with cellophane and a pretty bow (I would use this size if I was using a cellophane bag
) for wonderful favors or use for a hot chocolate bar.
New!

Comments

Have your say about what you just read! Leave me a comment in the box below.