Washcloth Lollipop Instructions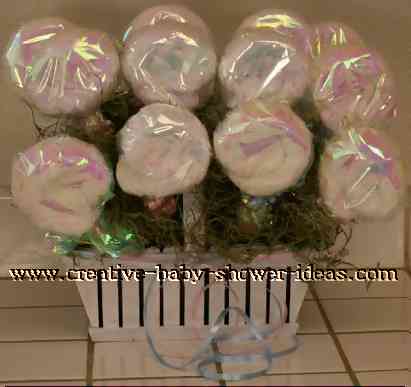 The washcloth lollipop is a fun decoration to make for a baby shower. Use it as some great eye candy at the baby shower and give it as a favor at the end!
It looks so good your guests will want to eat it. But they will also love that it is practical enough to use at home!
The fun part is that it is so easy to make that you will be showered in compliments without the "workout".
Use it as a gift for the mom-to-be, decoration for your food or gift tables, favor to give your guests or a prize for a game winner.
Washcloth Lollipop Ingredients:(for each lollipop)
one washcloth
one craft stick
needle and thread-same color as the washcloth
ribbon
glue dots or double sided sticky tape
colored plastic wrap
To start your project:
Lay the washcloth flat in front of you. Take the longest edge of the washcloth and jelly roll it. As you roll the washcloth, be careful to keep the edges lined up with each other.
After the washcloth is rolled up, turn it and coil roll the jelly roll so that it forms a circle (like a lollipop). Choose the side that looks the best. If the roll shows the edging, re-roll until you achieve the look you want.
How to keep your washcloth the lollipop together...
This can be a little tricky, and I've learned a few things over the years making these for friends and family. Although I am an avid lover of double sided sticky tape, this might not be the best thing for you to use if you are giving it as a gift.
The double sided sticky tape is wonderful for holding your washcloth lollipop together, but it will also grab hold of the threads of the washcloth when the recipient goes to take it apart.
If you are using the lollipop only as a decoration piece, then the double sided sticky tape is a quick way to put it together.
When giving the washcloth lollipop as a gift the best way to attach the layers is a needle and thread. Use thread that is the same color as the washcloth.
Give yourself a little knot to begin with and a few stitches to hold the last two layers together.
Attach your lollipop to the craft stick:
This can be easily done with glue dots or double sided sticky tape. Keep in mind that the tape might pull some of the threads out of the washcloth.
You can also use a glue gun if you are not worried about also using it as a favor or gift.
Give it some candy appeal!
My favorite covering for the washcloth lollipop to use is the iridescent colored plastic wrap. It shimmers in the light and gives the lollipop an attractive candy look.
Another fun covering would be tulle. Hold the "lollipop wrapper" under the base of the lollipop about an inch and use ribbon to tie a bow. Curling ribbon is also great to use and will add fullness to your lollipop.
Displaying your washcloth lollipops:
There are so many fun ways to display your artwork. My favorite place to put it is on the food or gift tables, although it would also make a great decoration for around the room.
Here are some creative ways to display your lollipops:
In a vase
In a metal tin pot
In a terracotta flower pot
In a diaper cake
In a basket
Place it around the room with teddy bears. Make it look like the teddy bear is holding or hugging it.
Stick the lollipops in floral foam and make a floral arrangement out of it.
Use it as balloon weights.
Set mini displays around the room by placing it in a container with floral foam to keep it in place.
You have learned some great techniques and ideas to make your washcloth lollipop giving special. You guests will really "lick"… oops! I mean like it! :)
Washcloth lollipop photos submitted by our readers
---
~ Photos submitted to gallery by: ~
~ Angie S. from Lake Worth, Florida ~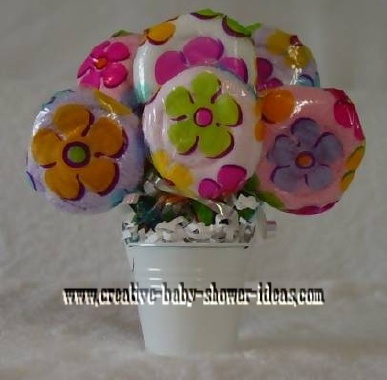 ---
~ Photos submitted to gallery by: ~
~ Felicia F from Pendleton, IN ~
---
~ Photos submitted to gallery by: ~
~ Judy H. from Port St. Lucie, Florida ~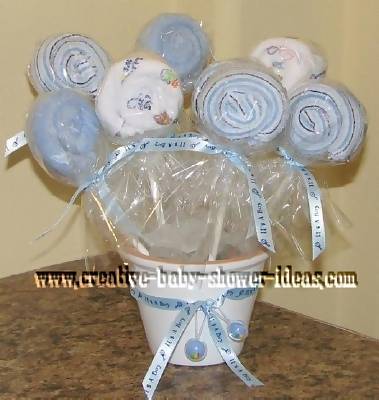 I made my first diaper cake and washcloth lollipops. They turned out very well. I wanted to thank you (and your website) very much for the great ideas and the how-to's.
---
~ Photos submitted to gallery by: ~
~ Wendy H. from Sumter, South Carolina~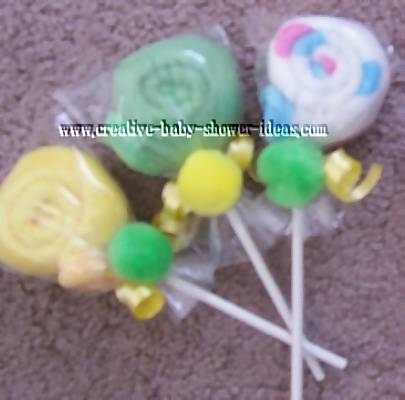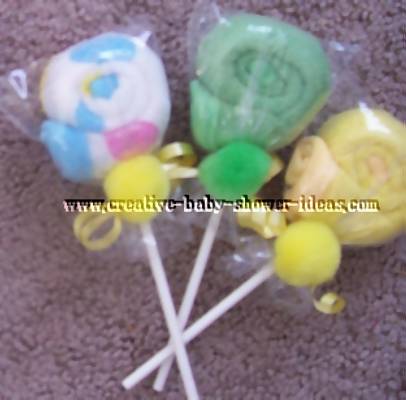 ---
~ Photos submitted to gallery by: ~
~ Krista D. from The United States~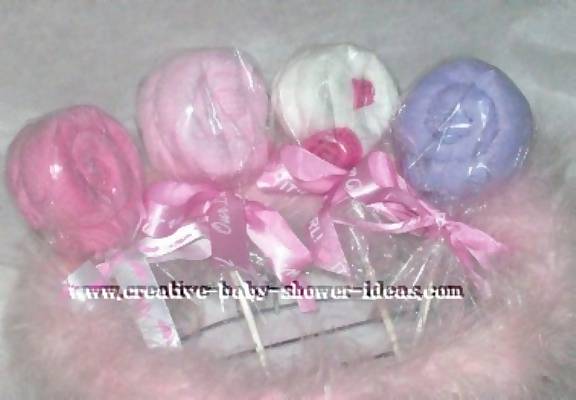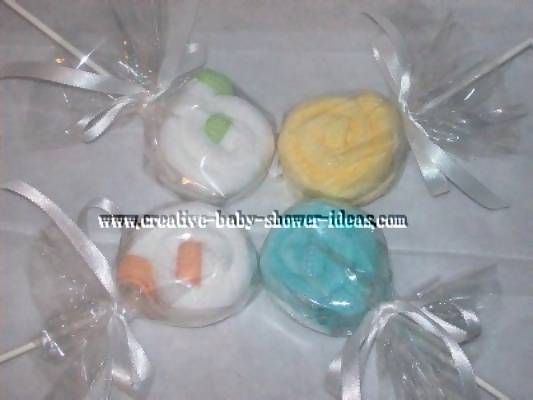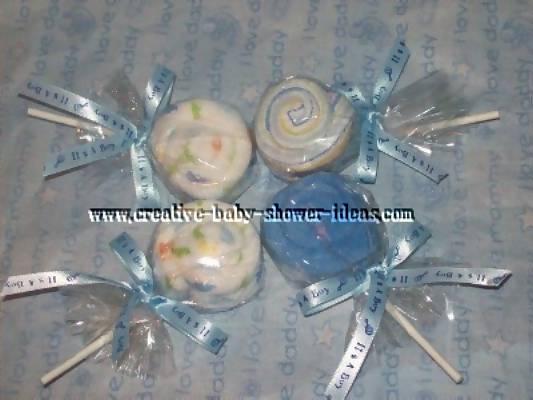 ---
New!

Comments

Have your say about what you just read! Leave me a comment in the box below.