Photos of Animal Cakes
"What fun pictures of baby cakes! Thank you for having such a wonderful site."
Come see fun pictures of animal cakes! The photos and tips have been shared by our readers to help you create a fun and unique cake for your party. To view our other categories, simply click on the edible cake index link below. You can also share your cake photos and tips with us to be placed on the website.
---
Animal Cakes Index
---
Why should you buy a cake pan on eBay?
Why pay full price if you will only use the cake pan once or twice?
You don't need to worry about being burned. The seller rating speaks for itself.
Great selection! Chances are if the cake pan exists, you will find it on eBay.
---
Animal photo submitted to animal cakes gallery by:
Kristin P. from Taunton, Massachusetts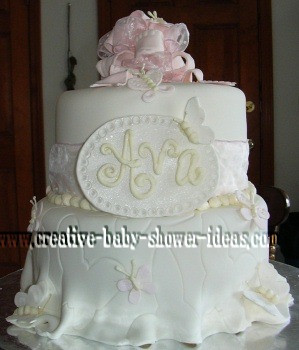 Lay out all pans and spray with non- stick coating.
Mix and bake cakes as directed by a recipe. In this case I used Lemon Cake with Lemon curd. But any kind will do. I baked 2, 10" layers, and 2, 8" layers. Allow ample time to cool. Meanwhile I cut a name plaque, loops for the bow, and butterflies out of fondant, and set them aside to dry. Then either make or use prepared frosting to lightly coat the cake.
Cut dowel rods and evenly space them in the center of the bottom layers, for support.
Roll out Fondant evenly, on a very clean surface, large enough to cover the cake. For the bottom layer I embossed a butterfly pattern before I applied it to the cake.
Use frosting to apply the bow, name plaque and butterflies to the cake. Place ribbon along the bottom of the cake. And you're done :)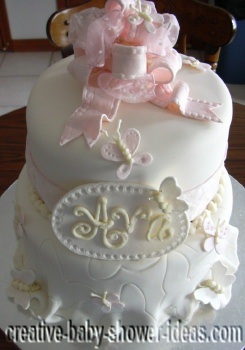 ---
Animal photo submitted to animal cakes gallery by:
Dawn D. from Cumming, Georgia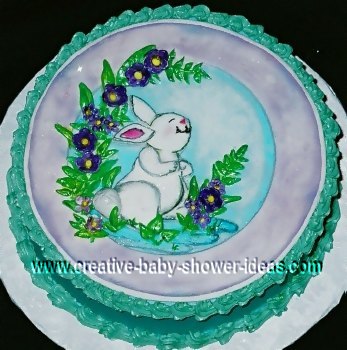 This baby shower cake is made out of a 6 inch fondant cut circle with another 6 inch with a 1 inch border overlay. The bunny rabbit is a fondant cut out that I laid on top of the cake and highlighted with luster dust.
---
Animal photo submitted to animal cakes gallery by:
Dawn D. from Cumming, Georgia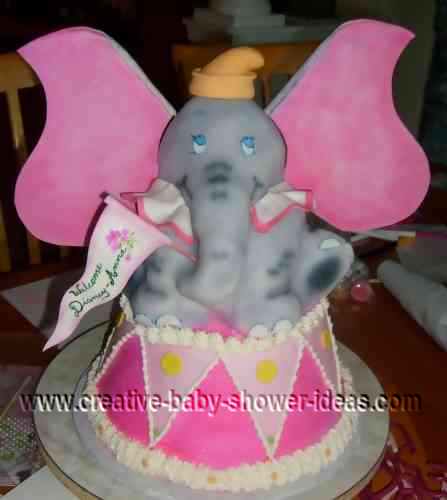 I have a new cake I just did last week-end for a baby shower. Take a look at the baby elephant cake it is so cute. It was made from the teddy bear cake pan (ears cut off) made fondant/gum paste ears and it was covered in fondant the base was made from 1-8" and 2-10" rounds cut on an angle and then decorated with buttercream and fondant accents.
---
Animal photo submitted to animal cakes gallery by:
Robert F. from Mustang, Oklahoma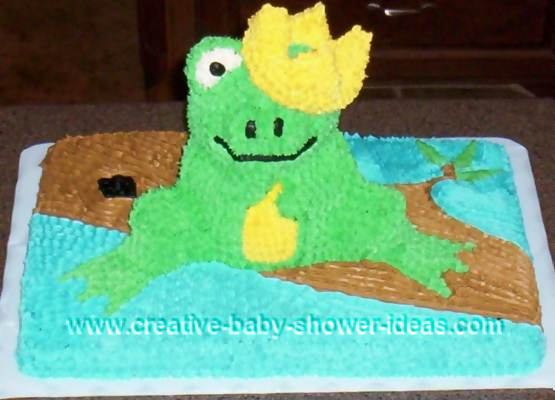 First we cooked a sheet cake and decorated it like a pond with a log for the frog to sit on. For the frog we used the large Wilton bear pan. We cut the crown out of cake and used rods to hold it into place. Buttercream icing was used on the entire cake.
---
Animal photo submitted to animal cakes gallery by:
Dawn D. from Cumming, Georgia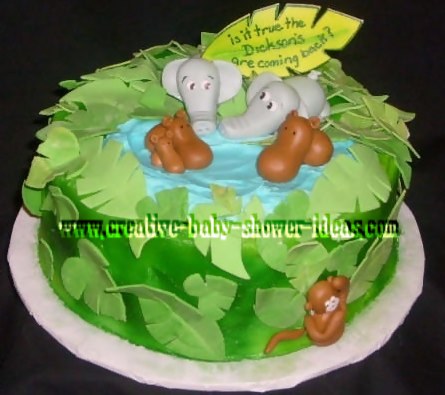 Here is a picture of my jungle baby cake. It was fun to make this and I love the hippos. The jungle animals are all edible, made from molded fondant.
---
Animal photo submitted to animal cakes gallery by:
Ryan P. from Boonville, New York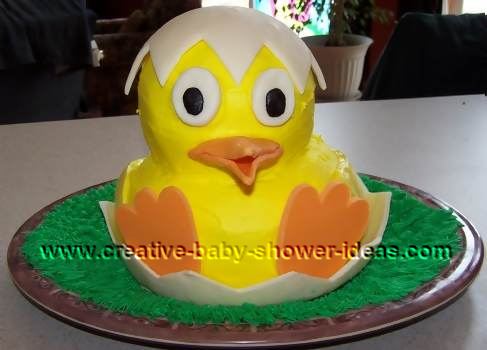 This spring chick is a chocolate cake, decorated with buttercream frosting, candy clay, and white chocolate.
The body is layered 8" round cakes carved to the shape needed for the body. The head is a "ball" cake pan by Wilton.
The beak, feet and eyes are molded out of candy clay. The shell is molded out of white chocolate.
---
Animal photo submitted to animal cakes gallery by:
Dawn D. from Cumming, Georgia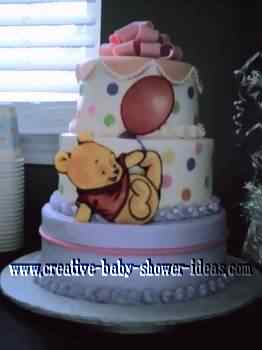 I made this Winnie the Pooh baby shower cake with 3 tiers. I used 10 inch, 8 inch and 6 inch cake pans to make the layers.
It was decorated with a white chocolate Winnie the Pooh that was painted with dusts and gel color. I topped it off with a fondant bow.
---
Animal photo submitted to animal cakes gallery by:
Julie M. from Rochester, New York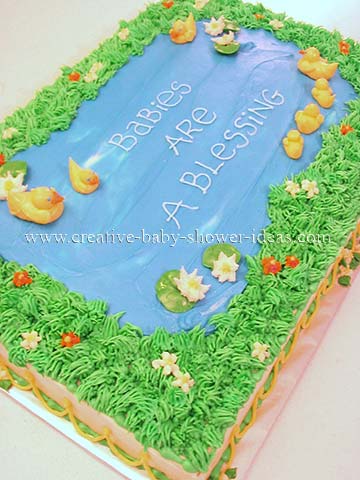 I started with a 1/2 sheet single-layer rectangle cake. I iced the sides in white buttercream and did a light coat of icing on top, since it will be covered. Then I piped a small top and bottom border with light green icing, using a small round tip. Then, for the pond scene on top, I used my small spatula to spread light blue/white striped buttercream pond. It was in the shape of a kidney bean/oval. Then I used my grass tip to pipe green grass surrounding the pond to the edges of the cake. There are drop flowers in the grass. The funnest part of this cake are the buttercream duckies in the pond- they are made by piping a base body with tip 10 (large round). Pipe a round ball which tapers off into a point. Then, using a smaller round tip (like #4) pipe a little round ball on top for the head, and little tapering wings on each side of the body. Then, using orange buttercream, and small leaf tip (#352s), pipe a little beak. And lastly little dot blue eyes. I made varying size duckies to look like mommies with ducklings! I pipe each duck on a piece of wax paper, on a flower nail, and then pop it into the freezer. It hardens enough so you can take it off the wax paper with fingers or scissors to place on the pond.
Lastly there are little lily pads and flowers. The pads are made on a flower nail with a petal tip, making a round shape. Freeze and then position. The flowers are with white buttercream, with a star tip; pull out in a circle to make a spiky flower. Then pipe a little yellow star in the center. This is one of my favorite cake designs to make for baby showers!
---
Animal photo submitted to animal cakes gallery by:
Mary S. from Sanford, Florida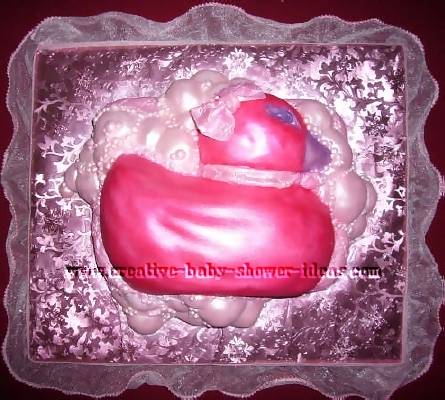 Use half of the Wilton duck pan for the duck body. Bake a smaller cake to use as the platform for the duck. Use mini muffins to form the bubbles. Assemble the cakes together, frost, and smooth fondant onto cake. Use a gum paste tool to press fondant into crevices. Use clear piping gel as glue where it is needed (it comes in a small tub, and is very thick and quick to dry). Using good quality paint brushes- dab brush into luster dusts to create a satin finish in different colors over the cake. If the duck's darker luster dust gets onto the bubbles while applying the luster dusts, use a wet clean brush and paper towel to remove the darker color. With a fine paint brush, use extract and luster dust to paint the eye onto the duck.
I used a small imprinted rolling pin on the fondant for the neck tie and for the base cake. The rolling pin leaves a design on the fondant for a more decorative look. The fondant for this cake can be prepared by kneading shortening and extract (flavor of your choosing) into it until it is soft like a play dough or clay. Keep your work area and rolling pins coated with confectioner's sugar so that it does not stick. Keep your hands coated with shortening when kneading the fondant. I colored the fondant with a food colored gel in a very pale color. You do not need to use a lot of coloring if you are going to paint the cake with different colored luster dusts. The fondant can be placed entirely over the cake or in different sections to create this cake. Cut off the excess fondant and smooth onto the cake. Use the gum paste tool gently to help create the details and shapes in the cake. A basic buttercream recipe is best for fondant covered cakes.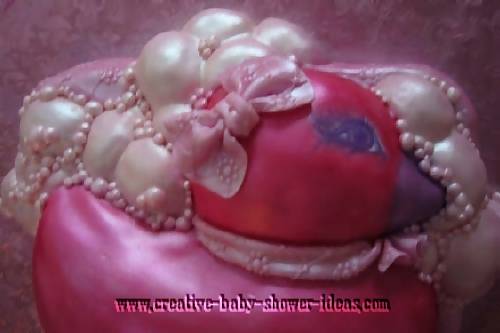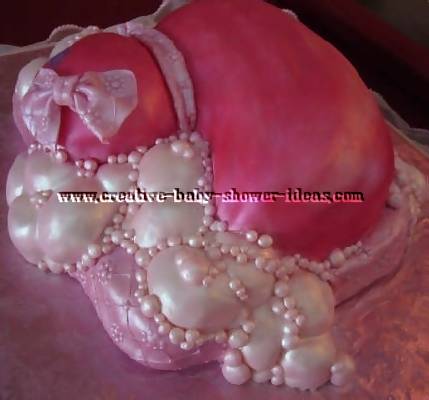 ---
Animal photo submitted to animal cakes gallery by:
Amy S. from Rockford, MI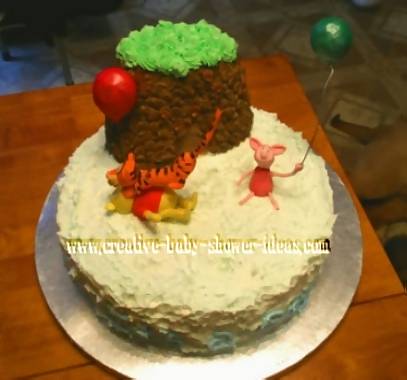 This is a butter flavored cake with Buttercream Icing, and Gum paste & Fondant characters Detailed Instructions and how-to-tips: Cake instructions - follow box instructions. Buttercream Icing - Wilton buttercream. Characters - combined 2/3 gum paste with 1/3 colored fondant. Mix by pulling & twisting until totally mixed. Form to desired shapes.
---
Animal photo submitted to animal cakes gallery by:
Monica S. from Surprise, Arizona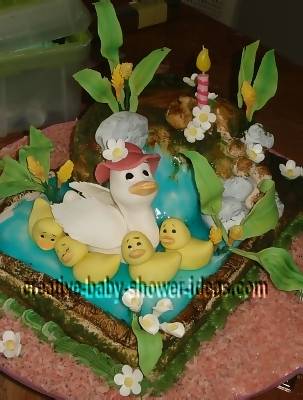 Detailed Instructions and how-to-tips: I made this cake for a friend. I used a 10" round cake and a double layer 8" round cake for the waterfall. The cake was covered with rolled fondant. The ducks with made with gum paste, leaves and flowers were too. I used piping gel for the water.
---
Animal photo submitted to animal cakes gallery by:
Shirley T. from Medford, OR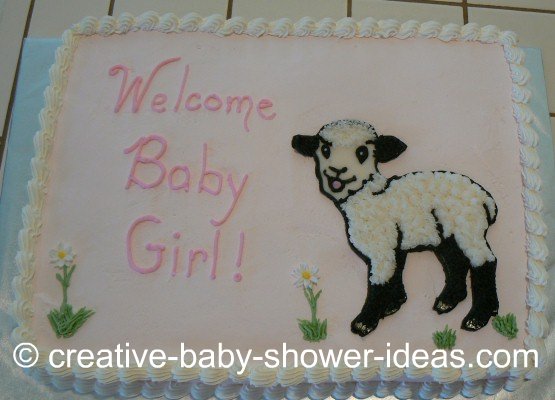 This is an 11 x 15 inch sheet cake fondant lamb covered in buttercream stars. Cake is covered with whip cream icing and has a whip cream and strawberry filling.
---
Animal photo submitted to animal cakes gallery by:
Julie M. from Rochester, NY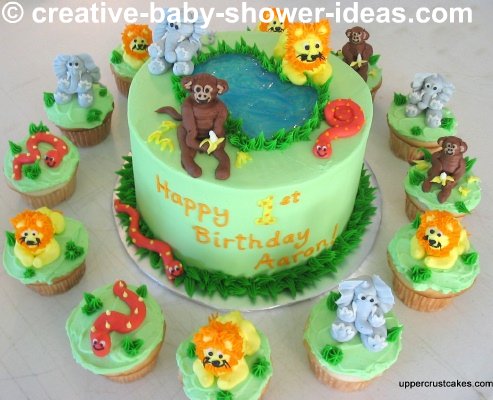 This is actually a cake I did for my nephew's first birthday, but it would be so cute as a shower cake too! The elephants, monkeys, snakes, and lions are 3-d figure piping with a toothpick inside for added support. The water is piping gel tinted blue. They all loved it!
P.S. The watermark on the photo is my website, as I do cakes as a part time home-based business. I love doing it!
---
Animal photo submitted to animal cakes gallery by:
Georganne B. from Fountain, Colorado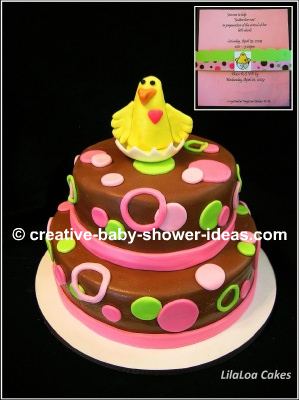 This was such a fun cake to make! I was so excited to be able to make a baby shower cake for one of my good friends. It was a complete surprise and everyone loved it. The lady hosting the shower had decorated her entire house with the same design scheme. It was so festive and fun!
I baked the cake according to the box directions. I made 1- 8 inch, and 1- 6 inch round cake from each box, using 2 boxes total. Instead of pouring the dulce de leche syrup all over the cakes, I put just a small amount on the cakes. I then used the rest of the syrup and mixed it with butter, powdered sugar, and powdered milk for a delicious filling. The cute little chick on top was molded out of gum paste to match the baby shower invitations. The cakes were covered in chocolate marshmallow fondant and decorated with marshmallow fondant.
---
Animal photo submitted to animal cakes gallery by:
Hayley H. from Victoria, British Columbia, Canada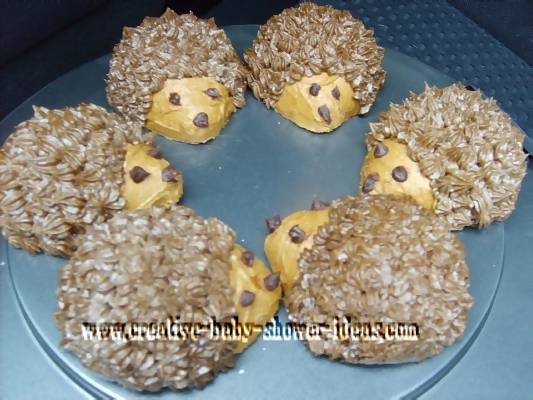 The baby shower theme was wood land critters and I was in charge of the cake! I wanted to make something really unique for my friend. I began with a six balloon cake pan, since hedgehogs and balloons are quite similar in shape. I then filled half with chocolate cake batter and the other with vanilla so there would be something for everyone to enjoy. After removing from the oven and allowing them to cool, I got my icing bag and filled one with chocolate icing the other with vanilla icing (dyed brown) and began to make the spikes. For the eyes and nose you could use candies like m&ms but I was running short on time and simply chose to use icing. They were a hit at the shower, and it was nice to see a different sort of shower cake.
---
Animal photo submitted to animal cakes gallery by:
Jessica K. from Houston, Texas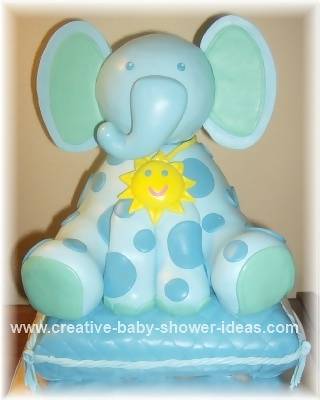 Pillow: 2-10 inch square cakes stacked and carved into pillow shape. Filled and iced in butter cream and covered in fondant.
Body of Elephant: Baked in Wilton's wonder mold pan. Filled and iced in butter cream and covered in fondant.
Legs: baked in soup cans
Head: Made from Rice Crispy Treats, covered in fondant.
Ears, trunk, necklace and arms: Made from fondant.
I put dowels in the pillow and decorated the elephant on its own board and then set it on the pillow after it was done. It helps to have the cakes cold when handling them. The cake was made to match the Shower decorations which were blue elephants.
---
Animal photo submitted to animal cakes gallery by:
Farnaz M. from Jericho, NY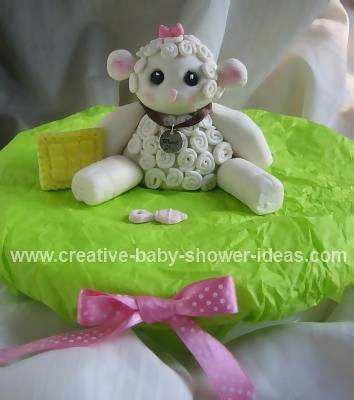 ---
Animal photo submitted to animal cakes gallery by:
Rochelle W. from Colorado Springs, Colorado
The theme was mommy and baby birds. Detailed Instructions and how-to-tips: The top tier of the cake is a gum paste bird house put together with royal icing used as glue. It is hollow, sitting on a small 4" plate. The dowel going through the two lower tiers is PVC, and is fondant painted to look like a tree trunk.
The next tier is an 8" cake, iced w/ buttercream and covered with baby pink fondant and hand painted stripes to give it that modern feel that Becca wanted. The birdies and lettering was done with gum paste. The bottom tier is also fondant, with painted branches and gum paste flowers. This was a very different design for a baby shower, but it was a whimsical way to enjoy a party!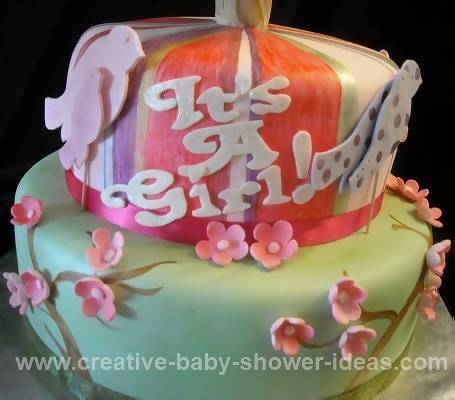 ---
Animal photo submitted to animal cakes gallery by:
Kimberly R. from Falkville, Alabama
I baked a 10"-8"-6" yellow cake and then iced with buttercream icing that I tinted green. All flowers are made of fondant. Some are made by using cutters, others I handmade and some I shape by putting on an upside down shot glass. This gives the stand-up effect. The lady bugs and bees were made of fondant and I painted them with food coloring paste. The antennas on the lady bugs are made with a very thin floral wire that I painted with food paste as well. The butterflies are picks. The bow is fondant that I shaped by using a paper towel roll covered with parchment paper.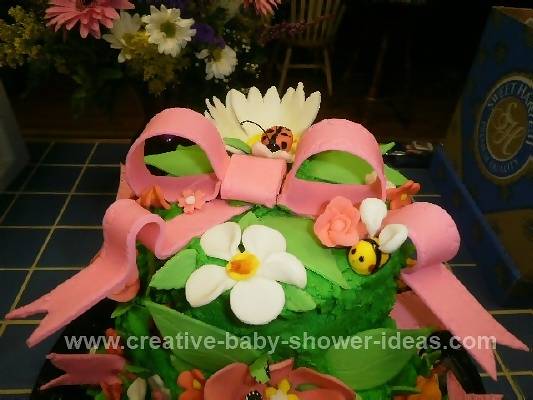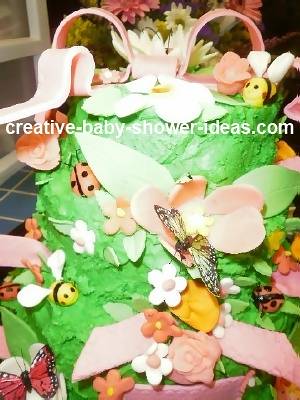 ---
Animal photo submitted to animal cakes gallery by:
Vanessa R. from Kamloops, BC Canada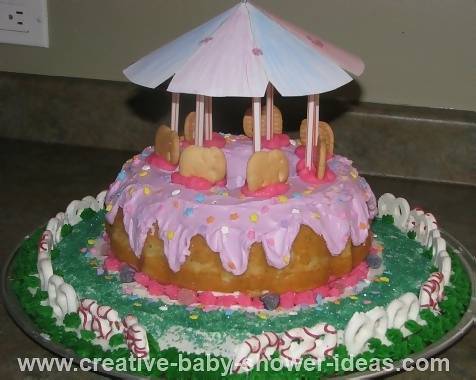 I baked the base cake on a large metal round serving tray. I baked the main cake in a Bundt pan. Place Main cake in middle of base, you can decorate base any way, but I liked the green sprinkle grass look (or could use green coconut) with yogurt dipped pretzels for a fence. The main part I used animal crackers up against the straws. For the top of the merry go round, use straws for poles and cut a slit in a roughly 9 inch round paper, overlap paper slightly to create pointed top. I used icing on the straws to help secure the top on. I liked the star confetti candy to give it that fun look.
---
Animal photo submitted to animal cakes gallery by:
Shawndra M. from Goodyear, BC Canada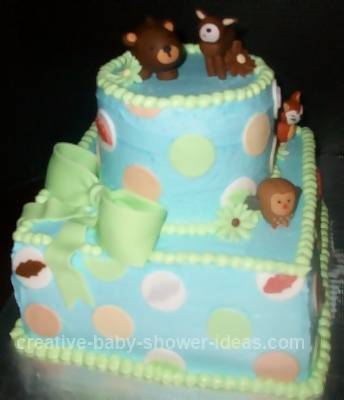 A friend decorated her baby's room with the Forest Friends theme from Burlington. I made a 6 inch round cake and a 10 in square cake and stacked them. I iced the cake in light blue buttercream icing. I cut out circles out of fondant to match the theme on the Forest Friends decor. I hand sculpted the Bear, Doe, Owl and Fox to match the forest friends decor and put them on the cake. I made the bow out of fondant and added light green border.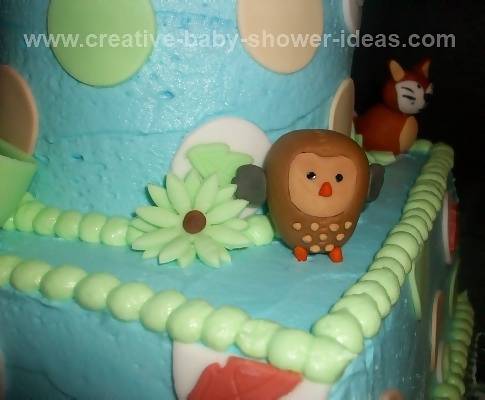 ---
Animal photo submitted to animal cakes gallery by:
Nicole and Kyle G. from Kitchener, Ontario Canada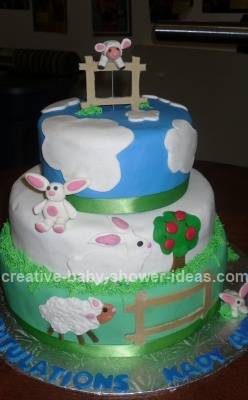 This is a three tier chocolate cake with chocolate buttercream icing, covered in fondant icing. We used three different sized pans for this cake: a 10", 8" and a 6" round pan. We iced each cake and covered them with fondant. We used gel food colouring to colour the fondant for the top and bottom layer. We stacked the cakes on top of each other by putting a small dot of icing before stacking each one. We cut the clouds out of fondant by hand and molded the bunnies and sheep by hand from gum paste. We used toothpicks to secure the ears and legs to the bunnies and sheep. We used floral wire to secure the fence and sheep to the top tier of the cake. We used a grass piping tip to pipe grass around the second tier. We cut the tree, apples and fences by hand out of fondant and gum paste. We used small letter cookie cutters to cut the letters and secured them to the cake board using water. We wrapped green ribbon around the top and bottom tiers and secured them with pins.
---
Animal photo submitted to animal cakes gallery by:
Patricia M. from Lodi, California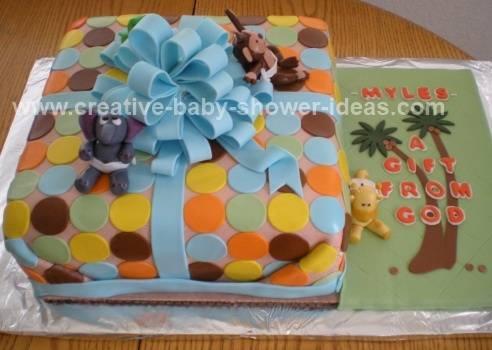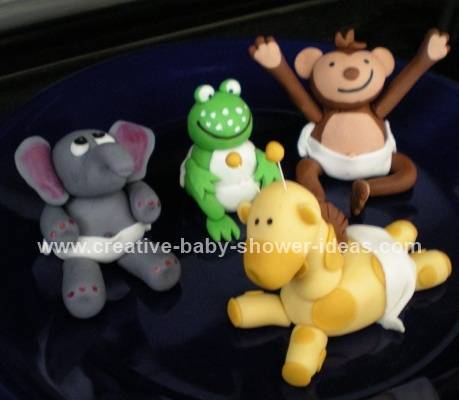 This was a baby shower cake for a baby boy. The theme of the shower was "King of the Jungle". The cake matched the shower decorations. It was in a shape of a present. The colors used were baby blue, brown, light brown, orange, golden yellow, pastel green, and forest green, and a dark grey. The circles were made of fondant and shaped from a circle fondant cutter. The baby animals were handmade of fondant. The eyes and mouth were drawn using an edible black marker. The ears and nails of the elephant were painted using edible pink paint. The giraffe's antlers were made using flower stamens and mini fondant balls at the ends. The big baby blue bow was made of gum paste.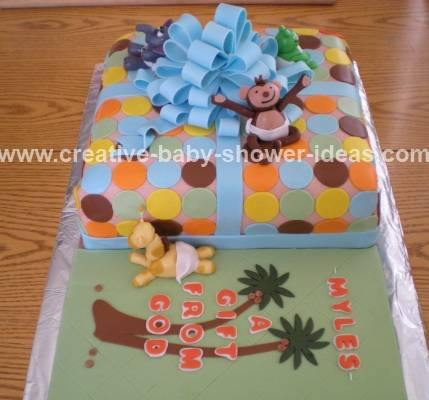 ---
Animal photo submitted to animal cakes gallery by:
Kendra C. from Manhattan, MT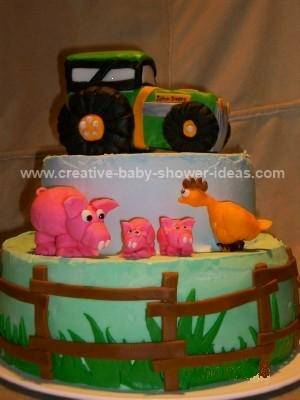 This is just my second cake that I have decorated for someone using fondant and it was so much fun to see it come together. I had a friend ask me to make it for a baby shower after she had tried a cake that I had made for an anniversary. The cake is a chocolate cake made from scratch that is very moist and is complimented well by the Bavarian cream filling. I have used coffee, chocolate, and vanilla fillings before but in this cake I just used chocolate and vanilla as more people like these flavors. The icing I used is Crisco based with a sweet, but creamy, texture. The fondant is also a homemade recipe using marshmallows. I have had many people tell me that they hate fondant but love this one as is it not hard and gross tasting, but sweet and goes well with the frosting. I filled each layer with the Bavarian cream and froze the cake so it would be easier to frost and also keeps it very moist. After the cake is firm I frost it and smooth it with a flat spatula dipped in warm water. The John Deere tractor is made using rice crispy treats and then I molded the fondant (I color the fondant as I make it) around the pieces and with royal frosting, attached the tires. It was easier than I expected but took longer, than I thought it would, since I had to let the fondant dry in order to assemble the pieces. The animals are made from just fondant molded like you would play dough. They were very fun to see come together. This was the first time I had done animals with fondant. Cutting the grass and fencing went fast with a pizza cutter, and was easy to stick on the frosting while it stayed in place once you stuck it on. This cake was fun and exceeded my expectations.
---
Animal photo submitted to animal cakes gallery by:
Amanda J. from Little Rock, AR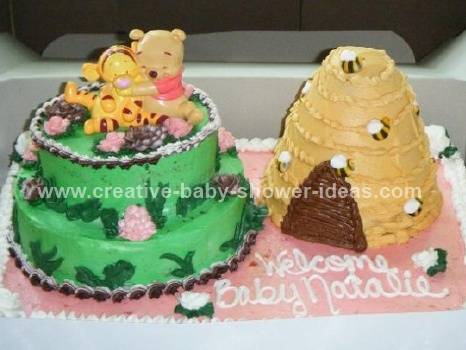 Check out this adorable cake that Amanda sent in! Not only is it cute, it sounds Delicious! All of the icing was made by her to withstand the 98 degree weather.
She used 2 9x13 dishes to make the bottom layer. The bottom layer was a strawberry cake (with fresh strawberries). The icing was made with fresh strawberries, powdered sugar, shortening, clear vanilla extract and some red food coloring. To stabilize it, she used 2 tier columns that she had cut down to size to match the plates holding the other 2 cakes.
To get the behive look, she used a 6 inch cake pan and a metal dome shaped pan. After baking it, she used a serrated knife to shape it. The beehive was made from a lemon cake and a lemon frosting.
The 2 tier green cake was a chocolate chip cake made with 8 inch and 6 inch cake pans. The Winnie the Pooh and Tigger were purchased at her local Walmart and the sugar bumble bees were bought on EBay. I did the borders and writing in white and added a few roses for decoration.
I love all the little decorations she made on the cakes. So cute! Thanks for sharing Amanda!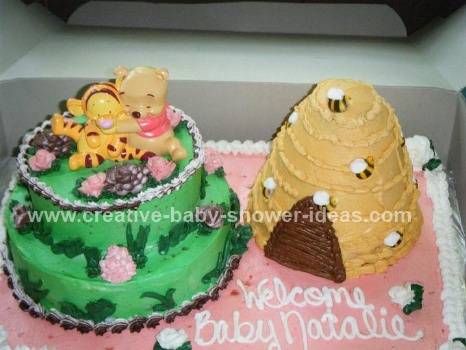 ---
Animal photo submitted to animal cakes gallery by:
Celeste R. from San Jose, CA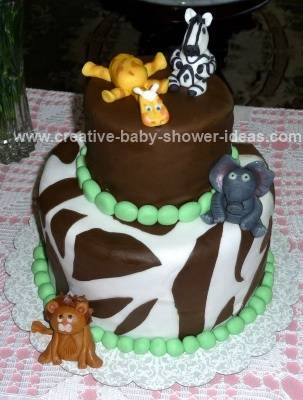 The bottom tier is zebra striped. I cut the stripes and put them on the cake. She asked for the top to be only brown. I hand made all the animals. They were animals from her baby shower invitation. Hope you enjoy.
---
Animal photo submitted to animal cakes gallery by:
Brooke F. from Carrollton, GA
I made this cake based off of pictures in the mom's nursery. The colors in the room were green and pink and the owls, trees, flowers, and polka dotted letters were all items located around the room. I made 2 rectangular pound cakes, put one full one on the bottom and cut the second one into the two upper layers. I iced each layer with cream cheese frosting and then covered them in green and pink colored fondant/modeling chocolate combination. I found that by combining the home made modeling chocolate with the homemade fondant, I not only got a much better taste but also something much easier to work with. The bows, figures, letters, etc. were also created with this combo.
I used toothpicks to secure figures such as the flower to the cake and used a water/fondant combo to work as a glue. It all worked very well and in the end I was very pleased with the outcome.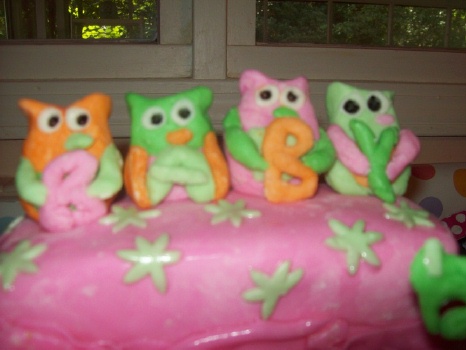 ---
Animal photo submitted to animal cakes gallery by:
Jessica B. from Altamonte Springs, FL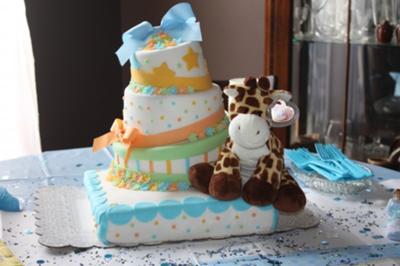 A friend of mine brought me a picture of a topsy turvy cake and said I want this shape of cake, don't care what you do to decorate it!! So, this is what I came up with. I started the fondant little flowers, the stars, dots and stripes, 5 days before, which took a few hours.
The bows are actual fabric. The bottom layer is chocolate with buttercream icing then covered with fondant with decorations, the next tier is vanilla with buttercream covered with fondant with decorations, the top 2 tiers are white with buttercream with fondant covered then fondant decorations. I used a white wedding cake recipe for the top ones, a vanilla recipe for the next and a rich chocolate recipe for the bottom. I placed dowels in each cake (except for the top) to hold up the next tier and the little flowers where used to cover up the space that the dowels left. The little giraffe was a gift to the mother-to-be.
---
Animal photo submitted to animal cakes gallery by:
Torri H. from Presque Isle, ME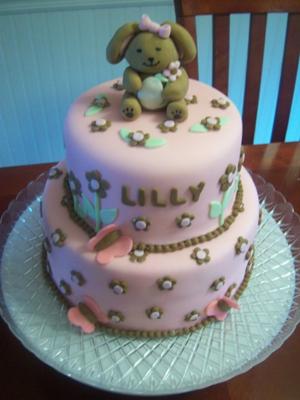 I designed this cake around the nursery decor. I covered it in pink fondant with the bunny and other accents also done in fondant.
---
Animal photo submitted to animal cakes gallery by:
Christina from East Prairie, MO, USA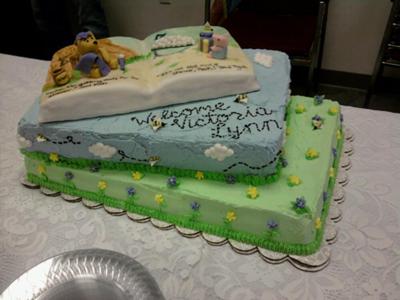 I just love this cake created by a good friend of mine. She's amazingly gifted in her creative abilities. This one was challenging because it was made for a friend that is also a cake decorator. I think it turned out wonderful!
She used her own recipe for the cake, buttercream, and fondant. She then created all the critters and extras from gum paste (adorable). The flowers and border are buttercream. With some gel icing color and vanilla flavoring she painted the scenery on the book. Then stacked the cakes and added the extras.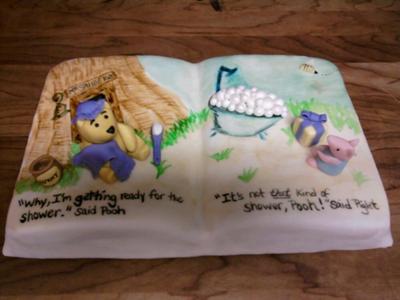 ---
Animal photo submitted to animal cakes gallery by:
Grace from El Paso, TX.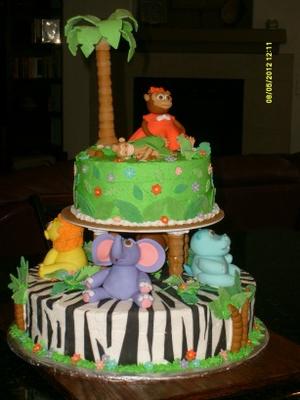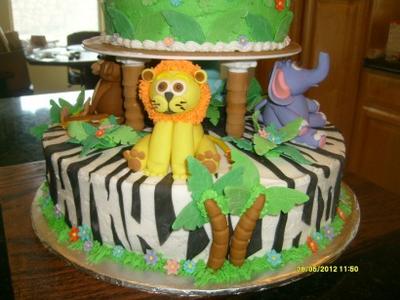 I was asked again by my niece and nephew to make the shower cake for their 2nd child. Because the shower was being held on the 2nd birthday of their 1st child, I decided to combine them. The little girl monkey on top represents their 2-yr. old, and the baby monkey under the leaf blanket is for the little one-to-be. This was fun to make. I wrapped standard cake columns in brown fondant for the palm trees and used gum paste for the leaves and royal icing to attach. A dowel fits nicely inside the bottom of the column "palm tree" to secure it to the top of the cake.
Surrounding the bottom layer is an elephant, hippo, lion and another monkey complete with little bananas. I'm not a fan of the taste of fondant so I iced with almond buttercream. The fondant zebra stripes were easy to pick off when it came time to eat. The bottom layer was just a boxed yellow cake and the top was chocolate. The boxed cakes hold up just fine and people came back for seconds!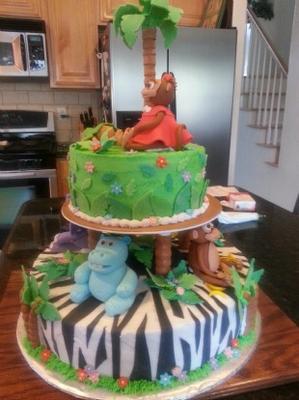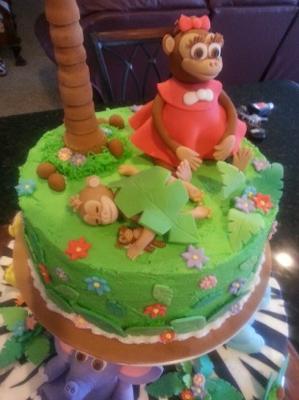 Top of Page
---
New!

Comments

Have your say about what you just read! Leave me a comment in the box below.