Our Diaper Baby Cake Photo Gallery
A diaper baby cake can make a fun gift for any baby shower. Not only does it give useful gifts, but it makes a beautiful statement. This section has pictures of cakes that look like babies.
Other cake categories can be reached below through our index.
---
Baby Cake Index
---
Why should you buy a cake pan on eBay?
Why pay full price if you will only use the cake pan once or twice?
You don't need to worry about being burned. The seller rating speaks for itself.
Great selection! Chances are if the cake pan exists, you will find it on eBay.
---
Photos submitted to gallery by:
Michelle A. from East Hampton, Connecticut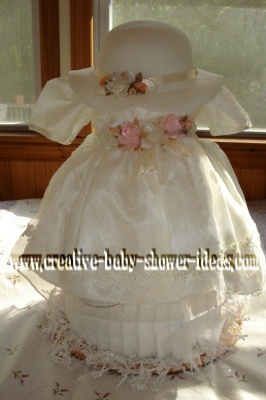 You will love baby girl in this picture perfect dress. This heirloom dress will be passed down from baby to baby.
Included in this cake is the following items:
Heirloom Lovely Ivory Short Sleeve Satin and Organza Dress With Hat Ensemble ~(Dress is size ~12m)
125 Diapers ~ Size 1
Pacifier
Wash Cloth
Fleece blanket ~ 30"x30"
Bib
Johnsons Baby Powder
36 Pack Cotton Swabs
Baby Magic Gentle Baby Bath
Baby Magic Calming Milk Lotion ~ Lavender and Chamomile Scent
9 oz. Baby Bottle
Loop Handled Spoon
Cool Ring Teether
Teeny Toes Leather Lined Infant Shoes ~ Size 2w
My Girl Brush
Comb
Nail File
Nail Clipper
Nail Scissors
Details: This is another diaper cake designs I have come up with this small 5 tier beautiful baby dress diaper cake measures 14"x14"x21". Tiers are wrapped with white tulle and satin ribbon. Some items are hidden inside the center of the cake and others are secured to the layers under the dress. There is white diamond shred in between layers to look like icing.
---
Photos submitted to gallery by:
Silvia B. from Schlieren ZH, Switzerland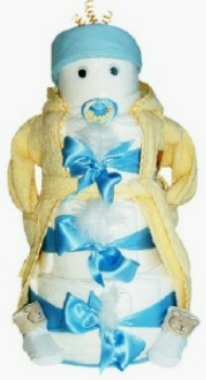 I made this and many other models out of pampers or towels. First I made them as private gifts. Since then I have gotten crazy about them. I started last October my own E-Shop. For this diaper cake I used 4 Layers of pampers (60 newborn diapers), a cake plate, a baby-bathrobe, a pair of socks, 1 pacifier, bib, 1 pair self adhesive eyes.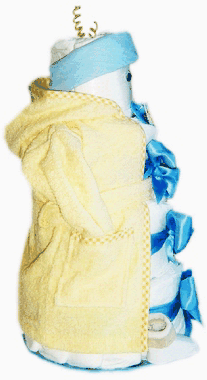 ---
Photos submitted to gallery by:
Charlene J. from Natrona Heights, Pennsylvania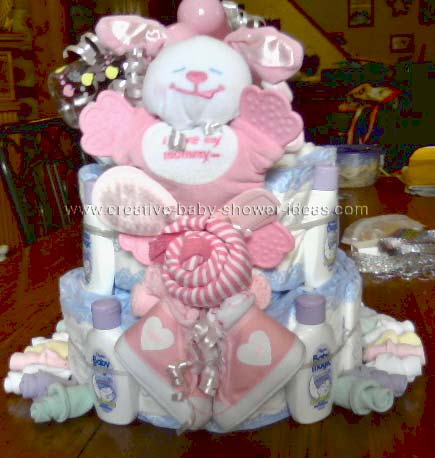 This diaper cake was done for a girl baby shower gift. It has so many wonderful items on it. The person who purchased it was extremely happy, and the receiver said it was her favorite gift. These are just so fun and rewarding to make.
---
Photos submitted to gallery by:
Charlene J. from Natrona Heights, Pennsylvania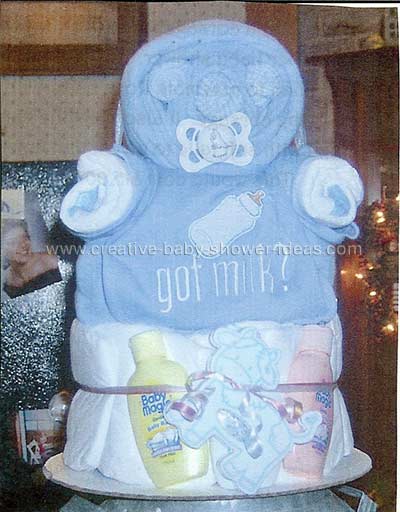 ---
Photos submitted to gallery by:
Felicia from the United States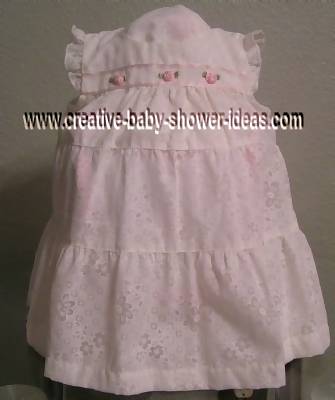 ---
Cake photos submitted to gallery by:
Carla K. from Glendale, Arizona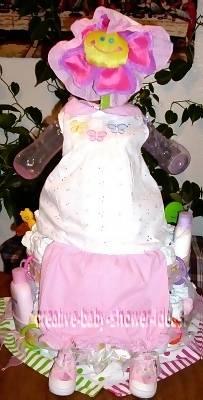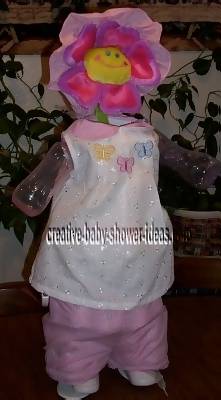 This is a simple diaper cake with 5 tiers and your basic baby items. As you can see I placed the shirt on it, but the shorts and shoes are only placed in front of it. Then I thought legs would be cute. I used doll stands to hold it up. I tied the bottles on the arms of the shirt and added the duck pond.
---
Photos submitted to gallery by:
Amber E. from Troutdale, Oregon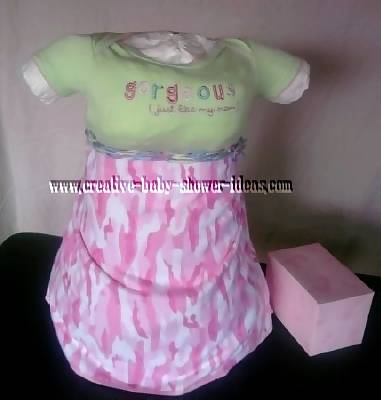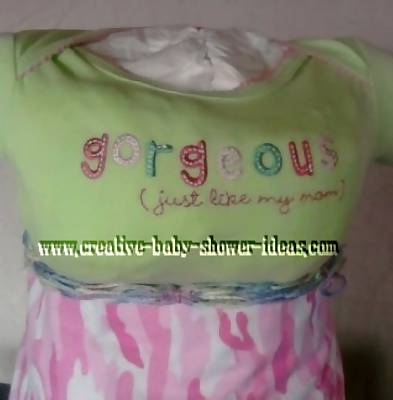 I made this "Diaper cake" for my eldest sister who is having a girl. She really didn't have a theme, so I had to come up with my own idea. Her hubby wanted pink camouflage, so I decided to make a dress that was both girly and had pink camo in it. This is the first time I have made this kind. I think it turned out pretty good. My 10 yr. old daughter knitted the band around the waist. This will be the first girl born in our family since my daughter. We are ready for a girl!
I made this out of size 1 and 2 diapers. I made tiers of diapers to make the shape and then covered it with an onesie for the top and a crib sheet and receiving blanket on the bottom. I used rubber bands, dowels, safety pins and glue dots to hold it together. Hope you enjoy this creation
---
Photos submitted to gallery by:
Inga from the United States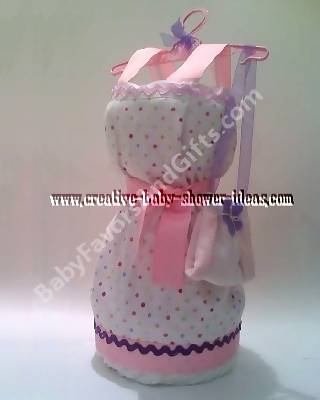 New!

Comments

Have your say about what you just read! Leave me a comment in the box below.