Photos and Preparations Tips to Make Baby Cupcakes
Our baby cupcakes photo gallery was compiled to help give you ideas to make a diaper cupcake for your next baby shower.
All the photos you see have been sent in by our readers to help you create your own cake.
You can share your photos here.
---
Baby Cupcakes Index
---
Why should you buy a diaper cake on eBay?
Great Prices! Most sellers are work at home moms with little overhead.
You don't need to worry about being burned. The seller rating speaks for itself.
Great selection! Get a professionally designed cake to match almost any theme.
---
Photo submitted to gallery by:
Sandy P. from Ponchatoula, Louisiana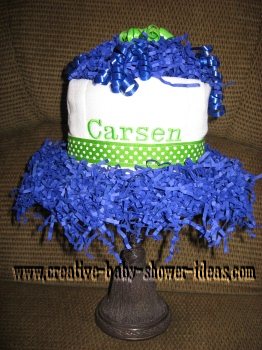 This personalized cupcake was so cute! I needed something little to go with the diaper cake I made for my daughter's baby shower. First - I bought a burp pad and had it personalized.
Second - I rolled 3 diapers for the middle & secured them with a rubber band, you could also use a toilet paper roll for the middle. Then I rolled enough diapers to go around the middle section (if you use a larger size diaper, you won't have to use it as soon).
Third - fold the burp pad to the need height. Cut 2 lengths of curly ribbon long enough to go through the folds at top & bottom. Tie bow in the back & curl ribbon.
Fourth - I used a clear plastic plate that I secured to a candle holder with double-sided tape. Next I used double-sided tape to secure the diapers to the plate.
Fifth - Decorate around the bottom & top with crinkle cut paper. Also I added a little curly ribbon on top. It turned out adorable & didn't take long at all to make.
---
Photo submitted to gallery by:
Keonna B. from Antioch, California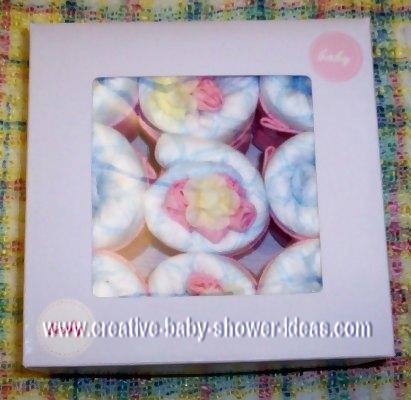 These cupcakes were made with 9 diapers. The ribbon color can vary as well as if you want to use washcloths or flowers.
---
Photo submitted to gallery by:
Wendy W. from Howard City, Michigan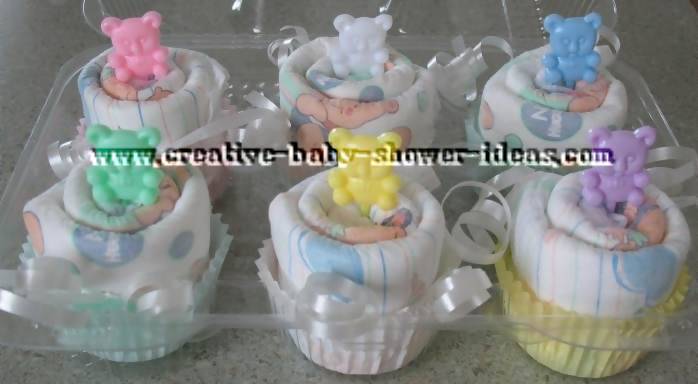 These diapers are tightly rolled, secured around the centers with ribbon, placed in cupcake containers and finished with teddy bear pictures.
New!

Comments

Have your say about what you just read! Leave me a comment in the box below.