Basket Baby Shower Cake Pictures
Welcome to the basket cake section of our website! We have lots of fun cake ideas to share with you. View more cake categories by clicking on the index below. Enjoy!
"Your website is the best! Thank you for all of the ideas!"
Enjoy!
---
Basket Cake Index
---
Why should you buy a cake pan on eBay?
Why pay full price if you will only use the cake pan once or twice?
You don't need to worry about being burned. The seller rating speaks for itself.
Great selection! Chances are if the cake pan exists, you will find it on eBay.
---
Basket baby shower cake pictures submitted to gallery by:
Mary R. from Fletcher, North Carolina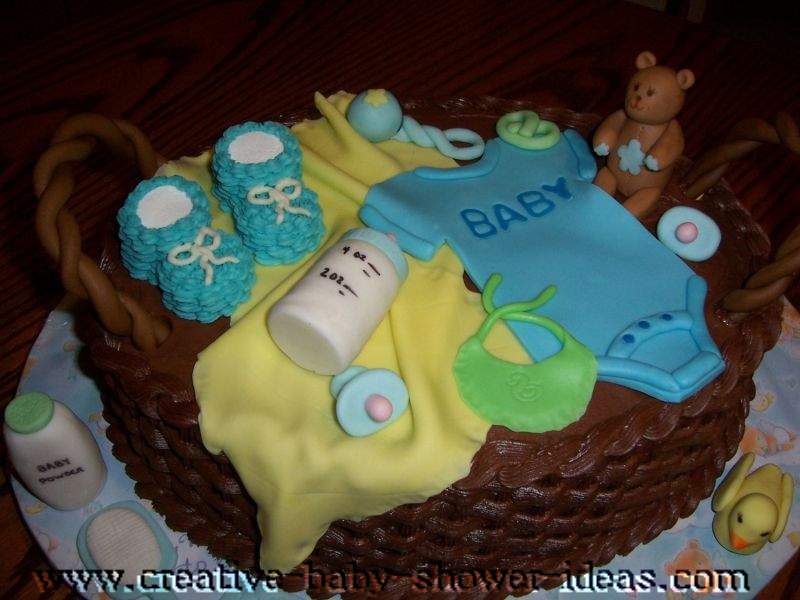 This cake shared by our reader Mary is one of my favorites! It is a white cake with Hershey chocolate syrup icing. Doesn't that sound awesome?!
The baby basket was made by stacking an oval cake and then frosting it using the basket weave method. All of the decorations you see in the picture were made from fondant. The booties were made with marshmallows and frosted to give it a crocheted look.
She made each of the booties by using 3 large marshmallows. Just place 2 marshmallows side by side and then cut the 3rd marshmallow in half. Set the half on top of one of the marshmallows to make the front of the shoe. Then use an #18 open star frosting tip to make the shell designs around the marshmallows, going in rows. Then use a #4 tip to make a figure 8 for the bows and two ribbons. Great ideas Mary! Thanks for sharing!
Baby Shower Cake Pictures
---
Basket baby shower cake pictures submitted to gallery by:
Annie K. from Niskayuna, New York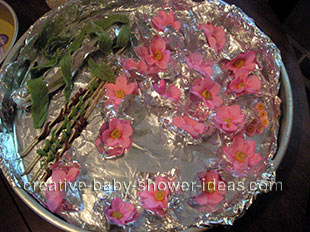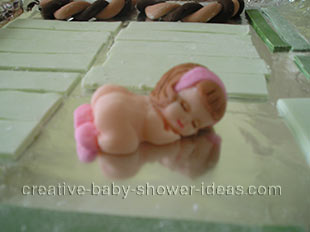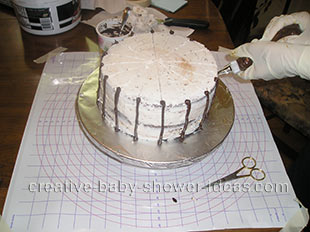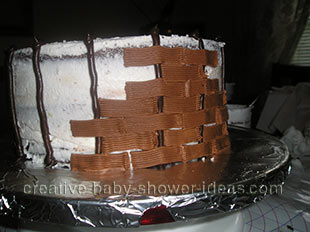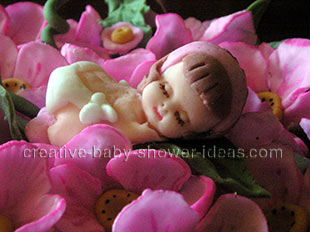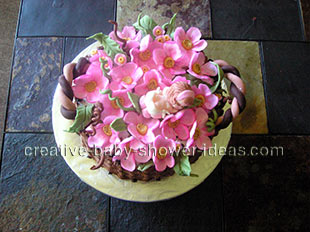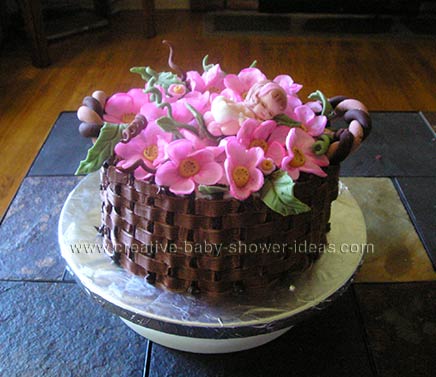 This is my first baby shower cake I ever made and I my first time of working with fondant.
The cake layers recipe:
This recipe is my mom's but I made my "corrections" to it.
5 eggs
1 and 1/4 cup sugar
2/3 cup vegetable oil
1 tsp. baking powder
2 tsp. vanilla extract
1 and 3/4 cups flour
1/4 cup unsweetened cocoa powder
1/2 cup hot water
This is a recipe for a standard 10 inch spring form. Before you start preheat the oven at 350 degrees and combine the hot water and cocoa. Stir the mixture well and set aside. By doing this you are releasing the chocolate flavor of the cocoa powder. Beat the eggs with a mixer on high speed then gradually add the sugar. Beat for another 5 minutes or until fluffy. Add the vegetable oil one tablespoon at a time, while gently stirring the batter, and then add the vanilla extract. In a separate bowl sift together the flour and baking powder, and then gradually add them to the cake batter until all is well incorporated. Last add the cocoa mixture and stir well.
Place in a lightly greased pan (I use PAM) and then bake for 35-40 minutes (depending on your oven). Let the layers cool down and then cut them. When they are completely cooled, make the syrup (the recipe follows) and brush it with a brush on top. Leave the cake layers at least couple of hours to incorporate the syrup, and then you can put together the cake.
The syrup recipe:
1 cup sugar
2 cups water
1 tsp. vanilla extract
1/2 tsp. cinnamon
1 tsp. brandy
Combine in a pot and boil until the mixture reduces its volume in half, then let it cool a little bit. Remember- the cake layer has to be completely cool, the syrup has to be warm (not hot!).
Baby Shower Cake Pictures Decoration:
The baby and the flowers are made entirely from Wilton's ready-made fondant, using Americolor food coloring. For the baby I used chocolate mold, but unfortunately I couldn't take it out as a whole, so I had to redo it by hand. We had a little discussion with my husband if I should put a diaper on it :-) and he won :-) I made the fondant decorations a week before the event, since I wanted them to dry really well. I am going to attach pictures of that. I brushed with food coloring the flowers and made the handles of the basket from fondant as well.
The basket design is made from buttercream icing. After I put together the layers one on top of the other with buttercream in between, I crumb coated the cake with white buttercream. Then on top of that I piped the basked design as I used the recipe from Christopher Kimball's "Dessert Bible" book. I quote directly from his book:
4 large eggs
1 cup granulated sugar
1 pound unsalted butter at cool room temperature
1/8 teaspoon salt
Place the eggs and sugar in the bowl of your electric mixer. Place the bowl over the pan of simmering water to form double boiler. Whisk frequently but gently, allowing the egg -sugar mixture to warm to 160 degrees. Remove from heat and attach bowl to mixer. Beat on medium high until the mixture is very light-colored, very airy and completely cooled, about 5 minutes. With the mixer on medium speed, add the butter a couple of tablespoons at a time. To finish, add the salt and beat on high one minute. Use immediately or refrigerate in an airtight container for up to 5 days (after which the fresh butter taste is compromised). If refrigerated, let the buttercream come up to a cool room temperature and re-whip before using.
My note is that if you want chocolate buttercream; just add cocoa to the mixture until you get the desired color.
---
New!

Comments

Have your say about what you just read! Leave me a comment in the box below.