Teddy Bear Diaper Cake Photo Gallery
Welcome to our photo gallery of teddy bear diaper cakes. We have lots of cute and creative ideas sent in by our readers.
View other categories of diaper cakes by clicking on the index below.
Have photos to share with us? You can share your photos with our site here.
---
Teddy Bear Cake Index
---
Why should you buy a diaper cake on eBay?
Great Prices! Most sellers are work at home moms with little overhead.
You don't need to worry about being burned. The seller rating speaks for itself.
Great selection! Get a professionally designed cake to match almost any theme.
---
Bear diaper cake submitted to gallery by:
Gwen L. from Ontario, Canada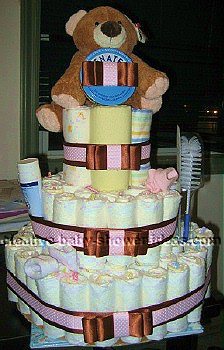 Here is what I made for a girlfriend!
---
Bear diaper cake submitted to gallery by:
Gloria L. from Marietta, Georgia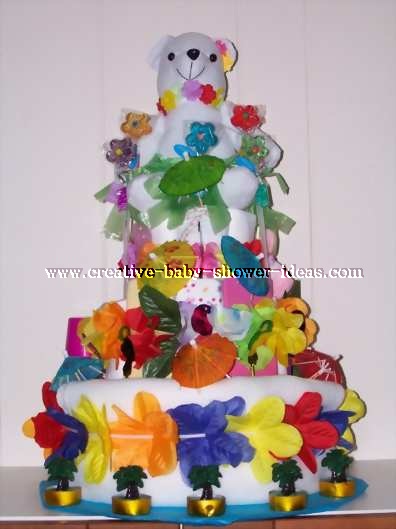 This Hawaiian cake is made with 80 diapers, three Hawaiian leis, a stuffed soft Hawaiian bear, five colorful lollipops, five palm tree tea light candles, one fleece blanket, three bodysuits, several Hawaiian umbrellas, several Hawaiian parrots, one bib, hot pink colored bottle, pink socks and one teether.
---
Bear diaper cake submitted to gallery by:
Michaela K. from the United Kingdom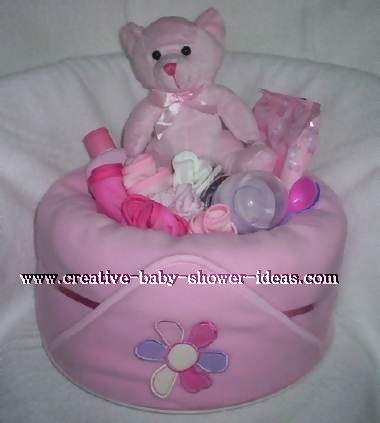 I made this teddy bear diaper cake one with a blanket, disposable nappies and baby clothes and items. I think it looks lovely.
---
Bear diaper Cake submitted to gallery by:
Elenamarie T. from Marietta, Georgia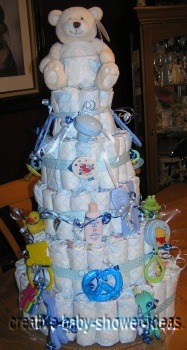 This cake was made for my daughter's favorite 3rd grade teacher Mrs. Frudden. This Cake is made of about 170 Size 1 diapers. It has 5 Tiers held together with an empty wrapping paper roll. Ribbons were tied around to cover the rubber bands. Baby items such as teething rings, rattles, nail clipper, medicine dropper, fork & spoons, comb & brush etc. were attached with curling ribbon. A teddy bear was used as a cake topper then it was wrapped with clear wrap & more curling ribbon and a platter was cut out of the box from the diapers.
---
Diaper cake submitted to gallery by:
Lisa C. from New Brunswick, Canada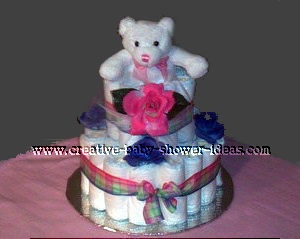 This little beauty is made with 35 size 1 diapers, a container of baby powder in the middle a 9 oz. baby bottle, plaid ribbon and a little lovely with a pink nose on top :) Her website is http://angelinasplace.piczo.com.
---
Bear diaper cake submitted to gallery by:
Michelle J. from San Antonio, Texas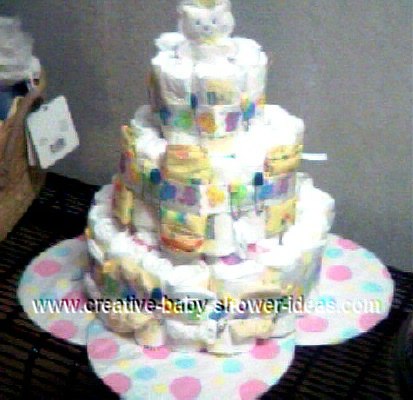 This baby diaper cake was for a shower we gave a "daddy to be" in my office. They didn't know the sex so we made it yellow with accents.
---
Bear diaper Cake submitted to gallery by:
Jeraya D.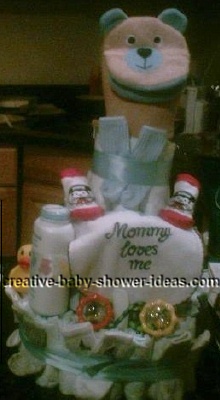 ---
I used a mirror for the base to stabilize it. I rolled up disposable diapers and put a clear rubber band around each individual one. I put a group of rolled diapers together in a circle and put a big rubber band around that to use as my bottom layer. I took some of the diapers out and replaced them with baby items. Ex bibs, receiving blankets, hair bows, travel size sundries etc... The second and top row I did the same as the bottom row except used less diapers to make it graduated like a diaper.
To top it off I used a small teddy bear blanket. I took some net and tied it around the rubber bands that were showing on the diaper layers. I used strings of pearls and draped them around the layers. I measured the diaper cake to see how tall and wide it was and then put netting over the whole thing to keep it in place. I tied it off with more pearls.
---
Bear diaper cake submitted to gallery by:
Teresa D. from Mammoth, West Virginia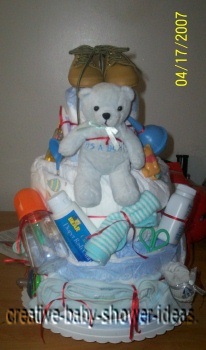 This is a practice diaper cake. I want to make one for a shower.
---
Bear diaper cake submitted to gallery by:
Catherine B. from Washington, D.C.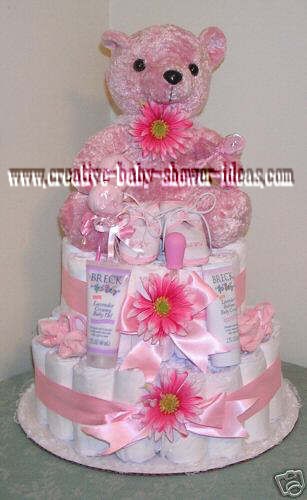 This is a sampling of the diaper cakes I've enjoyed making. I would be willing to make them for those in the DC / MD / VA area (at a fee) and can be contacted via email. I include a recipe card with a list of "ingredients" diapercakesgift@yahoo.com
---
Bear diaper cake submitted to gallery by:
Patricia H. from Windsor, North Carolina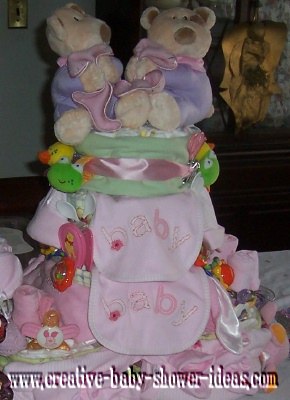 This cake was created for my daughter who was pregnant with twin girls. We had the shower on March 23, 2007. This cake includes two bases, two middle sections and a top layer. As the cake toppers, I used identical bears. I decorated the cake inside and outside. Inside the base cakes were bath products. The next two levels were two bottles and more baby products. The top levels had smaller baby products. On the outside levels were five receiving blankets, two of them were personalized with the girls' names and the month and years they were born. I also had two blanket buddies with the same information on it.
The cake also includes two of everything, 4 arm rattles, 2 elegant onesies, 2 outfits, 2 baby caps, 2 pair of booties, 4 pair of socks, 2 Pacifier, 2 Pacifier Holder, 2 Bottle Washer, 2 burping cloths, 120 pampers sizes NEW Born and sizes 1, 2 manicure sets, 4 rattles, 2 brush and comb sets, 2 bibs, 4 spoon and forks, six lollipop washcloths, and two large hooded baby towels. This cake name is a Deluxe Twin Girls Diaper Cake. I made this for my beautiful granddaughters, so I threw lots of things in extra for my daughter. I also would like to throw in about the shower. I will send it in later.
---
Bear diaper cake submitted to gallery by:
Catherine B. from Washington, D.C.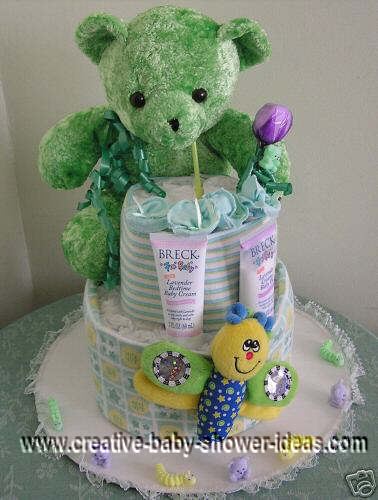 ---
Bear diaper cake submitted to gallery by:
Amanda. from Canada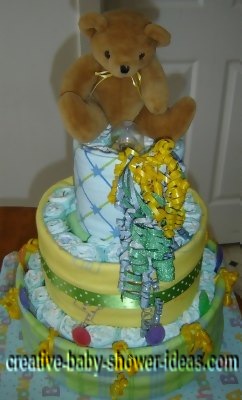 This is my first attempt at making a diaper cake. I made it for my sister's baby shower. It was a lot easier than I thought it would be.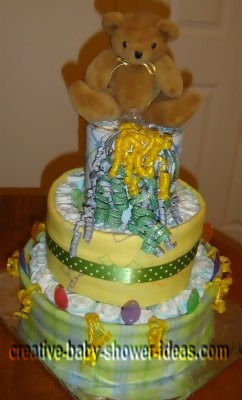 ---
Bear diaper cake submitted to gallery by:
Rose Ann from The United States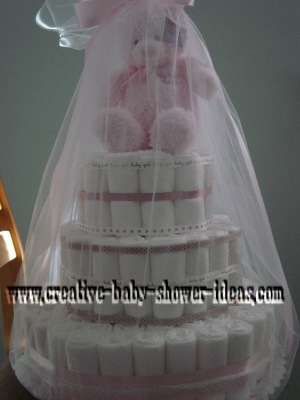 ---
Bear diaper cake submitted to gallery by:
Lindsay H. from Roanoke, Texas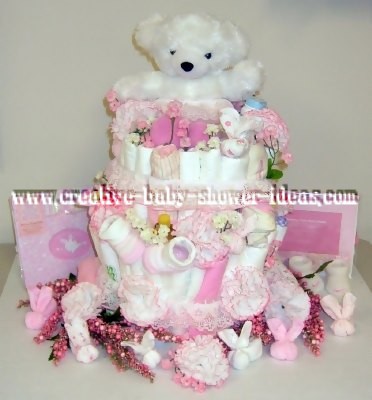 This diaper cake is the result of a 1/2 hour long trip to Walmart with four creative minds working well together. My friends and I work as graphic designers in the same department, and we were holding a baby shower for our boss' wife and wanted to make a diaper cake for her. Not really knowing what we were doing, we picked through and found as much cheap, cute baby stuff as we could, with nothing really in particular in mind. We found lots of onesies, booties, bibs and washcloths, and rolled those up like we did the diapers (decorations in so it's all white showing).
The onesies and bibs are placed as hints of color equally spaced around the two tiers of diapers. The washcloths are folded up into boo boo bunnies, which my mother used to make for me (you put ice in their bellies and hold it on a "boo boo" to make it feel better), just rubber banded together so she can use them as washcloths instead. The rest of the cake is decorated with pink and white baby's breath and some nice darker pink flowers at the base, with booties, socks, baby oils and powders, etc. thrown in. We found some ruffly pink ribbon to hold the tiers together. We also had a baby "brag book" (photo album, I think) and a scrapbook-style photo frame, which we propped up with diapers on either side at the base. The best part is the bear on top. We all work for a company that sells spectrum color changing lighting products, and this bear is perfect because when you press its paw it lights up and changes colors. Kind of an inside joke for our boss. The bear is also wearing Nike booties, which our boss loves.
---
Bear diaper cake submitted to gallery by:
Roxanne W. from Ottawa, Kansas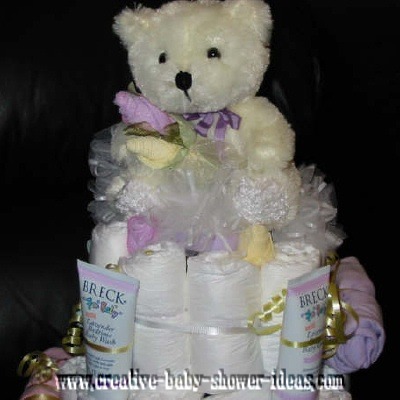 This is my first diaper cake. I made it for my best friends baby shower. Her colors were lavender and light yellow. It's not completely finished yet. I got mostly everything at dollar tree. It was cheap and SO fun to make. It took me about 3 hours, and two tries. (I don't catch on as well as others). But I think she'll LOVE it!
---
Bear diaper cake submitted to gallery by:
Amanda C. from Lehi, Utah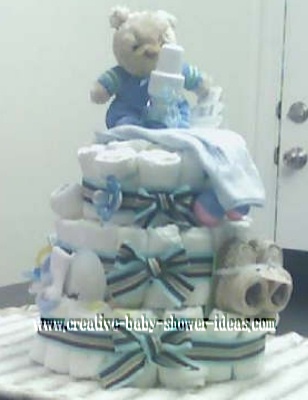 Here is a diaper cake I did for my sister, this was my first and it was a hit! I love the brown and blue combination and so did the guests. This was so much fun and now all the family wants me to do them for upcoming showers. I just wish there was a way I could do this all the time from home... if you know of anyone needing a cake in Utah County, Utah let me know!
---
Bear diaper cake submitted to gallery by:
Angie S. from Lake Worth, Florida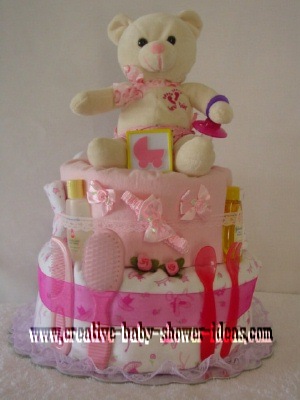 ---
Bear diaper cake submitted to gallery by:
Angie E. from SC, United States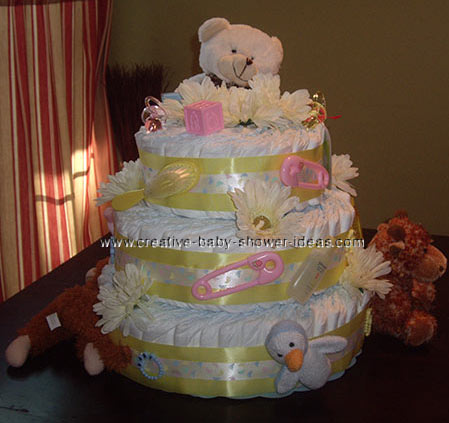 This diaper cake was made for my sister's baby shower. Not knowing the sex of the baby, all colors remained fairly neutral. I used approximately 100 premium disposable diapers. I used a white teddy bear and white daisies as a topper. I wrapped the layers with a yellow satin bow with a smaller "baby feet" bow. I then hot glued small novelty items, i.e. pink and blue plastic pacifiers, blocks, white daisies, and trial sized baby wash, lotions, baby powder, hair brush and shampoos. I also added a small monkey and giraffe to the base.
---
Bear diaper cake submitted to gallery by:
Megan G. from Dover, PA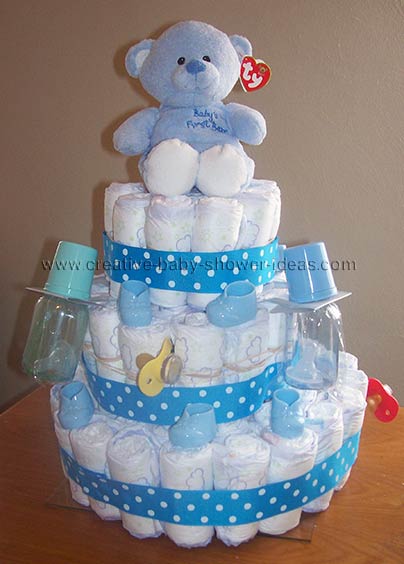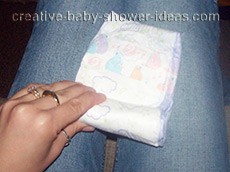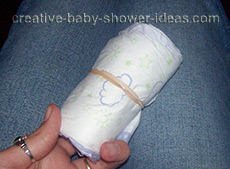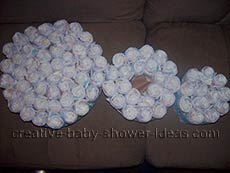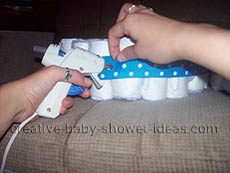 I first gathered all materials to prepare the diaper cake that I wanted to make. I bought a pack of white cloud diapers size 2 I believe and I used 80 diapers. I then bought tape, twisty ties rubber bands, decorative ribbon, and then some things to attach to the cake later on such as the teddy bear, pacifiers, 5 oz. baby bottles, a teething ring, and some small plastic baby booties. I had also used a glue gun and one or two glue sticks to glue the ribbon on. Once I had everything together I rolled all 80 diapers into a roll with the picture side up and then rubber banded each one. After that was done I took 3 diaper rolls, put them together and rubber banded those 3 together. Once I had that base I kept adding on each diaper roll by making a lanyard knot out of rubber bands and connecting it to the original 3 diapers. Finally that process turned into a base of 47 diapers for the bottom, and I repeated that step for the middle layer and used 21 diaper rolls and a top layer of 12 diaper rolls. After I finished I laid the bottom layer on a piece of glass and stacked the other two layers on top. Once it was stacked up I wrapped the ribbon around it and hot glued the ribbon on. (I glued the end piece to the beginning) Now that the ribbon was on I used twisty ties and tied the pacifiers, bottles, and teething ring to the inside rubber bands within the diaper cake to hold them in place. And for the finishing touch, I lastly added some small blue baby booties around the edges.
---
Bear diaper cake submitted to gallery by:
Angie S. from Lake Worth, FL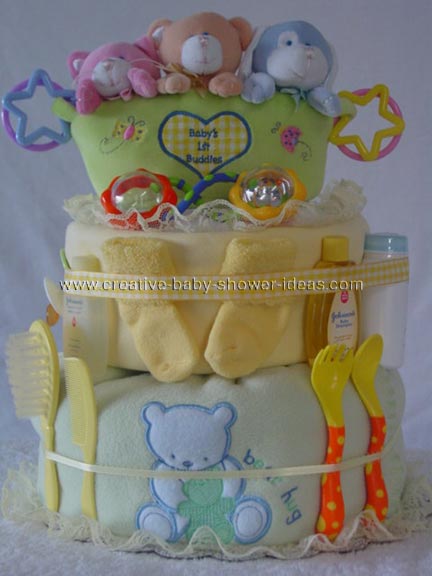 ---
New!

Comments

Have your say about what you just read! Leave me a comment in the box below.