Cool Baby Cake Pictures and Ideas
View our gallery of baby cake pictures for some great ideas for a baby shower or mommy party.
This category has mod mom themed cakes. Click below to view other categories. You can share your cake photos with us here.
"Because of your website I was able to host a perfect baby shower the first time through! Thanks!"
Enjoy!
---
Mod Mom Cake Index
---
Why should you buy a cake pan on eBay?
Why pay full price if you will only use the cake pan once or twice?
You don't need to worry about being burned. The seller rating speaks for itself.
Great selection! Chances are if the cake pan exists, you will find it on eBay.
---
Baby shower pictures submitted to gallery by:
Dawn D. from Cumming, Georgia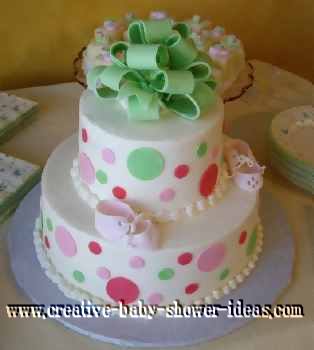 I made this baby bootie cake out of 10 inch and 6 inch cakes. The bow, dots and plaque are all made out of fondant.
---
Baby shower pictures submitted to gallery by:
Cheryl B. from Muncie, Indiana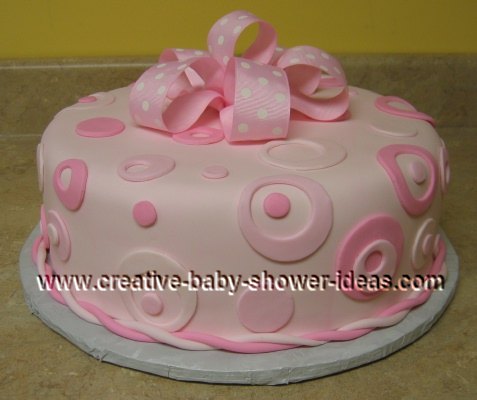 Prepare 3 cake mixes of your choice according to the manufacturer's directions, and bake as directed in 2 buttered and floured 12" round cake pans. I like to use a product called Pan Grease available from CK Products instead of butter and flour. Cool the cakes until room temperature. Stack the cakes using white butter cream icing between layers. Use white butter cream icing to cover the top and sides of the cake. This icing will act as the glue for the fondant to be placed next. Add varying amounts of pink food coloring to 3 separate balls of prepared fondant. You will need about 2 lbs. of the lightest shade of pink to cover the whole cake. You will need to prepare a ball of fondant about the size of a tennis ball for the medium and darker shades of pink. Tip: Wilton sells pre-made fondant in most store that carry cake decorating products. Keep the prepared fondant in a zip top bag until ready to use so that it does not dry out. Roll out the lightest shade of pink fondant to about 1/8" thickness on a smooth surface dusted with powdered sugar to avoid sticking.
You will need the circle of fondant to be at least 20" in diameter to cover the cake. Drape the rolled fondant over a rolling pin and transfer to the previously iced cake. Use your hands or a smoothing tool to smooth out the fondant. Trim the excess fondant using a knife or pizza cutter. Roll out the medium and light pink fondant to about 1/8" thickness.
Use various sizes of round cookie cutters to cut circles from the fondant and immediately place on the covered cake using a small amount of water brushed on the back of the pieces as glue. Roll excess light and medium pink fondant into ropes. Twist the two ropes together and place around the bottom of the cake to act as a border. Use ribbon of choice to create a bow and place on top of the cake using a floral pick.
---
Baby shower cake pictures submitted to gallery by:
Dawn D. from Cumming, Georgia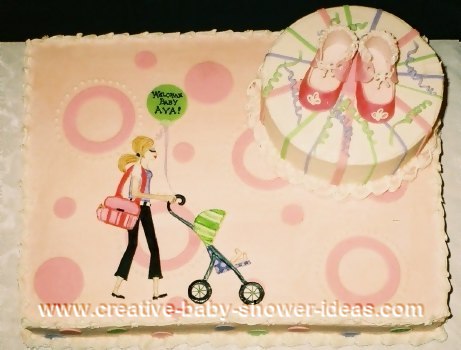 The mod mom baby shower cake is made from a 1/3 sheet cake. On top of it, I placed another 6 inch round cake. I made the baby shoes, mom, stroller and baby out of fondant.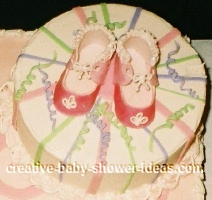 ---
Cake pictures submitted to gallery by:
Maria V. from Cumming, Georgia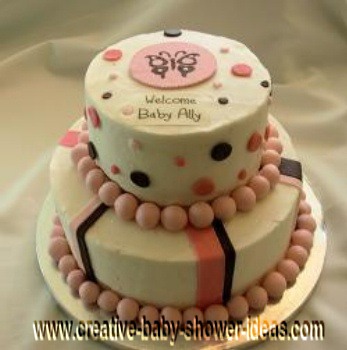 6" and 9" butter cream iced cake with chocolate brown and pink stripes, dots and ball border. Butterfly stamped with food coloring on gum paste plaque. The greeting was done on edible paper with edible ink.
---
Baby shower pictures submitted to gallery by:
Jenny W. from North Charleston, South Carolina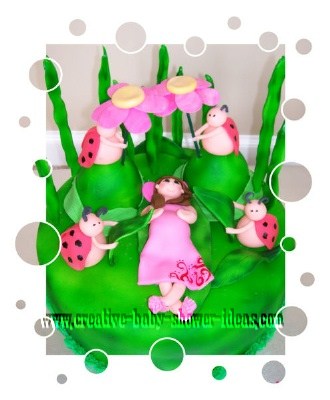 The theme for this woman's nursery was the potter barn's lady bugs. I baked the 10" cake and molded her and the lady bugs out of fondant. The flowers were made of gum paste as well as the leaves. I used bamboo floral sticks for the stems.
---
Baby shower cake pictures submitted to gallery by:
Jessica K. from Houston, Texas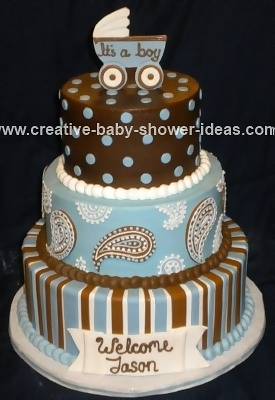 6 inch, 8 inch and 10 inch round cakes, double layers torted and filled for 4 inch cake height. I decorated each tier individually and then stacked them and added the border. All cakes are iced in butter cream with fondant details. Bottom Tier: White butter cream with blue and brown fondant stripes. Middle Tier: Blue butter cream with brown fondant paisleys and royal icing piping for detail. Top Tier: Brown butter cream with blue fondant dots. Topper: Dried fondant baby carriage topper, cut out with a cookie cutter and detailed with fondant. Made to match shower invitations that were blue and brown paisley.
---
New!

Comments

Have your say about what you just read! Leave me a comment in the box below.