Our Carriage Diaper Cake Photo Gallery
You have reached the carriage and bassinet section of our diaper cake gallery. These adorable cakes were made by our readers to be shared with you.
You can also share your photos with us by submitting them here.
---
Carriage Cake Index
---
Why should you buy a diaper cake on eBay?
Great Prices! Most sellers are work at home moms with little overhead.
You don't need to worry about being burned. The seller rating speaks for itself.
Great selection! Get a professionally designed cake to match almost any theme.
---
Photo submitted to gallery by:
Vidya K. from Santa Clara, California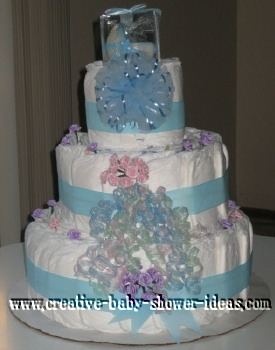 Here is a picture of a baby diaper cake I made for my Friends baby shower. This cake was made with 65 size 1 diapers. I started with a cardboard base and a roll of chart sheet pasted in the middle of the cardboard for stability. I placed diapers overlapping around the roll to give it a smoother finish. I tied rubber bands around each layer to hold it together. Then I decorated it with blue ribbon and pink fringes. On the top of the cake I placed a blue baby carriage candle. It turned out really cute. This is a side picture of the cake, so it does not show all the pretty detail of the cake. It was the highlight of the baby shower!
---
Photo submitted to gallery by:
Anna D. from Hartselle, Alabama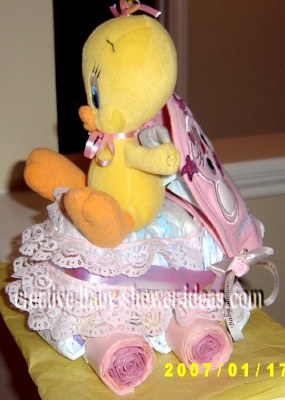 ---
Photo submitted to gallery by:
Angie S. from Lake Worth, FL
---
Photo submitted to gallery by:
April S. from Jamaica Plain, MA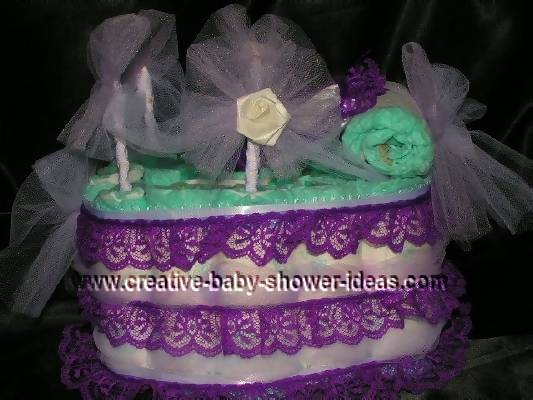 Upon looking at some master pieces on this very site I figured one night OMG skies the limit to the things we can create out of diapers! I love making diaper cakes and I was very excited at this idea! I took out my tools and went to work and Bam! I made a Diaper Cake CRIB BED! Basically a 1 tier diaper cake in a sort of oval shape, decorate as usual, I used lollipop sticks and wrapped ribbon around them and made those the crib post and a little tulle and imagination. This one is my very first Diaper crib, the ones to follow will be much better and with imagination, who knows! Hope everyone likes it!
---
Carriage diaper cake submitted to gallery by:
Amber E. from Troutdale, Oregon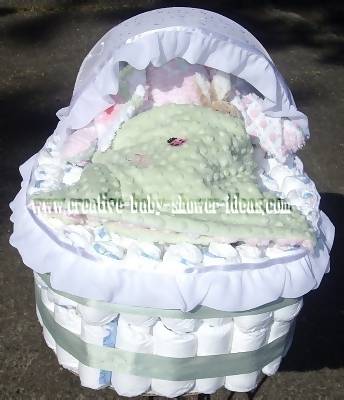 I made this diaper cake for my husband's cousin and his wife. They were doing a shabby chic theme. I had a minky blanket and pillow made for this project and a chenille bunny rabbit, which you can see in the pictures. I stacked the diapers unrolled on the bottom, then used rolled diapers around the outside to make it a more finished look. I used a box cut down to size to put the goodies (bunny, pillow, blanket and my homemade organic baby powder and baby bath) inside also used for stability and then I wrapped in with rolled diapers. I used two brass rings bent and connected together to form the hood for the bassinet and used a beautiful material to cover it, with a lace trim. I used ribbon to cover the rubber bands which help the bassinet keep its shape. I DO NOT use hot glue on my projects so that every little piece can be used. I use a lot of glue dots and rubber bands and dowels to keep everything together. I use a lot of ribbon too which can be used in scrap books for later on. I absolutely love creating these and I only make them for friends and family. Thanks for letting me share them.
---
Photo submitted to gallery by:
Inga from the United States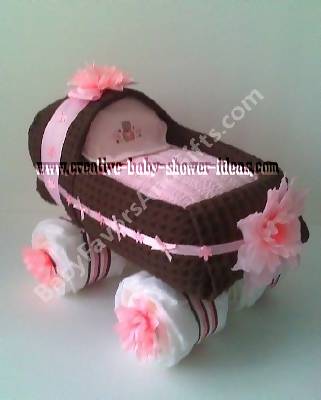 ---
Carriage diaper cake submitted to gallery by:
Inga from the United States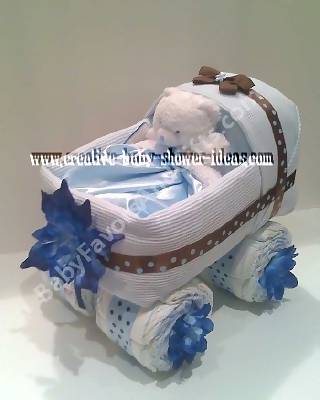 New!

Comments

Have your say about what you just read! Leave me a comment in the box below.