Creative Baby Shower Cakes and Ideas
Creative baby shower cakes are easy to make with the pictures and ideas shared by our readers. This section has dress cake pictures. More cake designs can be viewed through the link to the main index below. Enjoy!
---
Dress Cake Index
---
Why should you buy a cake pan on eBay?
Why pay full price if you will only use the pan once or twice?
You don't need to worry about being burned. The seller rating speaks for itself.
Great selection! Chances are if the pan exists, you will find it on eBay.
---
Photo submitted to creative baby shower cakes gallery by:
Mary R. from Fletcher, North Carolina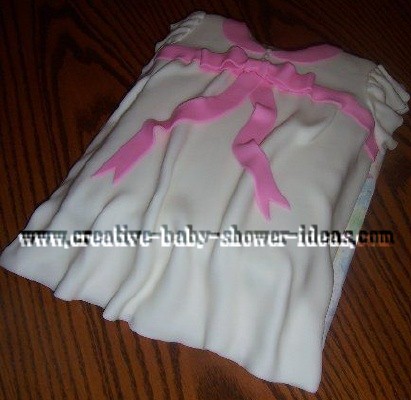 This is a chocolate cake, iced in cream cheese icing and covered with fondant icing. I used a 9 X 13 sheet pan to make this cake. I used a drinking glass to cutout the neck, and frosted the entire cake with cream cheese icing. I then rolled out some fondant icing to make the dress and sleeves. I colored some more fondant icing pink to make the bow and collar and used edible pearls as buttons.
---
Creative baby shower cakes submitted to gallery by:
Dawn D. from Cumming, Georgia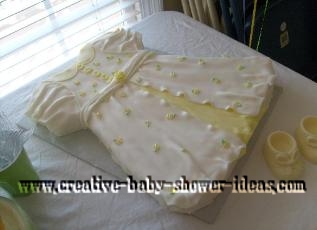 The baby dress was a half sheet pan trimmed and iced in buttercream there are royal icing flowers and fondant accents.
---
Creative baby shower cakes submitted to gallery by:
Dawn D. from Cumming, GA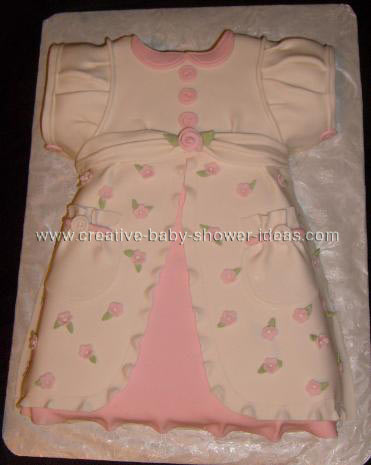 This cake is very easy to make.
you need:
a 9x13" pan
buttercream icing
white fondant
pink tinted fondant
tooth pick
rolling pin
a small round cutter (for buttons)
foil covered card board (found at most cake decorating stores)
---
New!

Comments

Have your say about what you just read! Leave me a comment in the box below.