Free Diaper Cake Directions and Ideas
Our photo gallery is full of diaper cake directions and ideas to help you as you make your own cake. For more categories, click on the index below.
**NOTE** All of these photos and directions have been submitted to us by readers like you.
You can also share your photos with our site here.
---
Horse Theme Index
---
Why should you buy a diaper cake on eBay?
Great Prices! Most sellers are work at home moms with little overhead.
You don't need to worry about being burned. The seller rating speaks for itself.
Great selection! Get a professionally designed cake to match almost any theme.
---
Photo directions submitted to gallery by:
Anjuli W. from the United States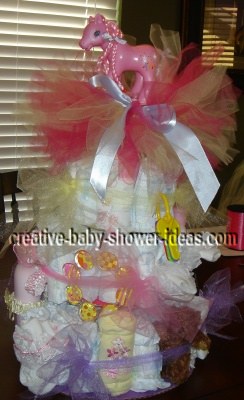 Here is a photo of my diaper cake. I put baby lotion, headbands, onesies, baby toys, teddy bear, peanut butter & jelly (that is all the expecting mother will eat!), and the cake topper is a cute my little pony. Also on the top of the cake is a tulle tutu for the baby to wear (you just take it off the top of the cake.) It was so much fun making it and it was very easy! The clear headband tip worked very well and gave the diapers a great look!
---
Diaper cake directions submitted to gallery by:
Brenda M. from Brownstown, Indiana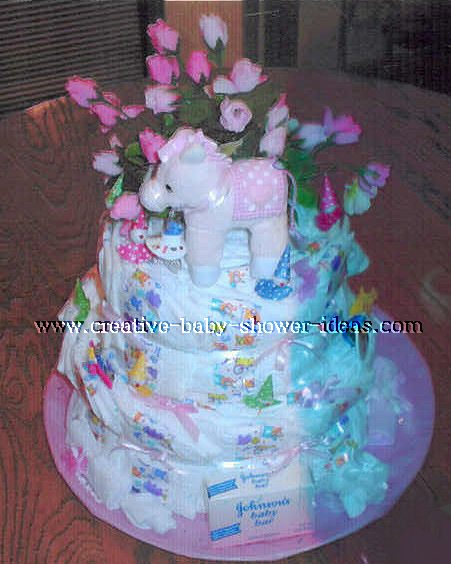 We used this diaper cake for our greatest show-er on earth (circus) themed shower.
We had animal crackers as favors, made a card table into a big top for presents, that's why the clowns are on cake.
---
Diaper cake directions submitted to gallery by:
Marsha H. from Midale, Saskatchewan Canada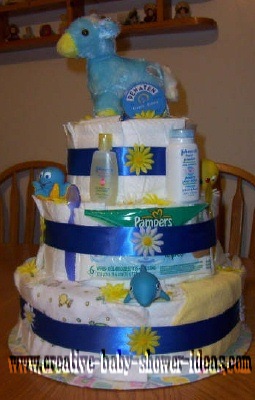 I would like to thank this site and all the beautiful ideas that were on it, if it wasn't for this site I wouldn't have been able to make this diaper cake and the diaper wreaths.
I made the diaper cake and the blue wreath for an aunt that is having a baby soon. It was a lot of fun to do.
---
Photo directions submitted to gallery by:
Rachelle B. from Spokane, Missouri
The baby shower had a polka dot and rocking horse theme. With my diaper cake I tried to achieve a large, sleekier look, similar to the wedding cake styles that are popular now.
Ingredients:
Approx. 140 size 2 Pampers Swaddlers diapers
Two full size plastic baby bottles
Candy
Small clear rubber bands (found in the hair/brush section of the store)
Medium size rubber bands (any color)
Large size rubber bands (any- color-found at office supply store)
Cardboard circle
18" Wilton brand round plastic cake plate
Dowel rod
Polka dot ribbon (4 colors of the wider polka dot, and 4 colors of the narrow polka dot)
Large diaper size safety pins
Colored wrapping paper
Clear cellophane
Clear tape
Craft wire
Stuffed animal
Card with copy of poem
To create a sleekier and less busy look, your diapers will need to be all white. I chose Pampers Swaddlers for this reason. Open diaper up, starting with colored band portion and roll TIGHTLY in candlestick fashion. Be very careful when you roll to make sure the tops are rolled very straight and diaper roll is tight. (This is the key to an even, uniform "frosting".) Secure with small clear rubber band.
Make a large cardboard circle for the base. This bottom circle will need to be approx. 16" wide. Cover this circle with wrapping paper and then cover with clear cellophane. Tape on bottom to secure. Place this circle on top of a Wilton white plastic 18" cake plate.
Place a medium size rubber band around one of the clear plastic baby bottles filled with candy and place on your base. Put circle of rolled diapers around the bottle secured on the outside by the rubber band. When this is done, I add one more rubber band around it for security. Now, add a third rubber band and begin adding the next ring of rolled diapers. Repeat this procedure until you have a large round tier. This bottom tier will have 4 rings of diapers.
On the outside of your cake tier you should have two large rubber bands (stacked right on top of each other.) Add two more large rubber bands. (Stacked right on top of each other.) Later, you will need to cover these rubber band rings with your ribbon, so slide one rubber band ring down closer to the bottom and slide the other rubber band ring closer towards the top.
Repeat this procedure on top of your bottom tier forming the next tier that will have 3 rings of diapers.
Place the other plastic baby bottle filled with candy on the top hole of this tier and repeat the procedure. This tier will have 2 rings.
On top of this tier add one more tier with 1 ring of diapers.
Measure dowel rod and trim to about 1/2" lower than the top of your 1 ring tier. Insert in center hole right next to the baby bottle and push it in all the way to the bottom. (You can skip this dowel rod step if you like, but it does add stability for traveling.)
Loosely role one more diaper, secure with a small rubber band and insert it into the hole in the top. (This will partially stick out the top.)
Using the wider ribbon, measure and trim to cover the rubber bands on the bottom of each tier. Secure in the back of the cake with the large baby diaper pins. Using the narrow ribbon, measure and trim to cover the rubber bands near the tops of the tiers. Secure in the back of the cake with the large baby diaper pins.
Using your left-over ribbon make a bow and secure to the stuffed animal with craft wire. Add a card with the following poem:
Here is a cake made with love, though we wouldn't call it yummy. For the ingredients used go on the baby, not inside your tummy. Flour, sugar, milk and eggs will make a cake so sweet. But these diapers we are sure will make another kind of treat!"
Place stuffed animal on top of cake.
---
Diaper cake directions submitted to gallery by:
Jennifer S. from Morgan Hill, California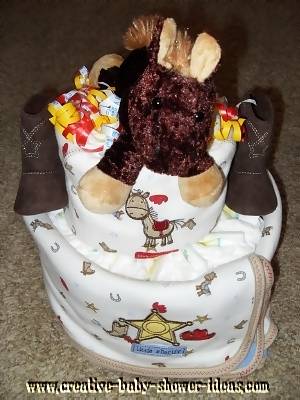 I made a little buck-a-roo cowboy diaper cake. First: I started off with 40 diapers, I then rolled and rubber banded them all together. Second: I stuck a bottle in the middle of the bottom layer, I then put the second layer on top. Third: I folded and wrapped the blanket around the bottom layer of the cake Forth: I folded and then tied the baby gown around the second layer of the cake Fifth: I added all the curly ribbon and the plush horse to the top Sixth: I added the cowboy boots to each side of the cake And ta-da we are done buck-a-roos!
---
New!

Comments

Have your say about what you just read! Leave me a comment in the box below.