Diaper Cake Ideas and Tips
Looking for some great diaper cake ideas? We've got lots of them! Search our photo gallery to get ideas on creating the perfect diaper cake to give as a baby shower gift.
We would love to see your photos and tips! Share them with us here.
---
Holiday Cake Index
---
Why should you buy a diaper cake on eBay?
Great Prices! Most sellers are work at home moms with little overhead.
You don't need to worry about being burned. The seller rating speaks for itself.
Great selection! Get a professionally designed cake to match almost any theme.
---
Diaper cake ideas submitted to gallery by:
Laura W. from Richfield, Utah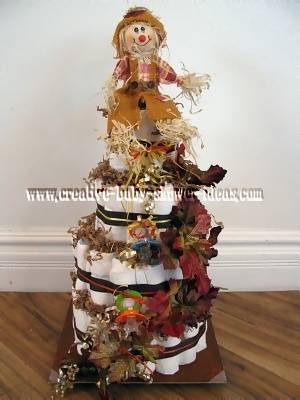 One of my dear friends is going to be a Grandma and she is having a baby shower for her oldest daughter. He will be born near Halloween, so I used your ideas and made a Harvest Diaper Cake.
---
Diaper cake ideas submitted to gallery by:
Keilee W. from Meno, Oklahoma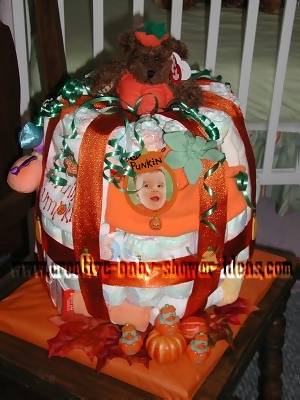 I hosted a Lil Pumpkin baby shower since she was due in October. It was a big hit!
Items I used to decorate:
6 washcloths
1 infant Mylicon
1 infant Tylenol
1 infant first rattle
1 Gymboree "little pumpkin" onesie
1 I'm a little pumpkin' bib
1 Lil Pumpkin photo frame
1 box of 2 pacifiers
1 Osh Kosh "pumpkin" hat
1 orange round teether

I used size 2 Huggies Supreme (entire bag of 80). I rolled each diaper and tied with green ribbon. It was assembled into 3 "layers" by tying them with wide orange ribbon. For the middle layer I tied it after each round of diapers to keep it tight so that it wouldn't 'fall'. To keep the layers together and make it look like a pumpkin I used more of the orange ribbon and went all the way around with 3 separate cuts of ribbon.
I tucked the ends into the green ribbon on the diapers in the middle diapers to secure. For the top layer I removed the middle diaper and put a "Ty Peter Attic Treasure" bear inside to peep out over the edge. Curled more green ribbon to make the stem and poked down under the bear.
For my 'plate' I wrapped a 12X12 blank scrapbook album with orange tissue paper. I hot glued the pumpkins and rubber duckies near the front to decorate. I also hot glued some little wooden pumpkins at intervals around middle of pumpkin. I did not use tape or glue on any of the diapers. All that was left was to decorate with pumpkin themed baby items!
---
Diaper cake ideas submitted to gallery by:
Felicia F. from Pendleton, IN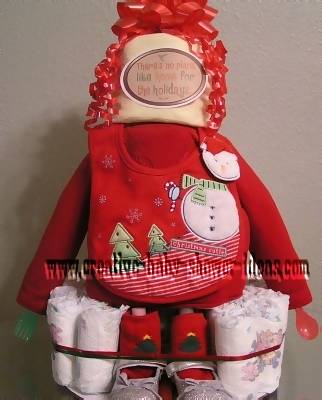 ---
Diaper cake ideas submitted to gallery by:
Tammy H. from Kelowna, British Columbia, Canada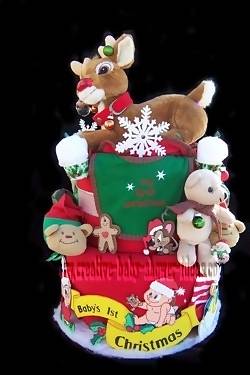 Supplies needed:
Size 1-2 diapers
Sm. Elastics
Size 1/2 diapers
Elastics (small clear works the best)
Cardboard (white if not normal is fine)
Wrapping paper
String
Candle
"Merry Christmas" Ribbon
Don't Open Till Christmas Ribbon
Silver Ribbon
Hot glue gun
Mini cloths pins (Found at Craft Store)
Curling Ribbon (Red, Green, White)
String
Sm. Christmas Cupcake Wrappers
Sm. Ketchup containers (found at McDonalds)
2-sided tape
Red & Green Transparent paper
Mini Christmas Bulbs (random colors)
Items Needed:
Plush Rudolph
Sm. Plush Teddy Bear
Baby's First Christmas Bib
Christmas Bib
Christmas Sleeper 3-6months
Christmas Onesie 3-6 months
White Scratch Mitts
Reindeer Booties
Reindeer Infant Cap
(2) Fleece RED Blankets
Red/Green Burp Pad
The border is drawn by me personally. I had FUN with this Cake.... From finding Christmas€items and trying to keep everything Red and Green as much as possible. When I saw mini ketchup containers at our local restaurant I had a GREAT IDEA. I went and bought mini Christmas Cupcake wrappers and attached it to the bottom of the ketchup containers. Then I placed the Scratch mitts inside. VOILA Christmas Muffins. Who would have thought?
---
Diaper cake ideas submitted to gallery by:
Karan L. from Hartepool, United Kingdom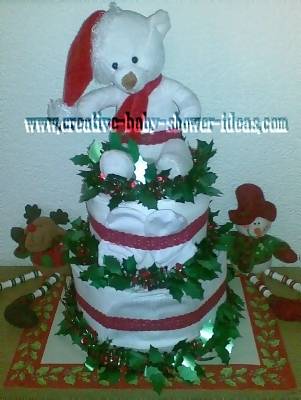 Hi there I just thought I would share this with you Babies First Christmas Diaper Cake. It was made by request for a friend who wanted an extra special gift for her first grandchild she loved it and I loved making it for her. There are over 25 size 2 diapers, muslin cloths, clothing items and babies bottles inside the cake and a lovely Christmas teddy on top. Hope you like it.
---
Diaper cake ideas submitted to gallery by:
Melissa S. from Monroe, Ohio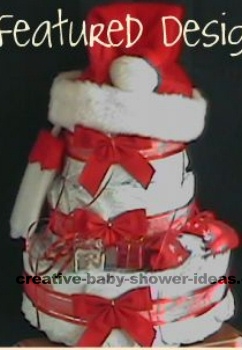 ---
Diaper cake ideas submitted to gallery by:
Marsha W. from Kansas City, MO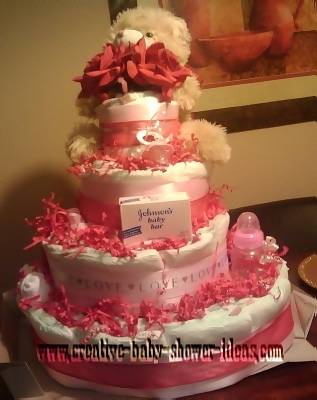 Using the baby shower theme "Valentine Baby", I created a beautiful diaper cake that had red and pink ribbon. I used about 115 diapers for this 4 tier cake. Hidden inside is a can if baby formula. The cake also includes a teddy bear, 2 red silk roses, 2 pair of baby socks, a pacifier, bottle, 2 wash clothes and a bar of baby soap.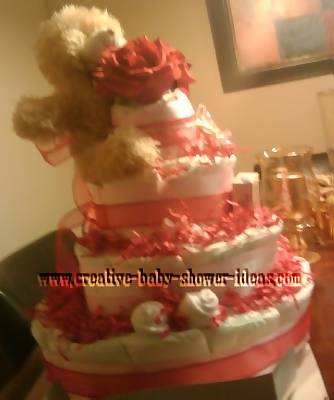 ---
New!

Comments

Have your say about what you just read! Leave me a comment in the box below.